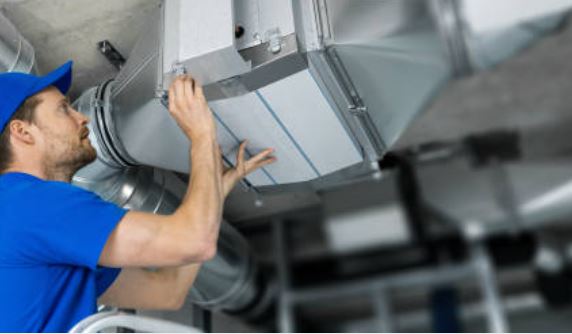 call 310-926-6368
Contact 24/7 our scheduling department today to make an appointment.
AC maintenance Los Angeles is part of our Air Conditioning Services, and it is all you need to eliminate all your air conditioner-related issues!
As soon as summer hits, we rely on our cooling systems to keep our homes at a favorable temperature.
Your system most likely operates all day, every day, to keep your house cool.
To ensure that your system works at its optimum efficiency, get it tuned beforehand.
To do that, you need a professional who can do the job for you!
Don't worry; we've got you covered.
RLD Heating & Cooling is the one to help you out.
We are good at:
Providing personalized services
Having friendly and polite technicians and members who are excellent at their jobs.
Giving quick responses to service requests.
Helping for FREE to choose the right system before your AC installation or replacement.
This article informs you of the steps you should take and who you should call when your air conditioner needs maintenance.
So without a wait, let's understand the do's and dont's of AC and what AC maintenance includes.
AC Maintenance Los Angeles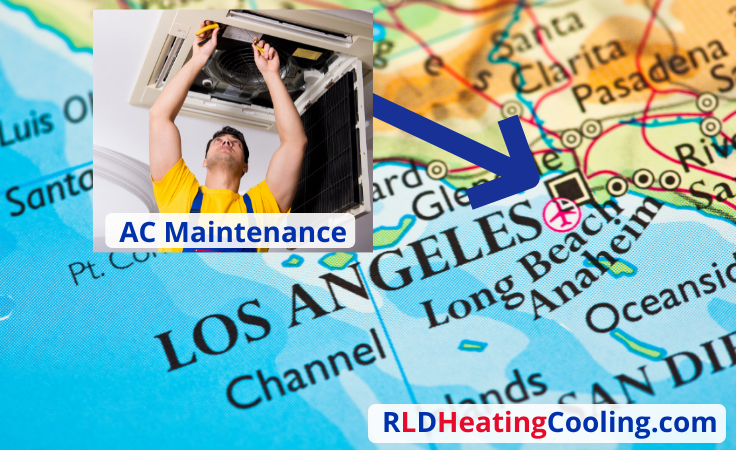 AC systems have changed over the years, and now it is a part of every house or business.
A good HVAC can give you a comfortable condition in your space to live in.
However, the components and parts of the HVAC systems require regular maintenance and cleaning.
And if timely actions are not taken, you may end up paying more money than needed or, worse, getting a new air conditioning installation.
So, it is advisable to take timely actions and give your system regular tune-ups to function at its peak capability.
What does AC maintenance include?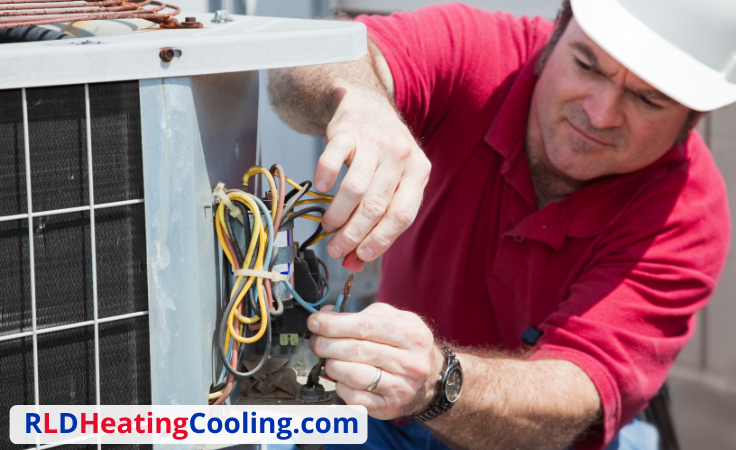 When you contact RLD heating & cooling for your residential or business AC system maintenance, one of our experienced technicians will visit your place and thoroughly scrutinize all the parts and components of your system, both from within and outside.
The preventive tune-up or maintenance includes:
Complete checkup of all the components.
Replacing the filter, if necessary.
Replacement of any old/worn-out parts.
Safety inspection.
Unrestricted airflow inspection.
Central AC Unit maintenance
Your central AC unit demands regular maintenance to keep the efficiency in check.
Here are a few crucial points for you to know because this is what constitutes your central air maintenance process:
Cleaning the air filter.
Clean the coil.
Extract the debris from the unit.
Align the coil fins.
Mini-split AC
Mini-split ACs are one of the best cooling options available today.
But it is efficient only if you take good care of it.
And for the maintenance work, you must not worry; we are there for you.
Here are some quick tips regarding what you can do to maintain it.
Make some space for the unit.
Keep the outside unit clean.
Cleanse the filter and the coil.
Inspect the pipes.
Outdoor/Outside AC unit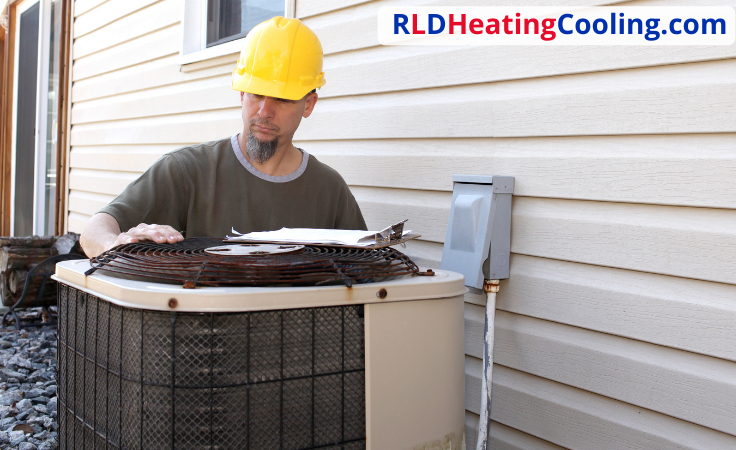 Here are the step-by-step process of cleaning the outdoor unit:
Switch off the main button.
Straighten the fins.
Clean the area around.
Clean the fan.
Cleanse the fins inside out.
Attic Air conditioning system
Owning an attic-based ac is not a thing to be taken lightly.
Attic systems need to be maintained regularly, or the water leaks would damage your whole house.
These systems are the neediest ACs and require regular maintenance by professionals.
There are plenty of problems that can affect your attic unit or, worse, break it down.
Here is how you can avoid such mishaps:
Taking care of the mold.
If the water freezes, it can damage the plumbing system. So make sure the water doesn't freeze in the system.
Dust and insulation can cause problems for your attic system, so regularly clean the dust.
Rooftop AC
Here is what the maintenance of the rooftop unit includes:
Inspecting the air filters & inlet screens.
Examining the motor, fan and housing.
Checking the heat exchanger.
Cleaning the drainage and coils.
Checking the refrigerant charge and the voltage imbalance.
Go for an amperage check.
Benefits of our AC maintenance services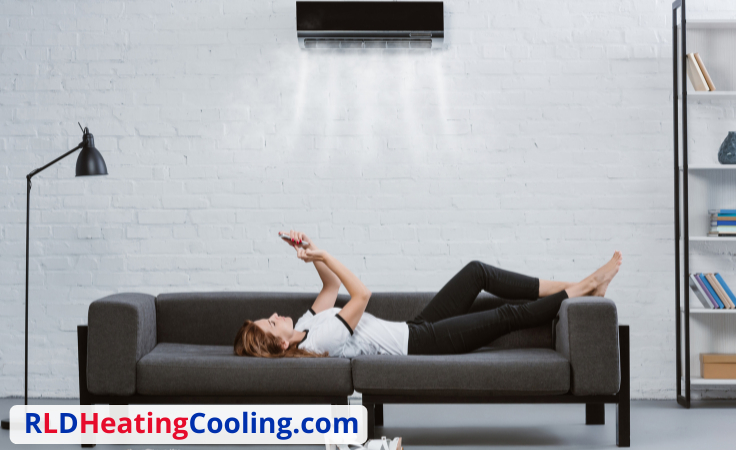 So the most critical question that many of you might be asking yourself is, Why should I invest in Air conditioning unit maintenance?
Well, When you get your unit maintained from RLD heating and cooling services, you enjoy:
Longer lifespan: The HVAC services you will get from RLD heating & CoolingCooling will increase the life span of your air conditioner. When your system is well maintained, it will run longer.
Tune-ups and filter change: Air filter changes and tune-ups minimize the load on different components of your unit, and it will continue to operate at its best efficiency. Also, it will save your ac from a complete breakdown.
Saving up on your electricity bills: If your unit is regularly maintained, it will operate at its peak efficiency, so the electricity consumption will also be minimal. So you will have to pay a hefty electricity bill. What a save!
Better air quality: If your AC keeps blowing warm air, you need to get it maintained by our trained professionals because it indicates the inefficiency on the part of the appliance. Periodic maintenance can also lead to an infestation of dirt, dust and allergens, which can degrade your house's air quality. Our friendly technicians will replace the air filters and clean the system so that you can enjoy enhanced air quality.
Why annual air conditioning maintenance is essential?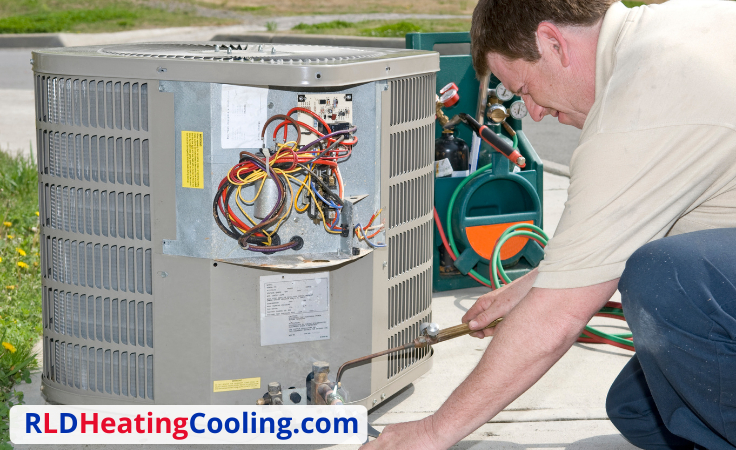 Think of regular maintenance as a mandatory ritual, and you must not put that off, especially if you are an HVAC owner.
Do you know why?
The reason is-
Even though they are structured robustly, their internal gauges are sensitive to external conditions, getting dirty quickly.
The HVAC units operate for an extended period, so having annual maintenance can save from heavy and costly air conditioning repairs later.
And with annual cleaning, your system will work smoothly on its peak efficiency all summer.
Looking for more reasons?
Take a look at the other benefits of proper maintenance:
AC Maintenance importance reason #1: Lower electricity bills
Wear and tear causes pressure on the system, especially the blower motor.
These stressors take a toll on your electricity bills to overcome the additional pressure, thereby pushing your electricity bills by 15%.
Your HVAC repair bills can skyrocket if you don't take good care of your system.
And unlike your car, you don't have an alternative when it comes to your home getting too hot or cold.
Don't trust us? Just notice the drip in your electricity bills after having your ac serviced.
Also, look for signs; if you hear an unusual noise coming from your AC system, it is time for you to call the AC repair experts.
AC Maintenance importance reason #2: Extra savings on utility bills
Regular maintenance is equivalent to lesser costs on utility bills.
When your AC runs at its exceptional efficiency and breakdown rarely, you are saved from unnecessary expenditure on repairs.
And when you take good care of your AC unit, you also save a lot of money on electricity bills.
SO double saving.
AC Maintenance importance reason #3: Saving you from total breakdown
People often neglect to care for their HVAC system and end up with their systems not even starting.
The worst part about HVAC systems is that the cost can wreak havoc on you if you think of repairing it up.
SO, better go for annual maintenance and ensure that your HVAC doesn't break down any day.
These annual checks will remove dirt rust and bring your system to a better condition.
AC Maintenance importance reason #4: Longer equipment life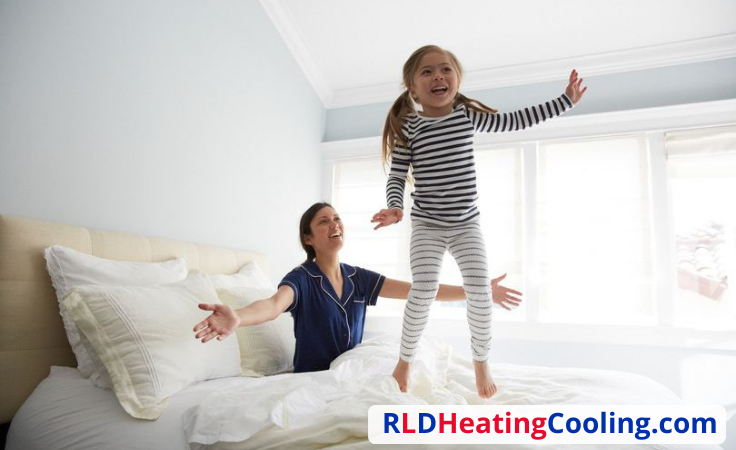 The good quote- "Things last longer, when you take good care of them" is applicable even for your AC system.
When it comes to large ACs and furnace repairs like HVAC, they last longer; you maintain them at regular intervals.
As these systems are interdependent, you'll notice a cascading effect; if one system fails, several others might also fail.
So you must care for your unit to bless it with longer life.
AC Maintenance importance reason #5: Safer operation of the system
An important thing about the maintenance service is it makes the system safer to operate.
AC and other heavy equipment use a lot of power, and any electrical fault can cause fire hazards or, even worse, electrocution.
Also, your air conditioning repair & maintenance will include checking up on the furnace's structural integrity to ensure no air quality issues.
Maintenance of electrical lines and structural integration by service professionals will prevent these.
AC Maintenance importance reason #6: Greater efficiency
With consistent usage, dust and dirt accumulate in your AC unit affecting its efficiency.
If left uncleaned, The efficiency of your AC can go down by 5% every year due to this build-up.
What do our Air Conditioner Maintenance Plans include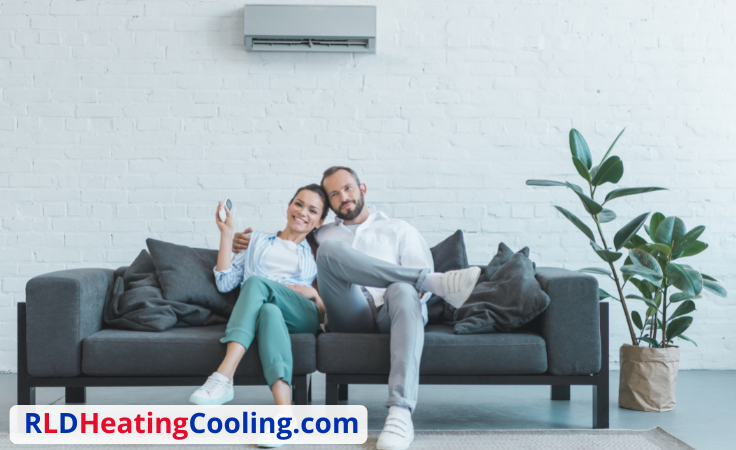 You must be wondering, are AC plans even worth it?
The answer is a big YES!
Our trusted ac maintenance plans are worth every penny because it gives your system a new life.
And don't worry, you don't have to search for "AC maintenance near me." We are just a call away!
Also, shopping for a service plan is a deal to catch as it includes:
Affordable utilities.
Excellent performance
Clean and smooth airflow.
So, it would help if you got a plan that enhances your system efficiency and benefits your pocket.
Here is what is our maintenance plans all about.
Quarterly Air Conditioner maintenance contract
Give your AC system preventive maintenance with the quarterly maintenance plan.
Our quarterly maintenance plans include four visits to inspect the system while repairing and maintaining it.
During every visit, we inspect some points on which we perform maintenance like:
Inspect any water leakage in the coils and connection.
Clean and check the drain pan condensate the drain pipe.
Inspect the air filters.
Take a look at the heater bank condition and repair it if there is any problem.
Examine the condition of insulation materials.
If any item needs a specific solution and we cannot provide that, we will offer you a proposal and grant you a 5-10% discount.
You can hold or approve it as per your choice.
Yearly Air Conditioner maintenance
If you own one unit that both cools and heats your home, you should plan a maintenance check twice a year, in the fall and again in the spring, before switching your system over from one use to another.
If you have a separate booth heating and cooling system, you can get it checked once a year (you need heating maintenance as well as air conditioning)
The frequency of your unit maintenance also depends on:
The condition of your AC or HVAC.
Age.
Size of the unit.
The brand.
The frequency of its use.
The place you live in.
During the visit, we inspect points like:
Check all fan motors.
Examine operating pressure and connect gauges.
Signs of trouble with air conditioning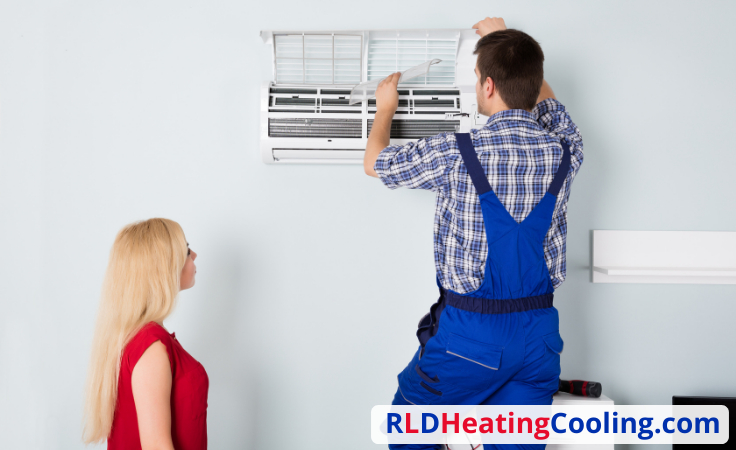 Maintaining your HVAC can save you from many problems, but the water and tear can be a bit problematic.
Minor problems can lead to significant issues, so it is better to learn about the signs of getting your system maintained.
Below are some of the signs that can save you from the unnecessary hassle:
Warm air coming
Your AC is on, but you still feel flashes of heat on your body? It could be a sign that your compressor is not in excellent condition, dirty evaporator coils that need cleaning or maybe low freon levels.
Insufficient airflow
If the airflow from your ac vents is shaky or feeble, it can be because of worn fan motors, leaking or blocked ductwork. Often, dirt accumulation can also cause restricted airflow, and it can pollute the air of your house and cause health issues.
Moisture accumulation
The moisture accumulation might be due to refrigerant leaks or a damaged drain tube to remove condensation. Moisture can cause rust and bacterial growth.
Noise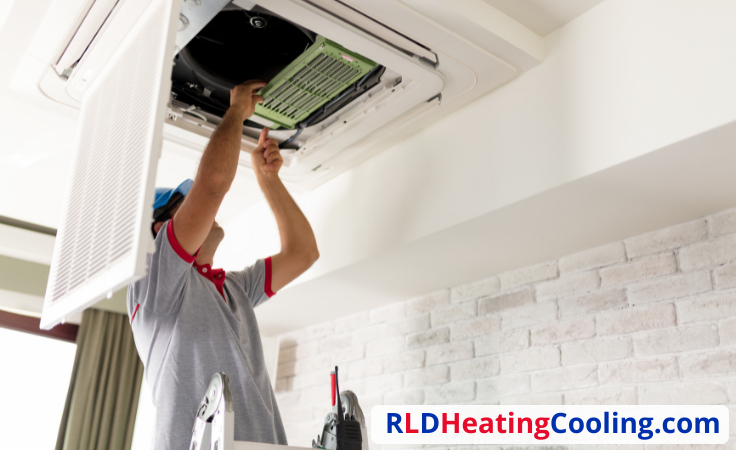 Air conditioners make some noise, but that's very low and comfortable. If your system makes loud, squeaking and grinding sounds, it is evident that something is wrong with it. In many cases, the components need lubrication.
Foul smell
Is the air coming from the vent smells musty? There might be mold inside the ductwork. A pungent and lousy smell indicates that the unit's wire protection has been burned, leading to a fire.
Slow to switch on
After revamping your thermostat settings, a standard AC unit barely takes 1-2 minutes to turn on. If it takes extra time to switch on or cool fast, better call a professional.
Water leakage
Leakage is not a good sign for your system. A small amount of leakage can be considered due to condensation, but a large pool can be due to a refrigerant leak.
Frequent cycling
Another worrisome sign for your unit is constantly switching on and off. An efficient system works consistently, and you don't have to switch it on again and again.
Emergency Maintenance AC
Broken AC is a significant emergency, and you must call the HVAC companies right now.
However, this extreme situation can leave you strangled in your house.
Sure signs can help you track if your system is about to break down, and the other signs are considered an emergency.
Here they are:
If your system is blowing warm air.
If you water leakage from your system or moisture formulation.
Your system is making an unusual noise.
If there is a solid musty or burning smell from the unit.
The fan stops blowing.
The thermostat doesn't work.
FAQs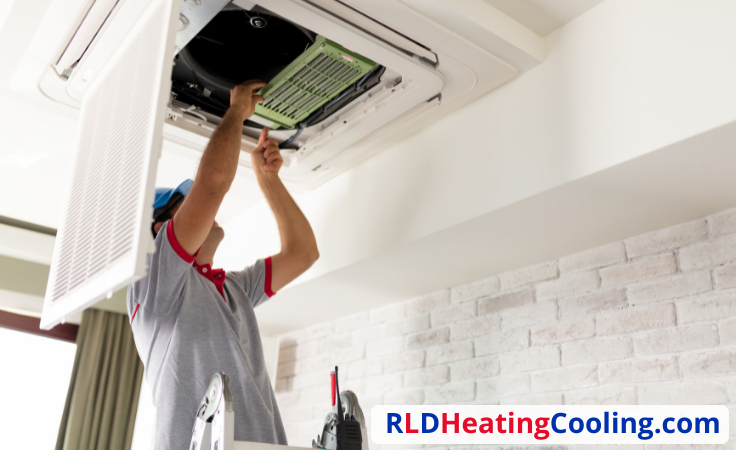 Here are some of the questions people generally ask.
Why is HVAC maintenance important?
HVAC systems maintenance is essential because it reduces the risk of unit breakdown by 95%.
AC breakdowns can be problematic not just for your comfort but your pockets as well.
So preventive maintenance ensures that your HVAC runs at its peak efficiency.
According to the U.S. Department, well-maintained cooling systems can help you save up to 30% on your electricity bills.
Apart from these reasons, it also helps with:
Increased lifespan
Safer system operation.
What maintenance does an air conditioner need?
The most crucial maintenance work that will boost the efficiency of your air conditioning unit is routinely cleaning its filters.
The air filters are prone to dirt and dust and thus get clogged easily.
Dirty filters prevent efficient airflow and reduce your system's efficiency, thereby deteriorating your room's indoor air quality.
How do I maintain my outside AC unit?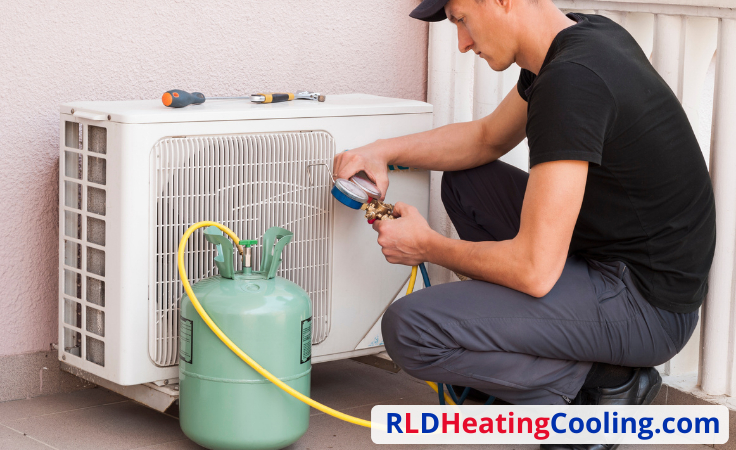 Cleaning the outside AC unit is simple. Here is a step by step process to do it like a pro:
Switch the central unit off.
Clear the dirt, debris and the area around the unit.
Straighten and clean the air conditioning fins.
Clean the condenser fan.
Clean the fins inside out.
And you are good to go.
What does an AC tune-up include?
An in-depth AC tune-up includes:
Thoroughly cleansing the condenser coils. Doing so improves the efficiency and increases the lifespan of your system.
Lubricating all moving parts to avoid friction can wear and tear the system, increasing your energy cost.
The precise measurement and cleaning of your thermostat to check if it works properly.
Detailed inspection of the ductwork to check if it is in working condition.
In-depth inspection of all electrical connections to ensure safe system operation.
Inspect the performance of the blower motor and the condition of the blower belt.
How much does it cost to service an air conditioner?
Regular AC repair or maintenance servicing costs nearly $75 to $200 considering simple tune-ups.
Extended service contracts can cost you up to $150-$500, but it also includes an HVAC system, both heating and cooling system.
Expect to pay $50 to $150 for repairs outside the standard service for an HVAC repair.
How do I know if my air conditioner needs freon?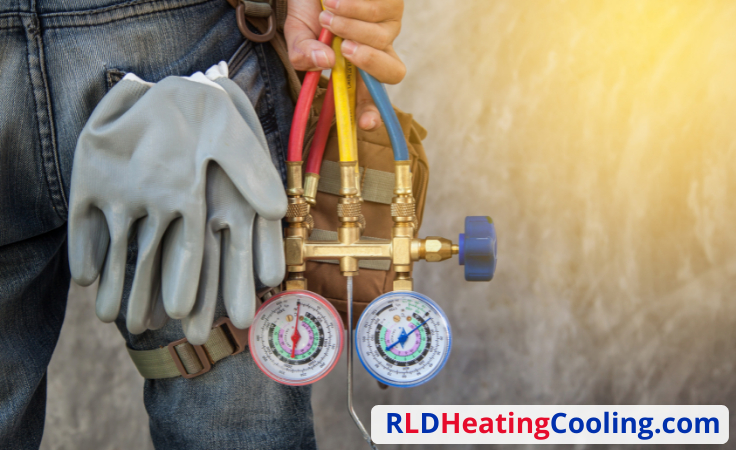 Freon is a chemical refrigerant used in ACs today that cools the air.
The refrigerant flows throughout your AC's coil, where it absorbs all the heat from inside your house and exhales it outside, thereby cooling your home and improving your home's indoor air quality.
Freon leak is a significant issue for an AC system, so here we are to help you detect this issue before it takes a toll on your system.
Here are a few signs that point towards low freon in your system:
Your Air Conditioning units keep running without CoolingCooling.
Warm air comes out from the vents.
Your electricity bills are skyrocketing.
Ice-formation around the refrigerant lines.
Bubbling or hissing sounds occur when the AC is not functioning.
Can I use my home warranty for ac maintenance?
If your AC unit is new, it is most likely covered by an air conditioner warranty from the seller.
Most sellers offer 5-10 year AC warranties which also cover the compressor.
In many cases, even a home warranty covers AC units, thereby saving you from unnecessary expenses and hassle.
Write off ac maintenance.
No, you cannot write off a new HVAC system on your taxes.
The nonbusiness energy property tax credit that allowed you to write off a new HVAC system is no longer valid.
However, if you have installed a geothermal heat pump, you may be eligible for the residential energy credit.
Write off ac maintenance for rental property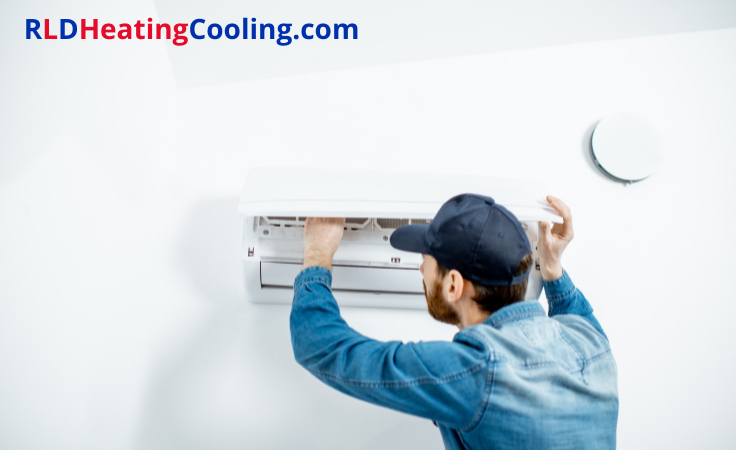 You can deduct the cost of:
Materials.
Repairs.
Supplies.
Maintenance from your rental property to keep it in good condition.
When you include the market value of your rental property in your rental income, you can deduct the amount considering it as rental income.
Also, read AC Maintenance Checklist >>>
Why Us?
SEE WHAT OUR FRIENDS HAVE TO SAY
Had a fantastic experience with RLD and the team. I heard about this company from one of my friends and learned that the services are excellent. So, I thought of trying it out. Called customer service for booking a maintenance service. Trust me; they were so polite and professional, I was flattered. They booked the appointment for the next day, and the team arrived on time. The team carried out the tune-up process well and charged a minimum amount. Satisfied with the service. Now I know why my friends were so happy. Thank you, RLD services.
– Anastasia K.
Fantastic service and outstanding communication. The best thing is- If the team is unavailable, the customer service will let you know so that you don't have to wait unnecessarily. Gave us some constructive tips and finally got our ac serviced. I think I have found my go-to HVAC company.
– Mathew L.
Fantastic service!! Tim was fantastic, not just Tim; his entire team was fantastic. They were super honest, efficient and professional. Didn't try to upsell and even did some additional work without charging any extra cost. More than satisfied with the work. Highly highly recommended.
– Harry J
Have used RLD's services many times, and not going to lie; they haven't disappointed us even once. All of my AC maintenance services are carried out by this company, and they are friendly, professional and prompt. Would recommend them. A+
– Willie M.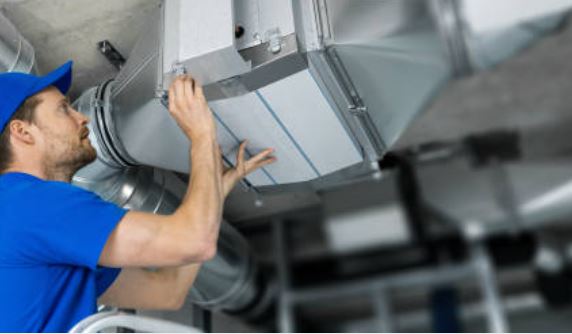 call 310-926-6368
Contact 24/7 our scheduling department today to make an appointment.
Address

8040 Deering Ave #5
Canoga Park, CA 91304
Tel 310-926-6368
Email rldheatingcoolingcompany@gmail.com
Opening Hours

Monday 8:00 am – 8:00 pm
Tuesday 8:00 am – 8:00 pm
Wednesday 8:00 am – 8:00 pm
Thursday 8:00 am – 8:00 pm
Friday 8:00 am – 8:00 pm
Saturday 8:00 am – 8:00 pm
Sunday 9:00 am – 5:00 pm