Heating services Los Angeles to keep your house warm and comfortable!
At RLD heating and cooling services, we know exactly how important it is to have an efficient and smoothly working heating system that you can 100% rely on.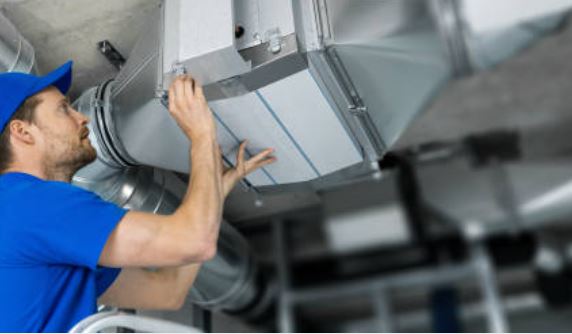 call 310-926-6368
Contact us 24/7 for Heating Services!
our Difference
Premium HVAC Heating Conditioning Services.
Your heater should work:
Reliably.
Powerfully.
Effectively.
Comfortably.
Apart from that, your heater should be energy efficient so that you don't have to spend unnecessarily on electricity bills.
We at RLD provide all types of heating-related services like:
Repairs
Installation
Replacement
Maintenance
To help you in your journey to comfort.
We are a team of trained HVAC service professionals operating in Los Angeles and nearby cities. Each of our locations is independently operated and owned. Therefore you can be sure that your heating experience will be backed by a local expert while also carrying the name of a national brand. In addition to that, we possess well-stocked vans, ongoing training, and 100% customer satisfaction is guaranteed. So when you call us, you have nothing to lose but much to gain.
So what are you waiting for? Call to book an appointment now!
heating Services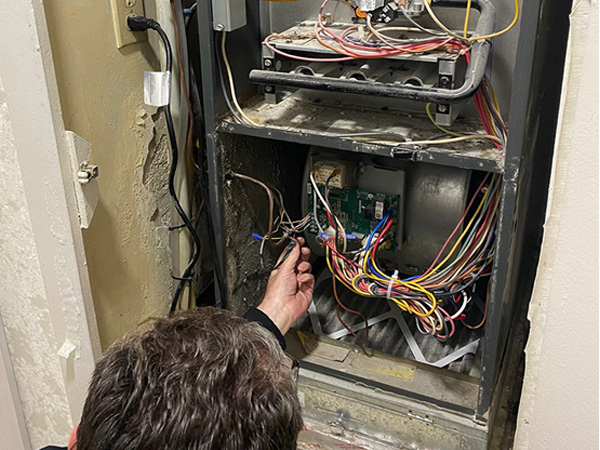 Heating Repair
Is your heating system shutting down too often or making weird sounds? It's time to go for a heating repair service. Call us to book an appointment!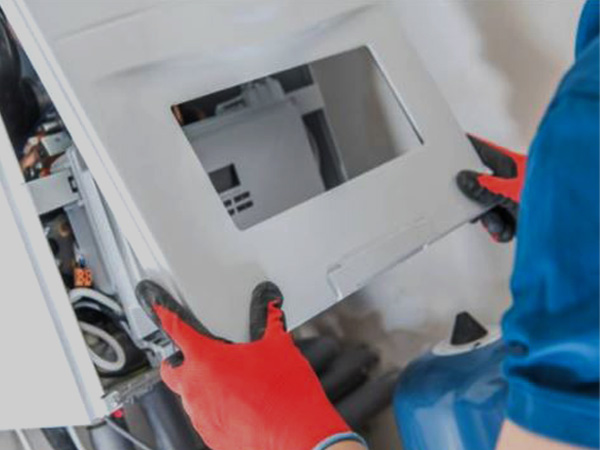 Heating Installation & Replacement
Installing a heating system is not as easy as it sounds. You must choose the right unit, and for that, you need help.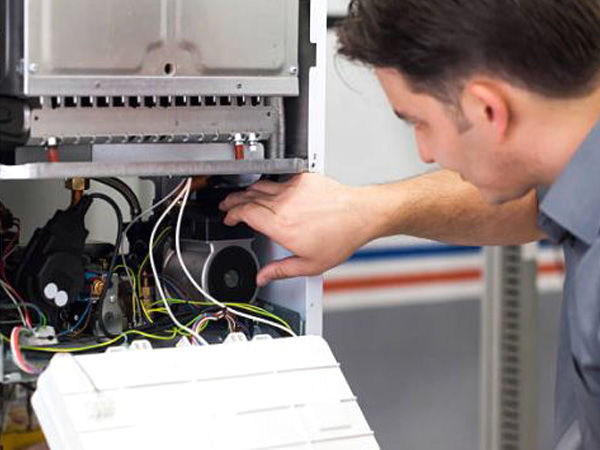 Heating Maintenance
Maintaining your heating system is as important as eating a meal for your body. So must NOT skip it in any circumstances. Call us to schedule a service!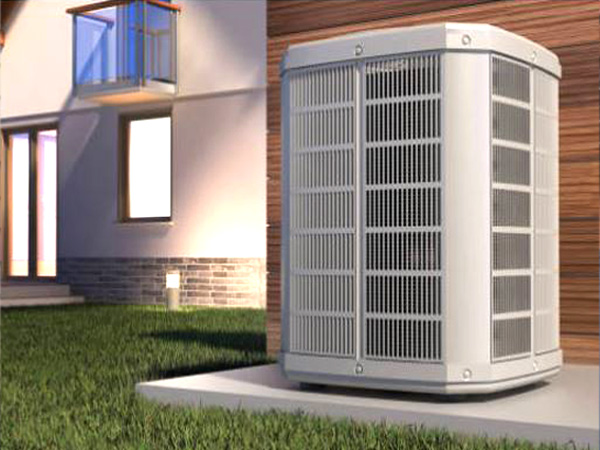 Heat Pumps
Heat pumps play an integral part in keeping your heating system in good shape. So you must take good care of your heat pump. Learn how!
Various heating services

Are you in dire need of heating services? We're ready to solve every problem of yours.
Whether you need services on :
Boilers.
Heat pumps.
Radiant heating.
Or you are confused about what type of heating installation will suit you the best. We give the best advice. If your heater requires maintenance or repairs, our technicians will carry out the process to get your home into ideal comfort levels as soon as possible.
But how are we so confident about it? Well! All the credit goes to our service technicians who are highly trained and will get your heating system working correctly. When you choose RLD, you get:
Professionals that are stocked and equipped with the latest tools and skills to investigate and solve even complex HVAC related problems.
Background checked, and drug tested technicians.
Consultants that will treat your home like family and respect them.
Heating service #1: Heating installation and replacement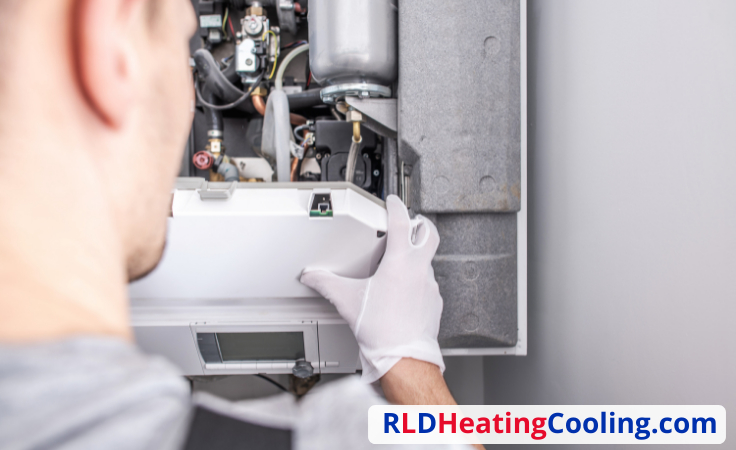 Does your heating system shuts off in the middle of the night or needs frequent repair services? Is it becoming too expensive to keep your home warm and cosy during winters because of all the costly repairs? Are you tired of the hassle your heating system puts you through now and then?
Well! If you are stuck in the never-ending cycle of all these issues, it is time to replace the unit with a new one. And it is always recommended to approach a qualified HVAC expert to carry out the replacement and installation process for your house.
At RLD, we perform quality installation and replacement services keeping in mind your grievances and inconveniences. We will inspect your whole house, the current system (if any)
We'll assess your home, present system, and heating needs to recommend the best options. For instance, if you are worried about skyrocketing energy bills, our technicians would suggest you a system with zoning controls or a programmable thermostat. If someone in your family members has a breathing or allergy problem, our consultants would suggest an HVAC system that controls moisture and air quality. Our consultants will also recommend the type of air filters and humidifiers you need.
So you can always look up to us for any HVAC related advice and suggestion.
Heating service #2: Heating repair
Your heating shutting down in the middle of a winter night is not just frustrating but also dangerous. At RLD heating & cooling services, we understand how critical and uncomfortable such situations are; we are here to help. We provide top-notch heating repair services in Los Angeles and neighbouring cities.
Well! We don't want to blow our trumpets, but our trained technicians can work on any HVAC system. Each one of our HVAC professionals is well trained, and NATE certified. No matter what problems your system is having:
Making weird noises.
Not heating enough.
Consuming excessive electricity.
But worry not, we always move with our vehicles stocked with the necessary tools and equipment to solve your problems in the first meet. We aim to restore heat as quickly as possible.
Whether you are experiencing an issue in the middle of the night or during a long holiday, our emergency repair services are always ready for you because we always have an HVAC technician.
Heating service #3: Heating maintenance services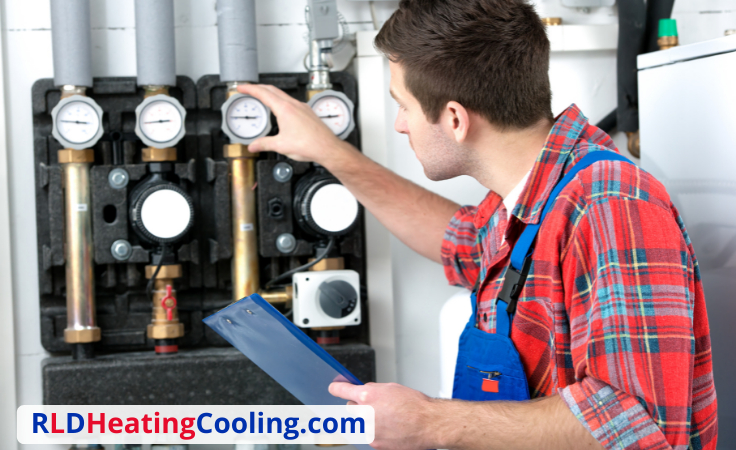 Whether you own a new or an existing system, you must keep it in a fit condition so that you don't have to burn your money on costly repairs. RLD offers expert service and various maintenance plans, which you can opt for according to your choice and convenience. Apart from that, we also provide complimentary plumbing and electrical inspecting services. The inspection service makes sure that the heating system is working at its peak performance and will detect the issues (if any). The maintenance plans also include:
Discounts and rebates.
Priority services.
Other benefits.
Heating service #4: Boilers
There are a wide variety of HVAC units available in the market. However, boilers remain the top choice for most households in the U.S. because of their simplicity and reliability. Boilers are available in both hot water and steam varieties and are powered by:
Though hot water boilers are energy efficient, steam boilers are more popular.
However, at RLD, we install all types of boilers to keep your home warm and comfortable in the winters. Our experts also provide boiler repair services to keep your boiler working.
Heating service #5: Furnaces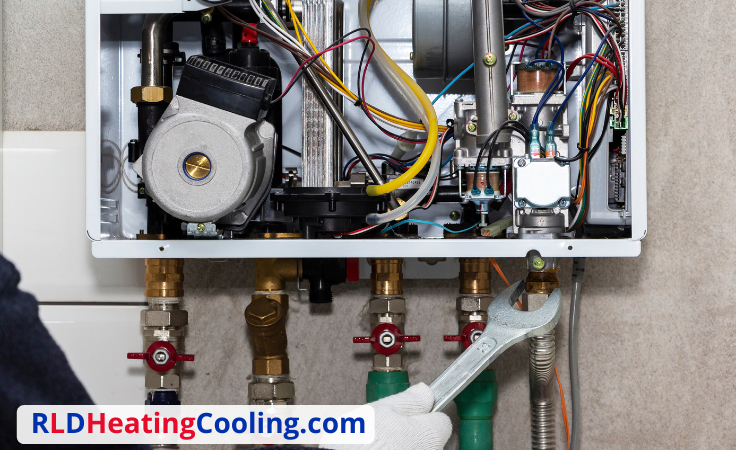 Furnaces are available in both one-stage and two-stage options, and they can be powered by:
It gets pretty confusing to choose between the different combinations being offered. We at RLD provide consultations based on your house's square footage, and your heating needs to solve that problem. Investing in a new furnace is a costly affair, so you must make a wise decision so that neither the system is overworked nor is there any energy wastage.
Heating service #6: Heat Pumps
One of the popular and efficient HVAC system types, a heat pump, can keep your home warm and cosy no matter the weather.
It functions on electricity and transfers heat rather than burning fuel to warm or cool your home.
There are two forms of heat pumps:
Air source heat pumps use the air to transfer heat.
Geothermal heat pumps transfer heat from the ground.
If you need a heat pump repair service or want to install a new system, RLD services can help.
Heating service #7: Radiant heating
Radiant heat systems channel the energy to distributors like thermal panels.
The distributors can be in the walls or floorboards of your home. It works by trapping heat and transferring it outwards to cool your house.
Therefore, radiant heaters don't need ductwork and offer superior heating across large areas. It is ideal for those prone to respiratory issues and allergies and can efficiently utilize existing energy sources.
We solve all your heating problems and provide emergency services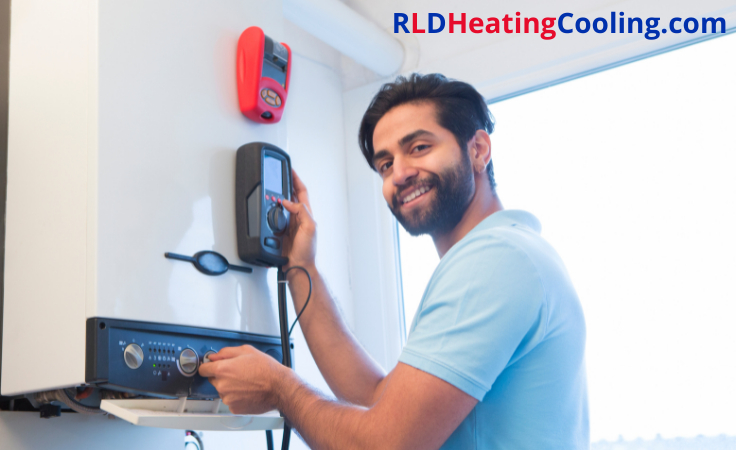 It doesn't matter what kind of heating system you have in your home; it needs regular maintenance. RLD heating and air conditioning services provide all heating services ranging from heating installation to repair and replacement. You can schedule service anytime, and our professional technicians will be happy to help.
If you are experiencing any emergency heater issues, we are there to help you out 24/7. We prioritize customer service above everything and back our service with 100% satisfaction guaranteed because we know how annoying and frustrating it is to wait for the technician to show up all day and night long. That's the reason when you book an appointment with us, we show up promptly, and if we are late, we will pay you back your time!
Cities we serve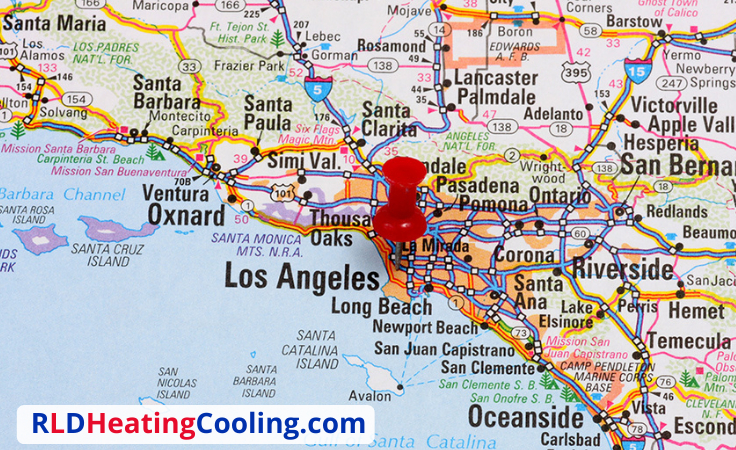 Apart from Los Angeles county, our service area includes Ventura, San Bernandino, Riverside and Orange Counties.
We are located in Canoga Park, the heart of San Fernando Valley, so we proudly serve
Canoga Park
Winnetka
Chatsworth
Sherman Oaks
Tarzana
Reseda
Encino
Woodland Hills
Thousand Oaks
Agoura Hills
Westlake Village
Calabasas
Santa Clarita
Simi Valley
and more.
FAQs
Here are some of the questions people usually ask:
Heating service FAQ#1: How often should I have my heating system serviced?
You should get your heating system inspected by an HVAC professional every year. If you own a standard furnace unit, it must be maintained once annually. If you own a heat pump that you use continuously around the year, you should schedule this service twice a year.
Heating service FAQ#2: How much does internal heating cost?
If your home accommodates existing usable ductwork, then the central heating system will cost you around $2000-$4000 for a mid-efficiency furnace, while $3000-$6000 for a high-efficiency furnace.
Heating service FAQ#3: How long does it take to service the heater?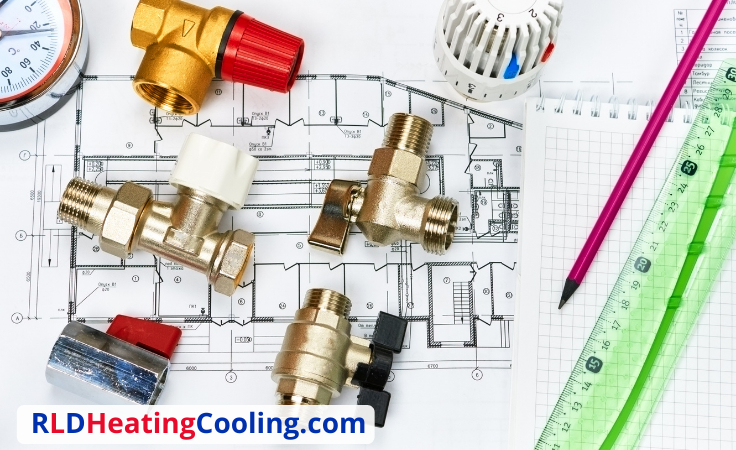 A heater tune-up can take around 1.5 to 2 hours to complete. However, the time taken is dependent mainly on how old the heater is. If the technicians find that your heater needs more repairs, it may take longer.
Heating service FAQ#4: What is an AC Maximizer?
The HVAC maximiser is a microprocessor module that adjusts your HVAC fan automatically to run for a specific time after cooling or heating units complete the cycle.
Why Us?
SEE WHAT OUR FRIENDS HAVE TO SAY
After a super stressful day at work, I was heading home, and it was shivering cold that night. I was dreaming of having a good sleep but as soon as I hit the bed, my heater stopped working. I was frustrated like anything and without a delay, I called RLD services. To be honest, they gave a very prompt response and they arrived within 1 hour. It was found that the thermostat had some issues. They quickly solved the problem and charged a very fair amount. Very impressed by the service! 10/10.
– Mirna A.
To begin with, I'm an extra cold person, by that I mean I feel extra cold and my heating system is my ultimate soulmate. But one fine day, out of nowhere my heater started making unusual noises. I got worried and immediately started looking for HVAC companies online. After scrolling a bit, I found RLD services. Without a second thought, I called and they said they will arrive by evening. In the evening, the team visited and they repaired the system. Loved the service! Highly recommended.
– Jennifer A.
Super amazing service, friendly and professional behaviour and fair prices. What else does one need? Great job RLD!
– Miranda K.
One of the best HVAC companies in LA. Transparent and efficient. Thumps up!
– Jeff R.
Had a great experience with the company. 10/10 for the services, super friendly and knowledgeable.
– Miley C.
I must say this company is underrated. The services they provide and the prices they charge! Absolutely worth it. I'm sticking to them forever!
– Lita J.
Our Opening Hours
Monday 8:00 am – 8:00 pm
Tuesday 8:00 am – 8:00 pm
Wednesday 8:00 am – 8:00 pm
Thursday 8:00 am – 8:00 pm
Friday 8:00 am – 8:00 pm
Saturday 8:00 am – 8:00 pm
Sunday 9:00 am – 5:00 pm
Our Address
8040 Deering Ave #5
Canoga Park, CA 91304