HVAC Canoga Park services from RLD Heating Cooling are a sure way to revolutionize your comfort at home and work.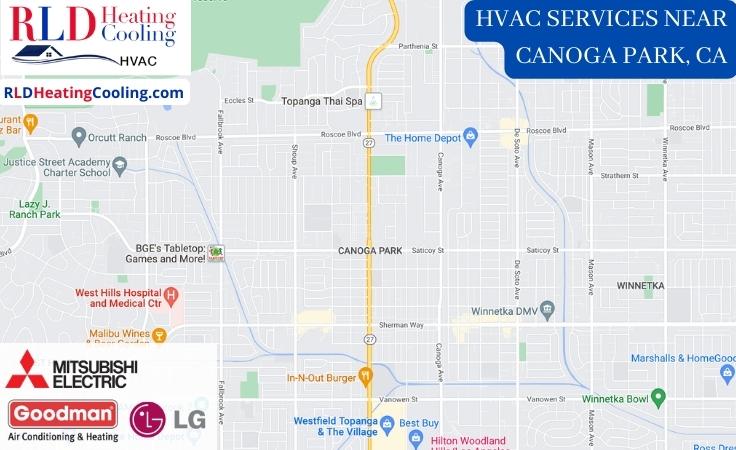 Yes, we offer our HVAC services to both residential and commercial spaces at the following zip codes 91303, 91304, 91305, 91306, 91307, 91308, 91309, and 91396.
In whatever dealings we have with our clients, the goal is to always ensure they:
Have reliably functioning air conditioners, furnaces, mini splits, or whatever heating or cooling system,
Save money by avoiding problems that may need too much money to fix,
Have highly energy-efficient systems.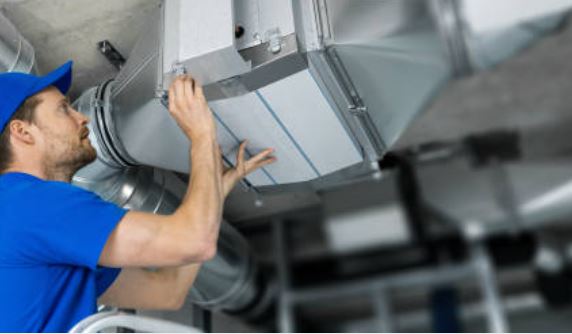 call 818-210-6669 or 310-926-6368
Contact 24/7 for HVAC Services Nearby Canoga Park, CA.
We are a team of technicians you can trust. And when we say this, we are talking about:
HVAC technicians that have over a decade of experience serving clients,
Contractors that are licensed by the involved bodies and organizations,
Contractors that genuinely care about your welfare and that of your HVAC systems.
If you are looking for a heating and cooling company to trust in Canoga Park, we are the people to get that work done.
Come with us as we look in detail at the service we offer our clients.
AC Services Nearby Canoga Park, CA
Feel free to contact us today if you want any air conditioning services in Canoga Park.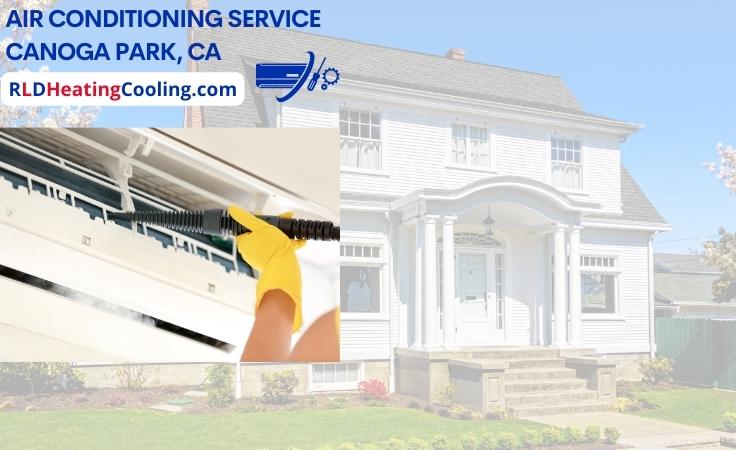 Our professional team has experience offering AC installation, repair and maintenance services.
RLD Heating Cooling has got you covered whether you want to service a window, ductless or central AC unit.
We would also like to inform you that we have all the safety equipment and tools to access even the remotest located AC system; do not hesitate to contact us even if it's deep in the attic.
We await your calls to book air conditioning maintenance services in Canoga Park.
AC Repair Nearby Canoga Park CA
Call us for air conditioner repair services as soon as you notice any issue with your AC system.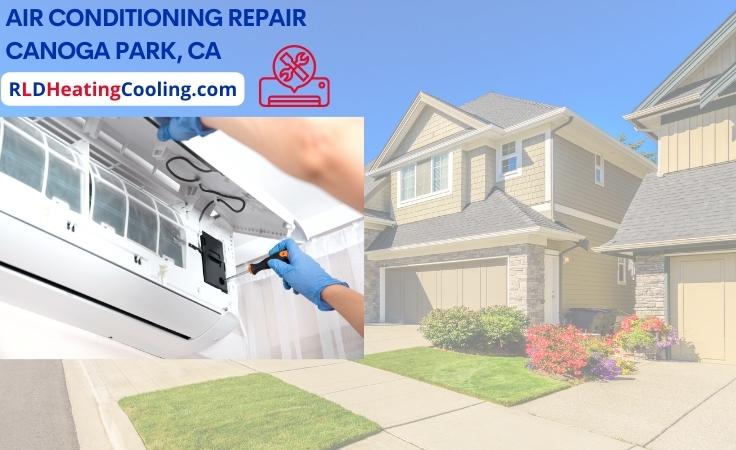 Our HVAC contractors will be on the road to fix your air conditioning system.
We encourage our clients not to wait for ages to get AC repair. This is just like any machine; you need to give it the needed attention as soon as it asks for it.
If you fail to do this, you can expect the condition of the system to keep going down the hill.
Contact us whether the system is broken down or is just malfunctioning. We will come on-site to fix your system.
Air Conditioning Installation Nearby Canoga Park
Are you looking to acquire a new HVAC system? Contact us for AC installation services.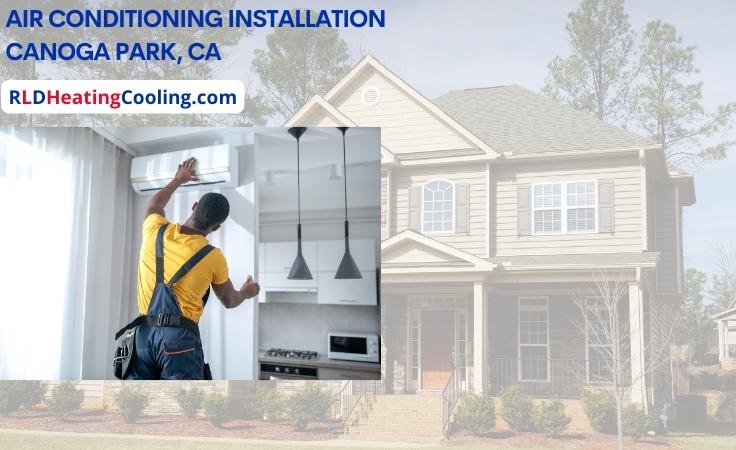 We know that there are a lot of guides to do a DIY installation.
We, however, would like to highly discourage you from doing this; get a professional HVAC contractor to do the job. Why? You may be wondering.
Many people mess up their new air conditioners trying to do the installation themselves. Besides, many HVAC brands will terminate your warranty rights if you install it yourself.
Keep yourself and your new system safe by using our air conditioning installation services.
Give us a call to book an appointment.
Air Conditioning Maintenance Canoga Park
Reach out for AC maintenance services in Canoga Park.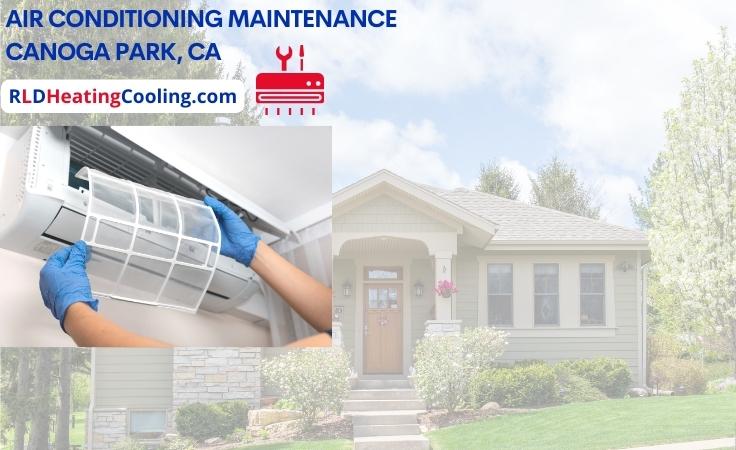 Our services will ensure you have a perfectly functioning air conditioning system all season long. In short, this service is for you if you like reliability because we will give you exactly that.
Contact us to book an air conditioner maintenance service in which we will:
Service all interior and exterior parts of your HVAC unit,
Diagnose all parts for any underlying problems,
Clean all parts for optimized functioning,
Change or clean air filters for a better air conditioning process,
With this, you will have a properly functioning AC that consumes minimal energy. Contact us today to book your appointments.
Emergency Air Conditioning Repair
Reach out to us for emergency AC repair services in Canoga Park.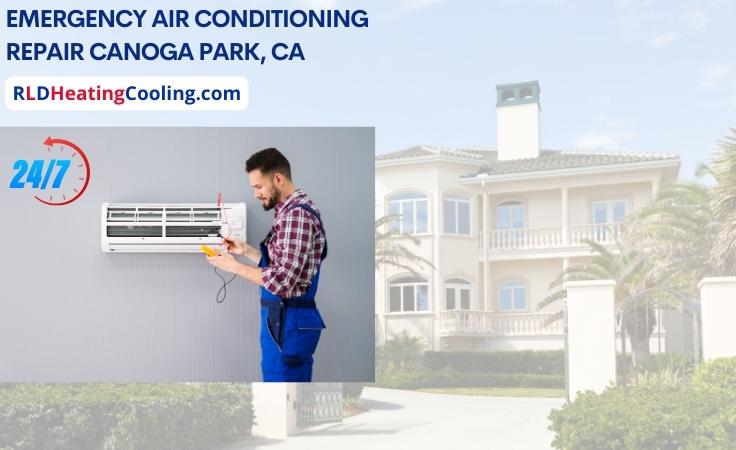 Do not burn in the scorching summer heat; call us and let us know that you need urgent repair service, and we will immediately dispatch our team.
We will be at your service, whether at night or during the weekend or holidays.
This service is for you if:
You cannot wait to get the hard-to-get regular AC repair appointments,
The system is posing a danger, such as through apparent refrigerant leaks,
Is making too much noise, such as loud screeching noise,
You urgently needed the system's services, yet it has broken down.
All you have to do is tell us it is urgent, and we will be at your doorstep in no time.
Ductless Mini Split Canoga Park, CA
Reach out to us today for ductless mini-split services in Canoga Park.
We offer ductless mini-split installation, repair, and maintenance services.
Our ductless mini-split installation will transform the effectiveness of zoned cooling and heating in your house or business space.
We have covered whether you are looking for a system to service your kitchen, home office, attic, bedroom or basement. We also service ceiling cassettes, wall and floor systems.
Call us today to book your appointment for ductless mini-split services.
Canoga Park Heating – Oil, Gas, Electric Furnaces & Heat Pumps
Call us today for heating services in Canoga Park. Our furnace services ensure that everybody stays warm all winter long.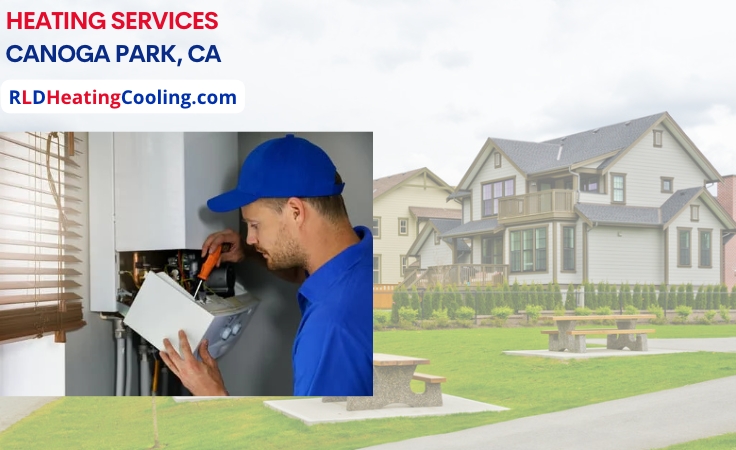 We all hate the winter cold and all its respiratory issues. Our furnace services will save you from all this by ensuring you, your family and your pets stay cozy all winter.
Reach out to us today for furnace installation, repair and maintenance services. We offer these services for oil, gas and electric systems. We will be glad to receive your appointments to serve you.
Furnace Repair Canoga Park CA
Avoid sitting around with a broken down or malfunctioning heating system when you can contact us for furnace repair services in Canoga Park.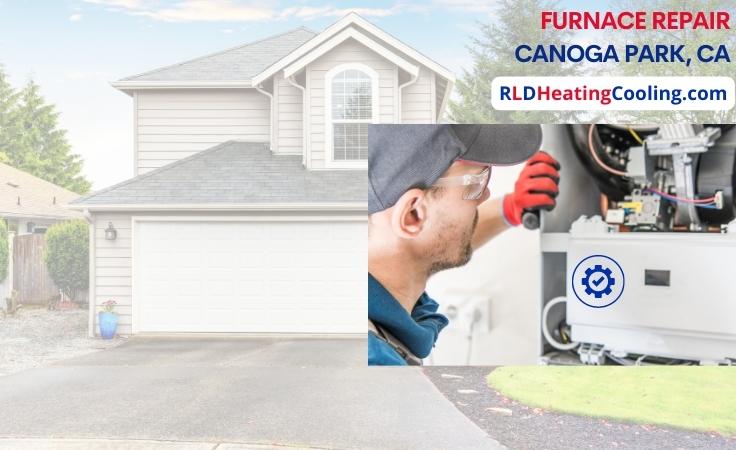 Our furnace fixing services will rectify any significant or minor issues in your system. Whether the system is not turning on, short-cycling or is not heating as well as before, our technicians have got you covered.
And with our furnace repair services, we will not only fix the problem at hand. We will further diagnose all the other parts of the system and recommend future maintenance and fixing services. At the end of all of it, you can expect a properly functioning system for seasons to come.
Furnace Installation Canoga Park CA
Reach out to us at RLD Heating Cooling for furnace installation services.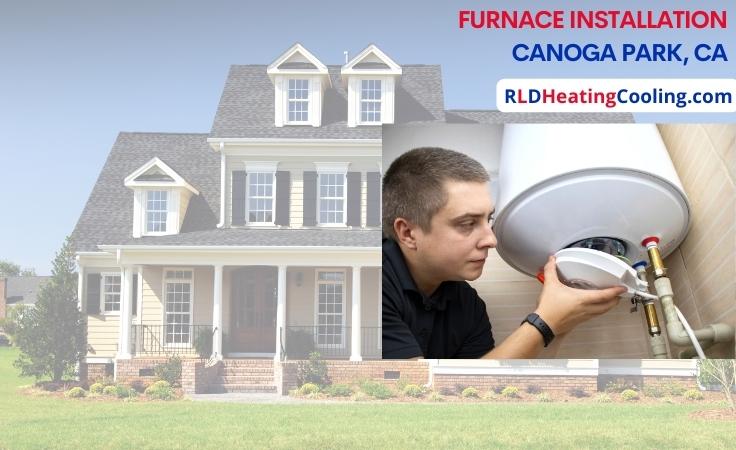 We have you covered whether you want to acquire an oil, gas, or electric furnace. Also, we can help you select which type and brand of furnace suit your budget, and heating needs best.
Furthermore, our technicians will help you select the best location for optimal furnace functioning.
You can trust that you will have your furnace well-installed for your comfort. At the end of it all, we will help you register the system with the manufacturer to ensure you maintain all your warranty rights.
Call us whether you are looking for furnace installation or replacement services, and we will get an incredible job done.
Furnace Maintenance Services Canoga Park
Our furnace maintenance services will ensure you enjoy a warm house ambiance all winter.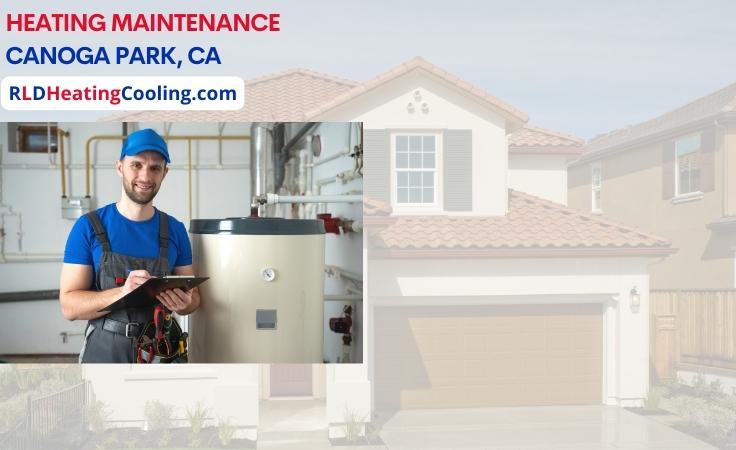 Going into the heating season without servicing your system can result in poor functioning and inefficiency.
Our furnace maintenance services optimize your furnace to serve you efficiently and effectively all season long. We ensure all parts are in excellent working condition for cooling.
Besides, you can expect to lower your energy bills by getting these maintenance services.
Reach out to us today to book your annual furnace maintenance services.
Heat Pump Services Canoga Park
Contact RLD Heating Cooling for all your heat pump services. We gladly offer you installation, repair and maintenance services, whether a central or ductless heat pump.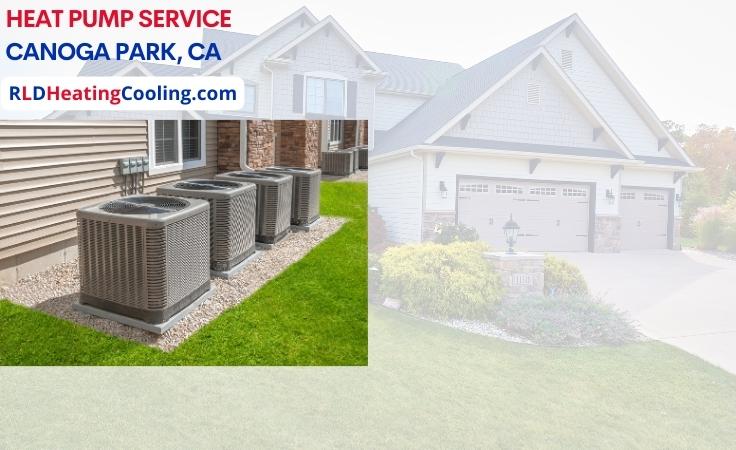 Our services ensure your heat pumps are in crisp condition to serve you all year.
Reach out today if you want a system you can depend on all year round. Besides ensuring the system is in top condition to offer you the comfort you need, we will ensure the system only consumes a manageable amount of energy.
Air Ductwork Canoga Park
Ductworks are an important part of a properly functioning cooling and heating system.
Contact us today for ductwork services to ensure a reliable duct network.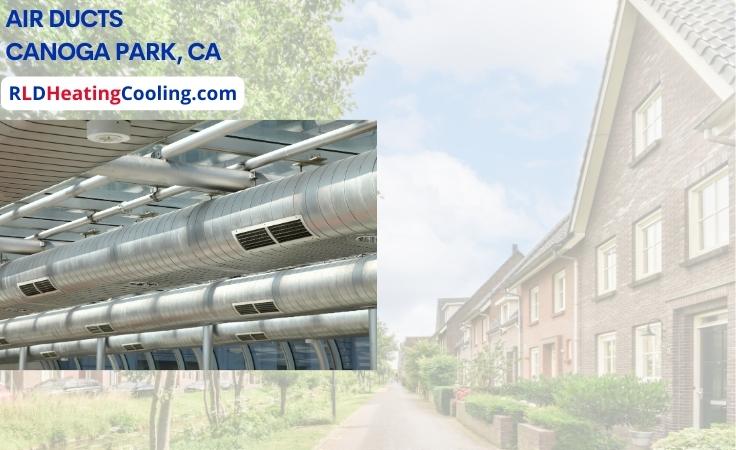 With these services, we guarantee you the following:
Lower energy bills,
Faster and even cooling and heating,
Quieter healing and cooling processes,
A better-functioning HVAC system.
Our ductwork services include:
Installation,
Repair and replacement,
Maintenance,
Cleaning,
Sealing.
Contact us today to book your ductwork services appointment in Canoga Park.
Duct Repair, Replacement, and Installation nearby Canoga Park
We offer ductwork repair and replacement services in Canoga Park.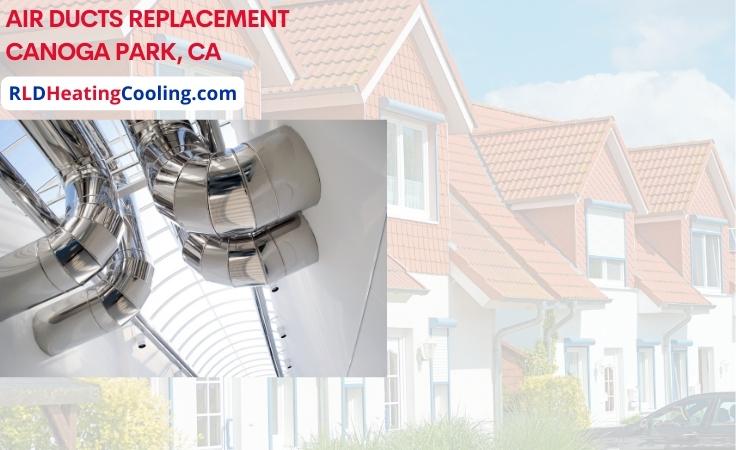 Contact us today if you:
Have been having your ductwork for more than 15 years,
You notice visible mechanical damage, holes or cracks on the ducts,
Notice deterioration in the cooling and heating functions.
Our technicians will come on-site and examine the damage on your ductwork and recommend repair or replacement services. Getting ductwork repair or replacement guarantees better air conditioning functioning and reduced energy bills.
Message or call us today to book your appointment.
Duct Sealing Canoga Park
RLD Heating Cooling takes duct leakages seriously; we know how much it can drain you, your HVAC system and your pocket.
Contact us today for duct sealing services if you suspect you have leakages.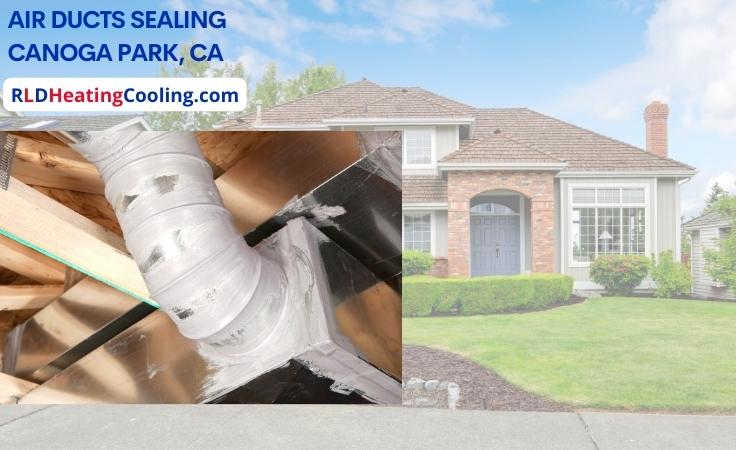 We will offer you different types of duct sealing depending on how extensive the damage is.
At the end of duct sealing services, we assure you of reduced costs and effective air conditioning and heating.
Contact us today to book your duct sealing services in Canoga Park.
Duct Cleaning Canoga Park
Our duct cleaning services are a sure way to improve your HVAC system's functioning and air quality.
Reach out for a professional duct cleaning service to get rid of molds, contaminants, pollutants, pests and other debris in the ducts.
The foreign items in these ducts always find their way to the HVAC system, which impedes their functioning. They also find their way to the air we breathe and, finally, our respiratory systems.
Ductwork cleaning services from RLD Heating Cooling guarantee cleaner air quality and effectively functioning HVAC systems.
Thermostats Installations, Replacements, Repairs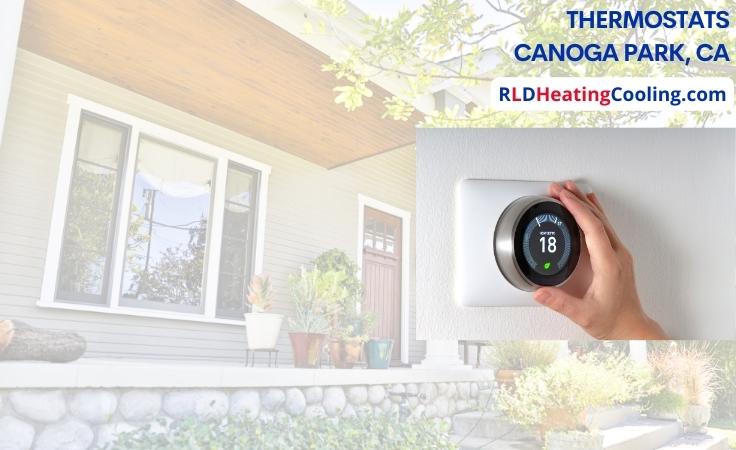 The thermostats play a significant role in the functioning of air conditioners and heating systems. You, therefore, want them to always be in excellent working condition. Contact us today to:
Fix faulty and inaccurate thermostats,
Change locations of poorly located thermostats,
Upgrading from analog to highly energy-efficient smart thermostats.
We will ensure that you have thermostats well-installed and set to timely and effectively start and stop your air conditioner or furnace.
Commercial HVAC
Gone are the days when we focused on making our homes cozy and forgot about our work spaces. At RLD Heating Cooling, we take commercial HVAC seriously, just as we do for residential properties.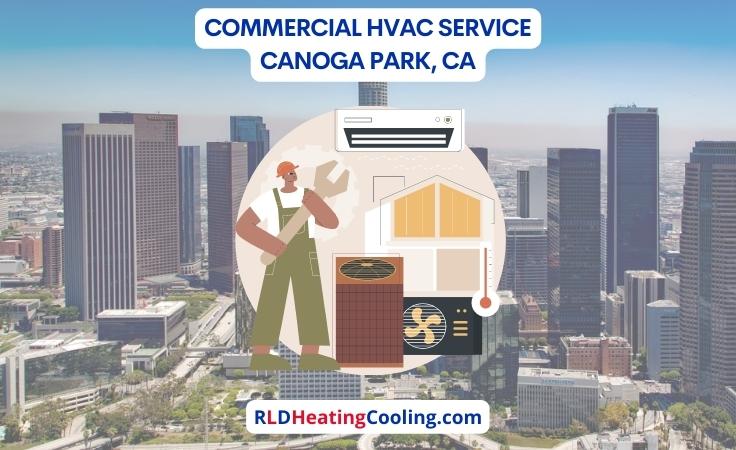 Reach out to us today to get your commercial HVAC installation, repair and maintenance.
We will go out of our way to ensure your business or office space is comfortable, which is a necessity for any business looking to increase its profit margins.
Indoor Air Quality
We offer indoor air quality improvement services to Canoga Park residents.
Call us today to check for pollutants and contaminants in your indoor space.
We live in a world where pollution levels keep increasing, both outdoors and indoors. The best thing you can do for yourself and the people in your household is to test for the air quality and get devices that will help eliminate the contaminants, debris, ducts and pollutants in your indoor space. Our HVAC technicians will get this job done well for you.
Give us a call to book an appointment.
Brands We Work With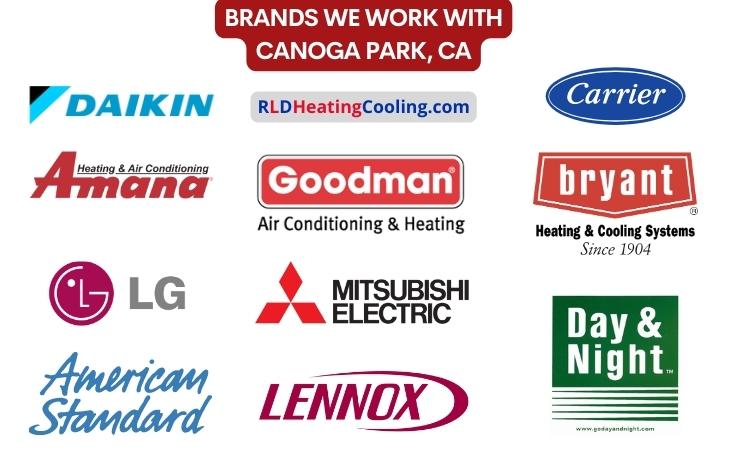 RLD Heating Cooling is a proud dealer of the following top brands:
LG,
Mitsubishi,
Goodman,
Day & Night.
Feel free to contact us if you want to acquire a system from one of the brands.
We, however, would be glad to offer HVAC services to systems from the following brand:
Amana,
Rheem
American Standard,
Daikin
Bryant,
Carrier,
Ruud,
Lennox.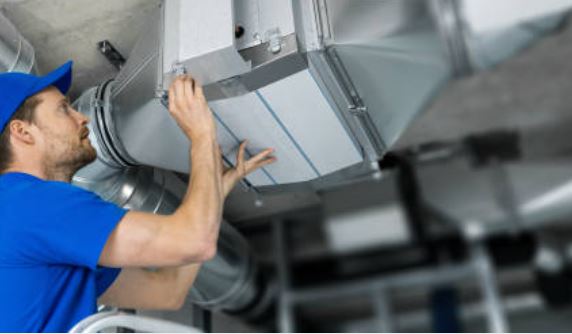 call 818-210-6669 or 310-926-6368
Contact 24/7 for HVAC Services Nearby Canoga Park, CA.
Why Us? See What Our Friends Have to Say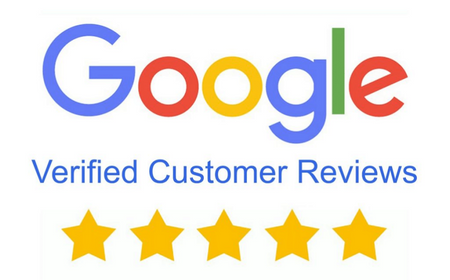 I am super grateful to you, RLD Heating Cooling, for doing a fantastic AC installation job for me. These guys offered insightful knowledge for buying and installing an Air Conditioning system. They were great and professional all through.
– Jayden, Kitchen Manufacturer.
Thanks for repairing my AC unit so fast and under my budget. You did a great job, and I really appreciate it. Thumbs up to the professional team you have.
– Alonso, Dental Assistant
This has been my HVAC company for ages. They have always done a great job whenever I call them. I recently needed furnace repair services, and as always, they did not disappoint me.
– Leonardo, Chemical Engineer.
I am impressed by the gas furnace installation service this company offered me. Not to get into the details, but they held my hand from when I was still shopping for a heating unit to when they finally installed the system in my house. I truly appreciate your kindness, honesty and professionalism
–Alex, High School Teacher
RLD Heating Cooling
8040 Deeting Ave #5
Canoga Park CA 91304
Opening hours
Monday 8 am – 8 pm
Tuesday 8 am – 8 pm
Wednesday 8 am – 8 pm
Thursday 8 am – 8 pm
Friday 8 am – 8 pm
Saturday 8 am – 8 pm
Sunday 9 am – 5 pm