We provide Ductwork services nearby Los Angeles, California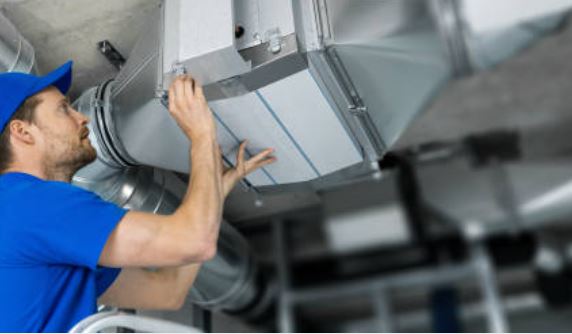 call 310-926-6368
Contact us 24/7 for HVAC services
HVAC Ductworkservices Los Angeles to keep your duct problems at bay!
The ducts in your house are one of the essential parts of your HVAC system.
Even though the ducts are not visible, they play a vital role in the air filtration, heating, and cooling system, which helps you keep yourself and your family happy. Before doing any air conditioning installation or heating installation, you need to make sure that your ducts are in great shape otherwise the whole job will become meaningless.
However, you must understand that you have to clean your ducts frequently to maintain your HVAC system efficiency. A variety of substances like dirt from clothes and shoes, pet hair, pollens and dust from dead skin can block the ducts and vents if not cleaned or maintained for an extended period. If these particles stop getting filtered, you start to breathe them, and that is when the problems begin.
However, some people realize how often duct cleaning needs to occur. Dirt from your clothing and shoes, dust from dead skin and pets, and pollen from outside can block these ducts and vents over time, and when these particles stop getting filtered, you start to breathe them in.
ductwork services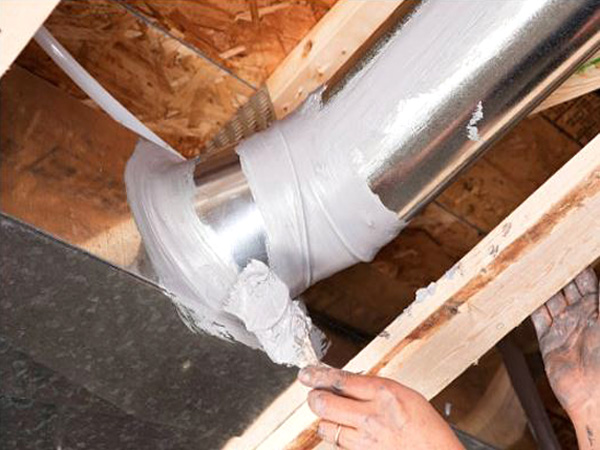 Air Duct Seal
A leaking duct equals damage. That's why you need air duct sealing services to fill those leaks. Our well-trained and experienced technicians will handle the duct sealing job correctly and efficiently eliminate all leaks to restore your comfort. Call us now to book an appointment for an air duct inspection an d helping you with your HVAC system.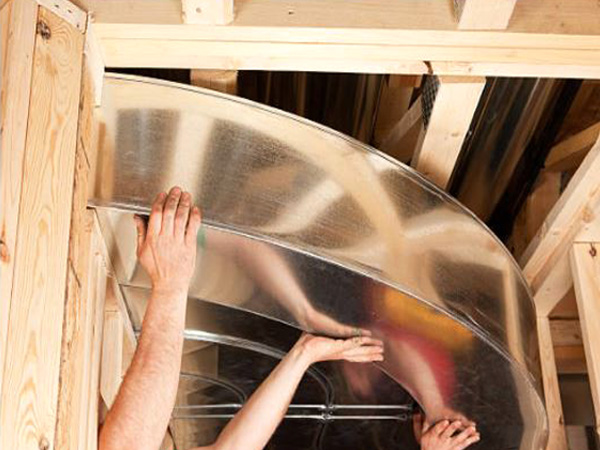 Air Duct Installations & Replacement
Air duct replacement & installation is a complicated task that requires skill and expertise. But worry not; we at RLD services are there to help you out. Our well-trained and experienced professionals know how to efficiently replace and install a duct. So call us now for this service!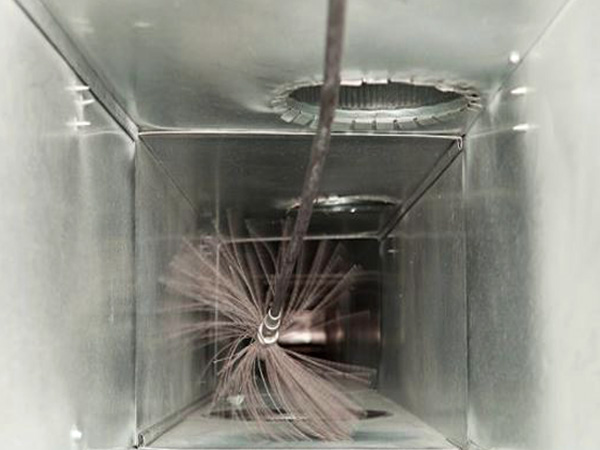 Air Duct Cleaning
Whether it is pests, dust, or any debris, it can clog your duct system. Regular inspection and air duct cleaning will make sure that there is no dust accumulation in those ducts. At RLD Heating & Cooling, we provide top-notch duct cleaning services that you can rely on. If we are overbooked, we will refer you to our sister company. Call us now!
The services we offer
Here are some of the ductwork services we offer:
Duct services #1: Duct Replacement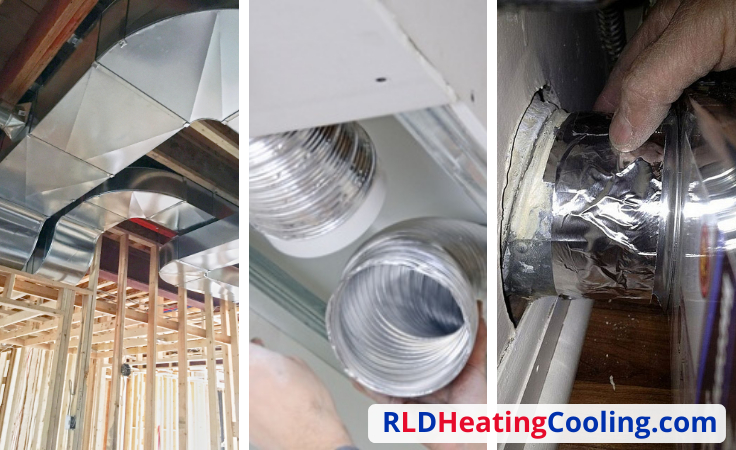 The duct system at your house is a web of connections, distributing heated and cooled air to the different spaces. So, we know how crucial ducts are and their importance in your HVAC system. The health of your ducts influences the efficiency, cost and overall health of your HVAC system.
So, if your duct system has been serving you for 20 years or over, pay attention to them particularly. Be attentive of the signs that may indicate duct problems.
At RLD, we provide world-class duct replacement services. Our HVAC experts will suggest the best fit for your system and install a new duct at your house in no time. So what are you waiting for? Call us to book an appointment now!
Duct services #2: Duct sealing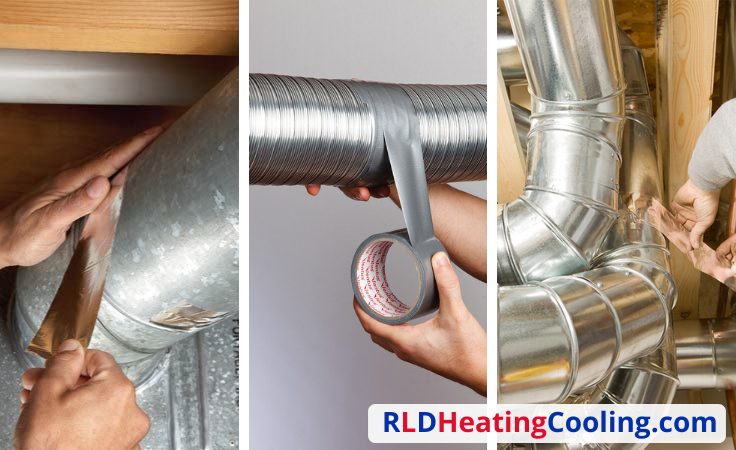 If You have an HVAC at home, it is safe to say that you also have to have a complicated system of ducts that spreads out the heated and cooled air throughout your house as effectively as possible. Most people take these functions and the appliance for granted by becoming unaware that there might be potential leaks, cracks and holes in those ducts. The holes and cracks mean those ducts could leak torrents and severely shoot up your energy consumption and, of course, the energy bills.
Holes and cracks in the ducts can also give way to outside pollution and gases, which can cause asthma, allergies, chronic illnesses etc., for you and your family. Therefore, it is recommended to seal the ducts in your home to reduce the unnecessarily plummeting energy bills and maintain higher air quality at home.
Duct services #3: Duct cleaning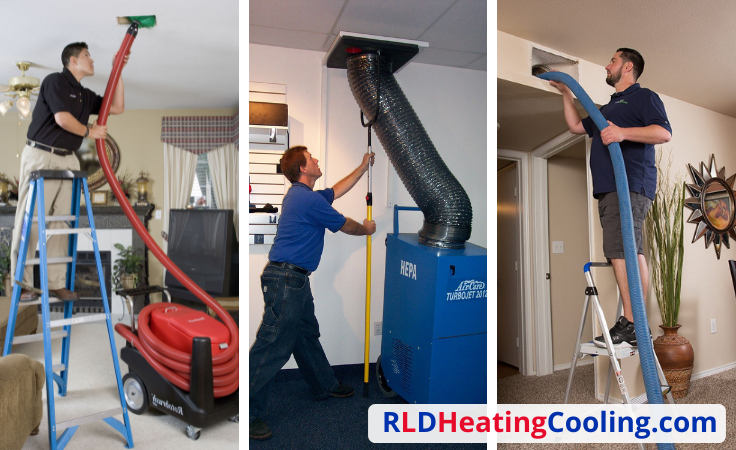 Each year, your air ducts have to experience tons and tons of dirt, dust, and other debris. In most cases, the debris gets stuck in the ducts and starts to accumulate, causing a reduction in air quality and airflow. If this accumulation continues for years, you will notice a subsequent drop in the airflow and quality. You've to constantly deal with issues like sneezing, watery eyes or even household odors.
So, if you are constantly dealing with these issues and you've grown tired of it, get your ducts cleaned by one of the best Duct cleaning companies in Los Angeles at RLD services. We are a team of highly trained technicians who provide professional duct cleaning services. Our technicians use premium quality tools, best-in-class materials, and advanced techniques to conduct a thorough air duct cleaning process.
We service modern sheet metal ducts and old-style duct systems and ensure that your ducts are debris-free and working at their peak performance. So, for any duct cleaning service, contact us now!
Duct services #4: Coil cleaning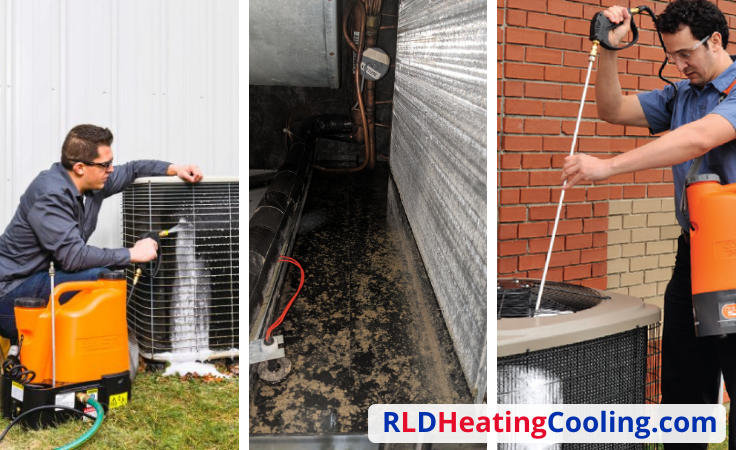 Have you ever thought about the programming of the condenser coil on your outdoor ac unit and what it does?
When it is scorching outside, it takes the heat out of your house, and in the cold season, it moves the air towards the heated coil to warm it.
The condenser coil pumps a significant amount of air into and out of the house. If the dirt and debris build upon the unit or some plants start to grow on it, the airflow becomes restricted, leaving no space to pass. This restricted space for the airflow can make the air conditioning unit hotter, further leading to damage or accident.
The result is – Doubling up of the utility bills and a drop in the shell life of your cooling system. To make sure that this does not take place, you must resort to professional coil cleaning services at RLD heating services and air conditioning services. We provide regular coil cleaning and remove unwanted dirt from your heating and air conditioning coils. In addition to the cleaning process, we also advise you on the different ways you can keep your coils, dirt and plants free.
To keep your coils in good shape, you must get them cleaned at least every two years. However, the frequency is also dependent on how often and repeatedly you use your heating and cooling system. If you use the system almost every day from May to September, you must get it cleaned every year.
Duct services #5: Performance testing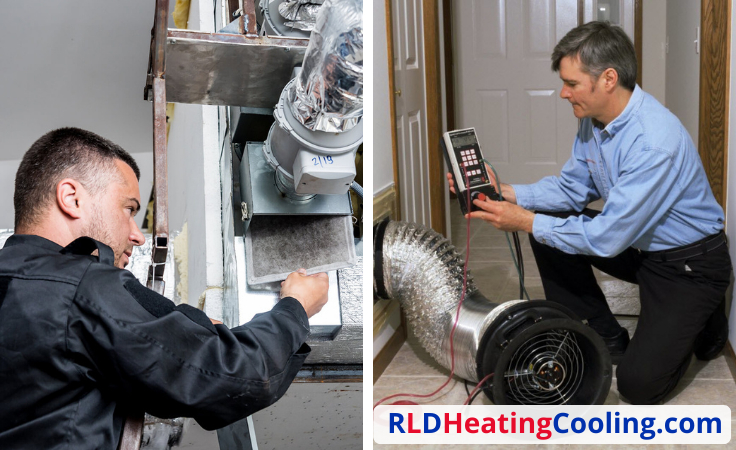 Have you noticed the air leaking out of your house?
In many houses, air leaks are found where the lighting, wiring, plumbing and ductwork have been installed. Additionally, your ducts might also have some leakages. But how do you find out?
Here are some signs of understanding that your house may be leaking air:
High utility bills both in the summer and the winter season.
Difficulty heating and cooling in some rooms.
Your space doesn't feel comfortable because of the degrading air quality.
When the ducts are located in the attic, crawl space, basement or garage.
Tangled or curved flexible ducts in your system.
The first step to making your home more comfortable and energy-efficient is to schedule a performance test for your home. The technicians at RLD services are specially trained and certified to ensure that your ducts and blower door tests are carried out, and your duct is sealed.
Common ductwork issues you might face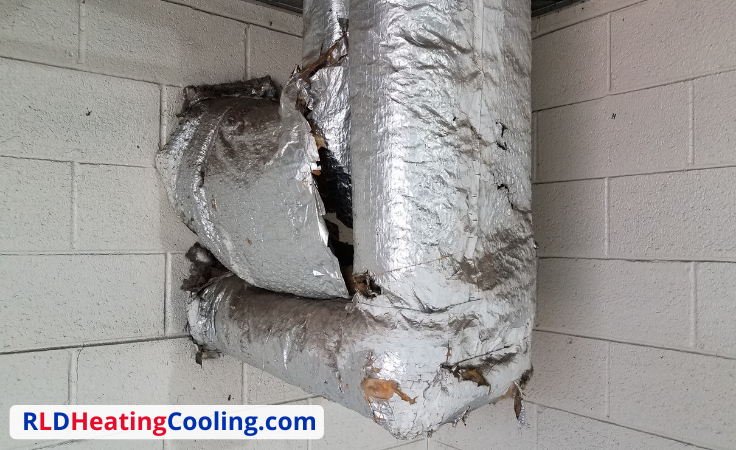 Installing ductwork isn't a layman's job, and there might be numerous mistakes that an unskilled or untrained installer can make while installing your ductwork.
Air ducts pose a lot of components that need to be installed with extreme care and caution. Simply installing the pathways for the air to pass is not enough; you have to ensure that your air conditioner is appropriately working.
And that's why you need the help of a professional so that you don't have to face unnecessary hassle.
Here are some of the common ductwork issues you might face:
Sealing problems– If your ductwork isn't sealed correctly, it might cause air leaks into the crawlways of your house. It can spike your energy bills while not bringing in enough airflow in your house.
Poor planning- The location and placement of your ductwork must be well panned. The reason is- If it is too long, then it will put a lot of pressure on your system. If the ductwork is not sized correctly, it might fail to handle the load of your heater and air conditioning system.
Inadequate returns- HVAC systems control temperatures by sucking the air back into the system with the help of returns. If your ductwork is running low on returns, your HVAC unit will have to function more, thereby degrading your system's efficiency on your system and costing you more money. Also, not having enough returns will cause inconsistency in the temperature throughout your house.
Why choose us?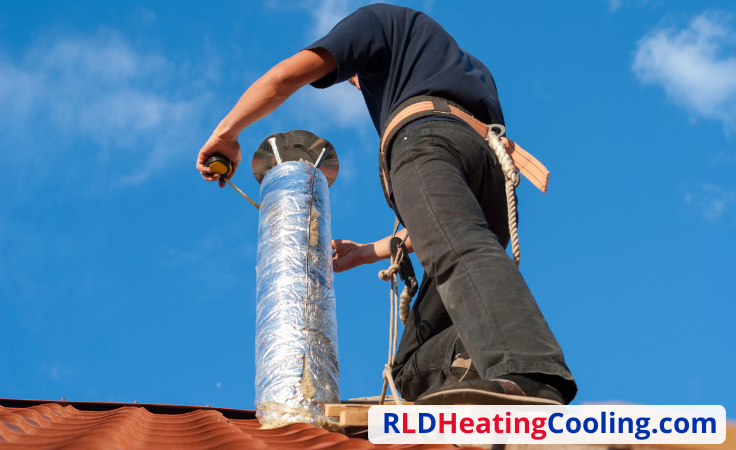 While installing the correct HVAC units in your house is essential, what's more, important is the proper ductwork, which adds proper meaning to these expensive machines.
The ductwork, in simple words, is a systematic pathway that delivers warm and cool air from your HVAC unit into your house with the help of plastic and metal tubes. If the ductwork is insufficient, it can cause leaks and put your system in trouble. Apart from that, faulty ductwork points toward underutilization or overutilization of the HVAC units.
At RLD services, we are ready to ensure that your HVAC system is running perfectly, including the installation, maintenance and repair work. We are a team of enthusiastic and highly trained professionals who will suggest you the most efficient solutions to your problems. If you are thinking or looking of getting a new HVAC system, we ensure that your ductwork is in healthy working condition.
FAQS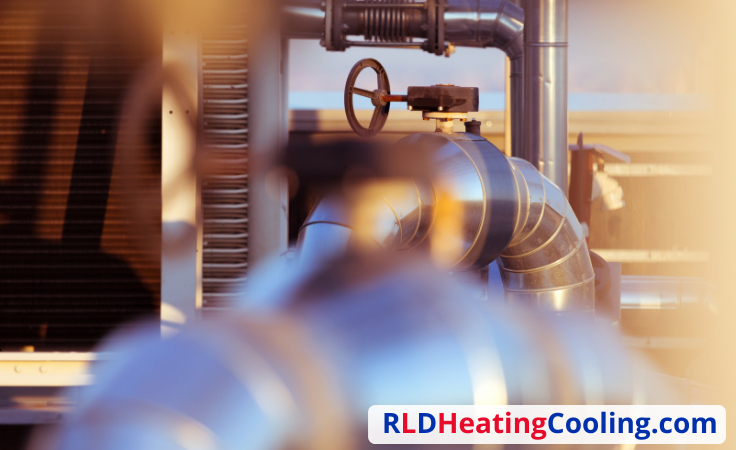 Here are some of the questions people usually ask:
Duct services FAQ #1: What does ductwork include?
Besides the ducts themselves, the ductwork contains a variety of components like:
Vibration isolators.
Stack boots and heads.
Takeoffs.
Smoke and fire dampers.
Volume control dampers.
Air terminals.
Turning vanes.
Plenums.
Terminal units.
Duct services FAQ #2: How much does it cost to maintain and run a duct?
Installing ductwork can cost you around $460- $6000, depending upon various factors. The national average for duct installation is, however, $3067. And, we are all fully aware of inflation, so prices can change any time and every day.
Various factors affect the cost of installation of a duct-like:
The difficulty in installing the duct.
Your home size.
Materials required.
Location of the ductwork.
Accessories used.
Duct services FAQ #3: How often should you clean your air ducts?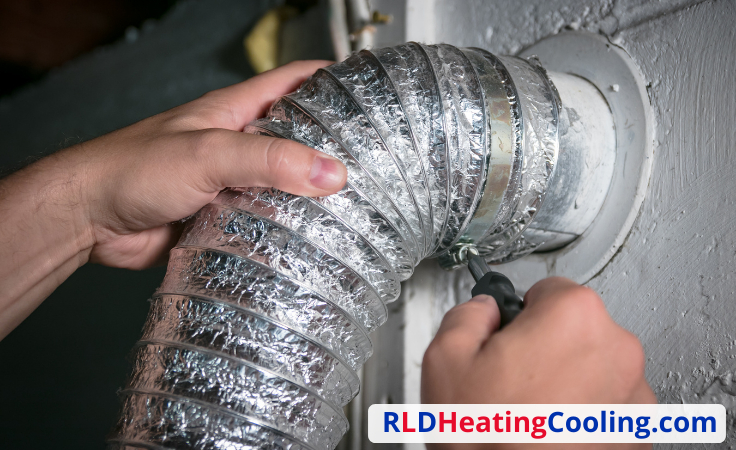 According to the experts, cleaning your air ducts every 2 to 3 years is fine as it stops the onset of any health-related problems. However, if you have pets and kids at home with allergies, you should get your ducts cleaned more frequently than the recommended time.
Duct services FAQ #4: What is the difference between ducts and vents?
There is a vast difference between air ducts and air vents. However, many people refer to duct cleaning as vent cleaning, even though it is reductive. We will explain to you why!
Air ducts are a vast system of metal tubes that connects your furnace and runs throughout your home. Ducts distribute the heated or cooled air throughout your house. And vents are simply the section where the ducts open into the house.
Duct services FAQ #5: Is the HVAC system the same as ductwork?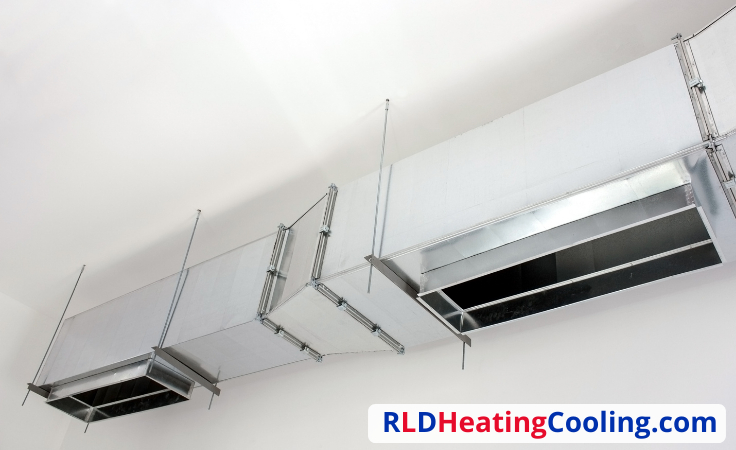 No, an HVAC system is not the same as ductwork. Ductwork refers to a web or system of ducts used to transfer and distribute air from the HVAC equipment in your house. Therefore ductwork is more like a segment of an HVAC system.
Duct services FAQ #6: What are the four types of duct systems?
The four types of duct systems are:
Fiberglass-lined air ducts.
Fiberboard air ducts.
Flexible air ducts.
Sheet metal air ducts.
Duct services FAQ #7: What types of ductwork are there?
There are mainly three types of ductwork:
Sheet metal ducts.
Fiberglass lined ducts and
Fiberboard ducts.
Sheet metal ducts are made of either galvanized aluminum or steel. Aluminum ducts and very lightweight and easy to install and maintain.
Wonder what kind of ducts to do need for different types of central air conditioners?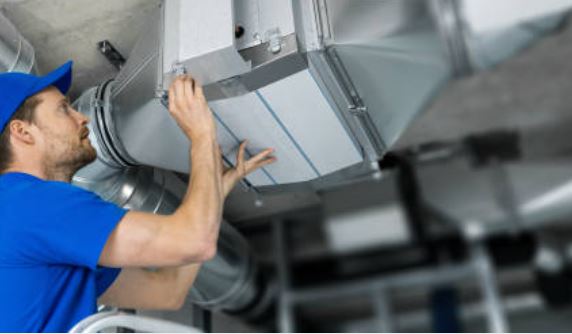 call 310-926-6368
Contact 24/7 our scheduling department today to make an appointment.
Why Us? – SEE WHAT OUR FRIENDS HAVE TO SAY
It had been some time since our heater was not working very well. So I searched for "duct services near me" on google and landed on RLD services' contact details. Fortunately, we got a visit scheduled for the very next day. A guy named Alex showed up at our house and inspected the entire system only to find out an issue with the ducts and solved it in no time. I was so happy with the service he gave. A huge thumbs up to Matthew and, of course, RLD services.
– Liam F.
My drain pipe was clogged right on New Year's eve. I called RLD services to help me out, even though I was pretty convinced that it wouldn't happen. But, to my surprise, they scheduled a visit for the next day. Two men named Igor and Alex showed up the very next day. They did the job in about 3 hours and solved my problem. I loved the work, and their customer service is out of the world.
– Katherine J.
From the customer service to the crew! Everyone in this company is fantastic. Spoke with Igor, and I must say he is a very humble and knowledgeable man. After the call, we had our appointment booked for duct sealing. The entire team showed up the next day, and they did the job perfectly. Just loved their work and people skills.
– Howard J.
My drain pipe Our neighbors referred us to RLD services, and I must say that they didn't disappoint us. We called them for duct cleaning and they responded promptly, quickly scheduled a visit, arrived on time, and did an impeccable job. Special thanks to Igor. Thank you again, and yes, I would recommend this company to everyone.
– Penny U.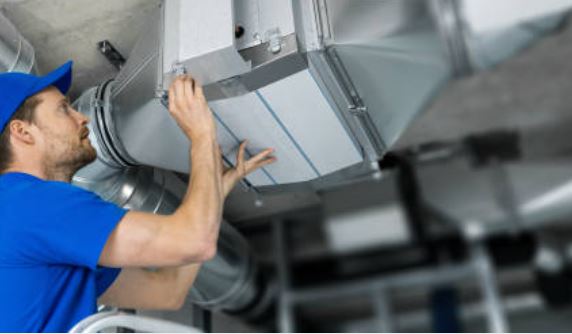 call 310-926-6368
Contact 24/7 our scheduling department today to make an appointment.
Our Address
RLD Heating Cooling
8040 Deering Ave #5, Canoga Park, 91304
Working hours

Monday 8 am – 8 pm
Tuesday 8 am – 8 pm
Wednesday 8 am – 8 pm
Thursday 8 am – 8 pm
Friday 8 am – 8 pm
Saturday 8 am – 8 pm
Sunday 9 am – 5 pm