Thermostat HVAC Los Angeles to regulate your home's temperature!
Your thermostat is an integral part of your HVAC system that maintains and manages your home's temperature and keeps it comfortable.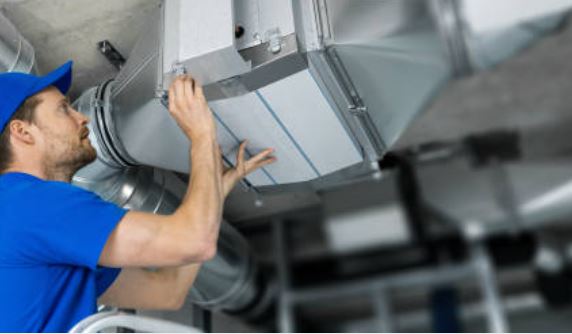 call 310-926-6368
Contact 24/7 our scheduling department today!
None of us like to live without these modern amenities like temperature control in today's world. So thermostat has become an essential part of our lives.
But how does it feel if your thermostat stops working out of nowhere? You might mentally land up in Antarctica or the Sahara Desert, right?
In that case, you need the help of professional HVAC technicians to take care of your thermostat at the same time as the heating repair or new furnace installation.
And when you think of professional service, stop googling "thermostat services near me" and think of RLD heating and cooling service.
At RLD, we set your thermostat to a blissful level with our affordable and world-class services like:
Installation.
Repair.
Replacement.
Maintenance.
Our technicians are fully trained and certified, and they do their job like magic.
We also talk about:
The different types of thermostats
Their functionality
The problems you might face handling a thermostat and many more.
So stay tuned with us and read till the end to know the ins and outs of a thermostat (1).
How does a thermostat works?

Thermostats come with a sensor meant to identify the air temperature in your house.
When the thermostat finds out the current temperature of the air, it compares it with the pre-set temperature- the one you decide.
If some deviations are found in the temperature levels, it signals the heater or the air conditioner to switch on.
And once the temperature gets closer to the set temperature, the thermostat again sends a signal to the heater or air conditioner to switch off.
In this way, thermostats help you save money while also maintaining the desired temperature in your house.
With improved technology, you can get a thermostat with many added features.
Types of thermostats

Thermostats come with a variety of features, so here we jot down some of the best thermostat systems you can choose from:
Contact
Contact or a manual thermostat is the most simple and easy to use. It contains mercury and only has some numbers and labels printed on it. This device signals your heater or air conditioner to switch on and off. If you own such a system, then you have a basic thermostat.
Digital
A digital thermostat is quite similar to a primary contact thermostat. The main difference lies in the display. The digital ones have been named after the distal display on the device. Instead of having a slider or a dialer to set the temperature, like the contact thermostat, it contains buttons to move the setpoint up and down. In addition to displaying the temperature set-ups, a digital thermostat also displays other information like the current temperature of your house.
Programmable
As the name suggests, a programmable thermostat allows you to program or schedule a temperature for your heating and cooling system. For instance, if you are at the office from Monday to Friday from 9 am to 5 pm, you can schedule your thermostat to change the temperature automatically at those times.
Smart thermostats
Smart thermostats are one that you can connect to the internet through Wifi. Having an intelligent thermostat slack down the need for you to constantly go around changing the temperatures of your smart thermostat. You can easily change the temperature from anywhere in the world- from your living room to your vacation resort.
Wireless
Some thermostats come in wireless, meaning no wired or physical connection between the thermostat and the cooling and heating system. The best thing about this system is that it can be mounted on any wall of your house (2). It helps you keep your home's aesthetics in good shape.
Common problems with your thermostat

Thermostats are highly dependable, and especially if you're living in cities like Los Angeles that experience mild weather, you don't even have to worry about a lot of wear and tear.
But that doesn't mean it won't ever have problems because, after all, these are electrical appliances.
It is better to replace the faulty system in various cases while repairing it in some cases is better. And then, there are certain cases where the thermostat's location becomes problematic, like direct sunlight hitting the system or proximity to the cold breeze.
Even in such conditions, the RLD heating & cooling technicians know how to handle such bizarre situations and correct the issues with skill and expertise. Give us a call to see our magic!
Issues with the power source
Your house's electrical system is the primary power source for your bright or Wi-Fi-enabled thermostat. If you're noticing some issues with your electricity, you might also experience some issues with your thermostat.
Dirty thermostat
Dirt accumulating inside your thermostat doesn't feel like a big deal at first, but it might lead to your system getting on the fritz. A dirty thermostat can affect the calibration and cause the system to use more energy than usual. The result is soaring electricity bills.
Loose screws and wires
A thermostat that shuts down on its own or constantly switches on or off can be due to loose wiring or screws. We recommend you not tighten the screws or wires yourself as it can be dangerous and call an expert instead. Our technicians at RLD are total experts and will do the work for your excellent and in no time.
The system has become old. 
The age of your thermostat has a significant impact on its functioning. Most thermostats come with a shelf life of 5 years, so if your system is nearing a decade, it is time for you to call for HVAC experts and check your system thoroughly.
Signs that your thermostat needs repairs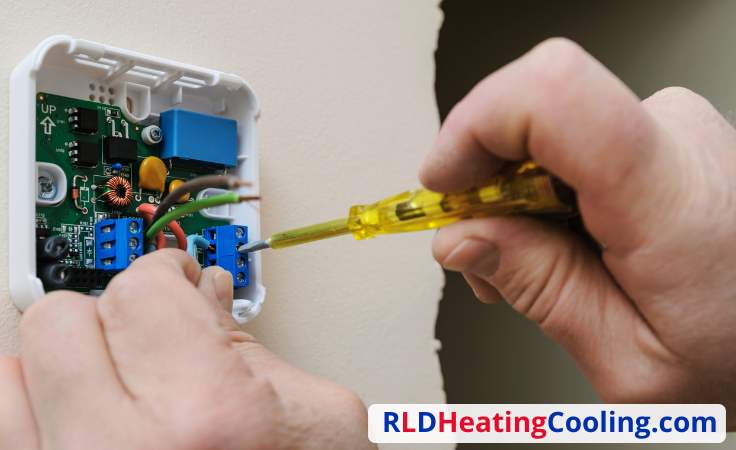 Instead of freezing yourself and becoming a popsicle, let RLD services take control of your system with our unique ac repair system.
There isn't one size for all approach to repairing thermostats because various issues can damage this device. We at RLD are a team of experts who can assist you in taking care of various signs of repair like:
Thermostat HVAC repair sign #1: Soaring energy bills
Issues with thermostats can lead to an increase in energy costs. Don't let soaring energy costs drain the money out of your pockets, take the help of our professional HVAC experts.
Thermostat HVAC repair sign #2: Thermostat Does Not Turn On
Having thermostats that won't turn on is useless and will create an uncomfortable and unsafe environment in your house. It can also signal a system failure. Sometimes batteries become the issue behind your system not working. So if your system is not responding, try changing the batteries and if that doesn't help, better get it repaired so that the comfort of your house is restored.
Thermostat HVAC repair sign #3: Cannot Control Climate in Home
Managing your home's ambiance without a functioning thermostat is complicated or impossible. Sign up for our detailed reports and get back the controls of your thermostats.
Thermostat HVAC repair sign #4: Uneven Room Temperatures
Do you have cool or hot spots in certain areas of your house? It might be because of uneven room temperature in your house. Uneven room temperature signals malfunctioning thermostat and inefficient insulation. The reason is- Unless you manually program the temperature of different rooms to be different, the temperature of your house should be uniform in every room.
Better get your system checked by an expert who can diagnose the issue properly.
Thermostat HVAC repair sign #5: Excessive Levels of Humidity in Your Home
The humidity levels of your house shouldn't surpass more than 50% of the limit. However, contact an HVAC technician immediately if you ever notice that the humidity levels are increasing beyond excessive limits. Excessive humidity may point toward thermostat malfunction, or the system is getting older.
Thermostat HVAC repair sign #6: Mold Growth
A dysfunctional thermostat creates imbalances in the humidity levels and leads to mold growth if you don't pay timely attention. Our HVAC experts at RLD have complete knowledge and expertise and will repair your system and maintain and eliminate any ideal condition that leads to mold growth.
What is the cost of repairing a thermostat?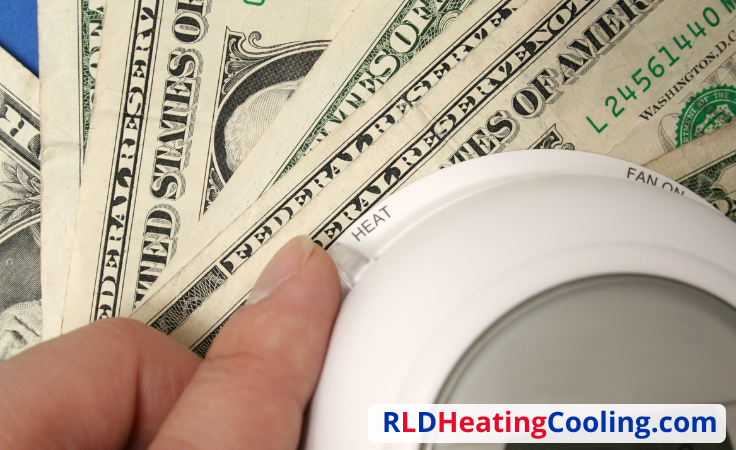 The price of thermostat repair differs from unit to unit because there might be different issues for different persons. But usually, the cost of repairing a thermostat ranges from $50-$500. No matter the prices, we try to keep you informed and provide you with a detailed estimate before beginning any repair work so that the final bill doesn't bring you any surprises.
Installation and replacement services.
Repairing a thermostat requires minimally invading the system using invasive techniques and a more petite time frame to get everything done correctly. Installing and replacing a thermostat can be more extensive in terms of time and effort, which might require our experts to use more advanced equipment to do the job.
Signs that you need a new thermostat

Here are some of the signs that your home needs a new thermostat:
Thermostat HVAC installation sign #1: Unit Keeps Turning Off
How will your home maintain a comfortable temperature if your HVAC keeps turning on and off again and again? The simple answer to this is- It cannot!
If your HVAC is behaving this way, it is time to get a new thermostat because an HVAC that operates at its peak performance demands an equally efficient thermostat.
Thermostat HVAC installation sign #2: Faulty Thermostat Readings
When the thermostat setting displays a different temperature, but your home doesn't feel like that, it means something is missing. And the missing this is nothing, just your thermostat showing you faulty readings. So if you're experiencing such faulty readings, better get your thermostat replaced by a new one. We will replace your system with a new one so that you don't have to keep guessing about the temperature settings.
Thermostat HVAC installation sign #3: Cannot Control the Climate in Your Home
Your thermostat sends signals to your HVAC system, telling it to operate. When there is a disconnection or malfunction in your thermostat, it may not control the climate settings of your house. It is a sure shot sign that it's time for you to buy a new one for your house.
Thermostat HVAC installation sign #4: Outdated and Surpassed Lifespan
Is your thermostat more than ten years old? If yes, then your home desperately needs a thermostat replacement. The older the unit, the more pressure it exerts on electricity. Get in contact with an HVAC specialist and evaluate your heating and cooling equipment.
Thermostat HVAC installation sign #5: Doesn't Respond to Changed Settings
You know how frustrating it gets when you change your thermostat settings, but your heating and cooling system doesn't respond the same way. It calls for an HVAC expert inspection. If your HVAC stops responding to changed settings, we will take a look, diagnose the issue, and make necessary recommendations without a wait; call RLD services.
Thermostat HVAC installation sign #6: HVAC System Short Cycles
When your HVAC starts to short cycle, it turns on and off frequently. It could be a sign of malfunction with your HVAC system or your thermostat. Either way, you must call an HVAC expert to address all your issues so that your comfort is restored.
How much does a new thermostat installation costs?
Thermostat installation costs can land up anywhere from $100-$350, plus the price of the new unit, which can cost around $15-$250.
When you invest in a new thermostat, you also invest your time, energy, and efforts into a comfortable and safe house for your family.
So when you think of thermostat installation, think of RLD services because we are available round the clock and will love to partner with you to get your system installed in no time.
Contact RLD services for all thermostat-related services!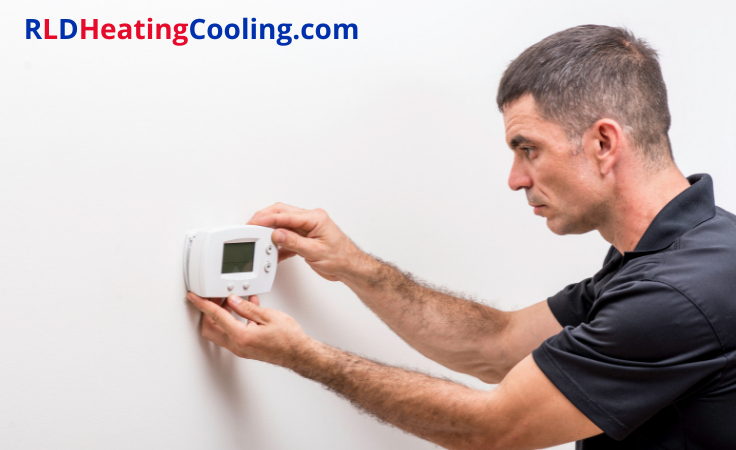 Is the temperature in your house going out of hand? Is your thermostat beyond repair? Please don't wait around thinking it will solve by itself because it might lead to a more significant and costly affair. Call RLD services to get accurate solutions, friendly offers and on-time services.
When it comes to thermostat service, you deserve an absolute professional to do you.
At RLD, our comfort specialists are the most preferred HVAC experts because:
We are a group of highly reliable and trained thermostat technicians.
At RLD, we offer same-day thermostat repair and installation services while catering to your emergency services.
We also offer guaranteed customer satisfaction and teamwork.
So, don't go around googling "thermostat services near me" and call RLD.
FAQs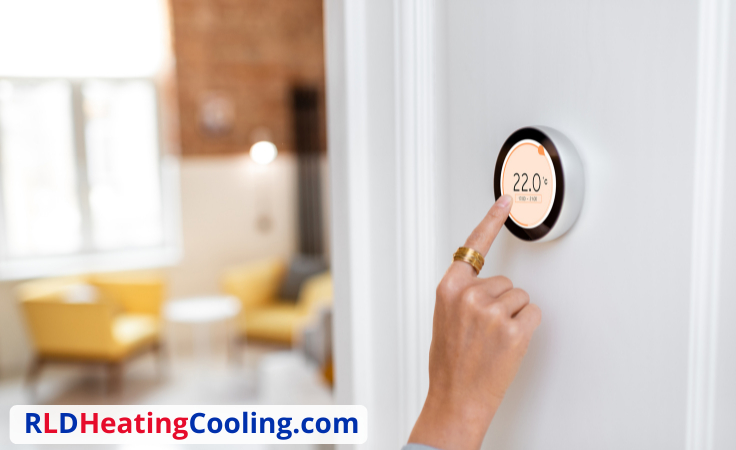 Here are some of the questions people usually ask:
How much does it cost to repair a thermostat?
For most homeowners, repairing a thermostat costs around $111 to $304. The exact cost can range from $50-$500, while the national average is around $207. However, the prices vary based on the type of thermostat you own, its warranty period and its condition.
Who do you call when your thermostat breaks?
If your thermostat's wires are connected and still not working smoothly, it's time for you to call a professional for help. The technicians inspect the thermostat and will test the wires individually to check if there is any problem. And we recommend you do not inspect the wires by yourself and call the experts instead.
How long should a thermostat HVAC last?
Generally, the lifespan of a thermostat is around ten years, but it can last longer depending upon:
The frequency of maintenance.
Model.
Type of thermostat.
With time these systems start to age and malfunction because of normal wear and tear, dust accumulation, rust, wiring issues etc.
Can a homeowner replace a thermostat?
Anyone with good experience dealing with the HVAC system can install a programmable or smart thermostat. But don't forget to switch off the breaker of the HVAC equipment.
Why Us?
SEE WHAT OUR FRIENDS HAVE TO SAY
I'm hesitant while writing this review because I fear RLD services would become so popular that they would stop serving in our neighborhood. But I have to write it because I'm super impressed by their service. When every other company I contacted asked me to replace my thermostat and handed me a hefty estimate, RLD was the only one who patiently diagnosed the issue and discovered that minor repairs could cure the system. There was just one part of the thermostat that went off, and Jim replaced the part with a new one, and my thermostat started working like new. Jim is an excellent technician, and he deserves all the appreciation. 10/10.
– Miguel U.
Our thermostat went out, and it was scorching heat outside. We called the company because it was under warranty, and they were unresponsive; tired of the chaos, we called RLD services, and they responded at once. The best thing was that they were professional, quick and thorough. Jim arrived on time and even did some extra work so that we don't have to face problems later on. Would call them again and suggest them to my friends and family.
– Christine H.
Larry and his team are the best. Very polite, skilled and professional. They came to my house on concise notice and fixed my thermostat plus the prices were also reasonable. I hired them to repair my thermostat. They did so much more than the other company will ever do. Highly highly recommended.
– Ashley J.
My thermostat had wiring issues, so I called RLD services to help me with this. The team gave a prompt response and arrived on time. After close inspection, they found that it needed to be repaired, so they did the repair part on the same day, and my thermostat started working like new! Thank you so much, RLD services!
– Monica F.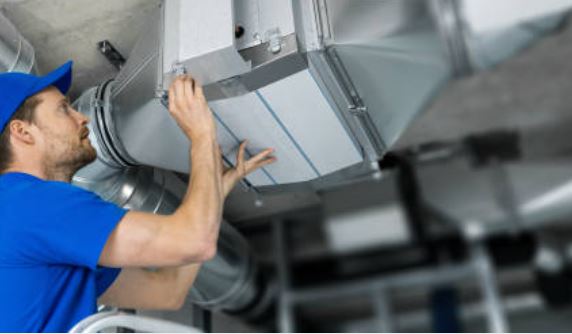 call 310-926-6368
Contact 24/7 our scheduling department today!
Address

8040 Deering Ave #5
Canoga Park, CA 91304
Tel 310-926-6368
Email rldheatingcoolingcompany@gmail.com
Opening Hours

Monday 8:00 am – 8:00 pm
Tuesday 8:00 am – 8:00 pm
Wednesday 8:00 am – 8:00 pm
Thursday 8:00 am – 8:00 pm
Friday 8:00 am – 8:00 pm
Saturday 8:00 am – 8:00 pm
Sunday 9:00 am – 5:00 pm