Heating installation & Replacement services in Los Angeles to keep your house warm and cozy! Heating services will help you during chilly winter nights in our area. If your unit is too old for heater repair service, you definitely should start looking into a new HVAC system immediately.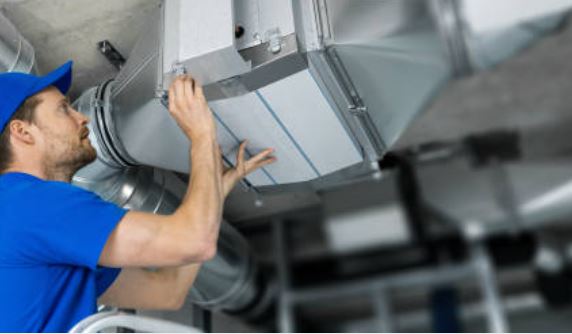 call 310-926-6368
Contact 24/7 our scheduling department today to make an appointment.
The average lifetime of a heater or furnace is 15-20 years.
So, if you have used your heater for this long, it is high time that your home needs a new furnace installation. The reason is- Heating systems lose their efficiency with time because of wear and tear.
When the efficiency isn't up to the mark, it will consume more electricity than necessary, pumping up your utility bills.
With the enhancement in technology, new products keep coming up with improved performance and other options, making it beneficial for you to go for furnace replacement.
By replacing your heat pumps, you can enjoy better comfort and savings, but approach an expert to carry out the furnace installations.
Looking for an expert professional? No need to search for heating installations near me, because RLD heating & cooling services areG there to help you out! We cater to all types of heater and furnace installation.
This blog will talk about all the nitty-gritty related to heating installation. We will discuss:
Different types of heaters.
Various factors to consider before getting a new heater.
Cost and charges.
So, let's get going!
Custom installation recommendations
You must already have an idea about what we will talk about here (1).
Custom installation recommendations- The name itself defines what it means.
Yes! You got it right; here, we will discuss how our recommendations are tailor-made according to your choices and conveniences.
Our experts will help you determine:
Proper unit size according to your house needs and budget.
The best functioning and energy-efficient systems.
A new heating installation is no less than an investment and we want you to make a sound investment in your home, business and energy source.
Therefore it is better to have strategic planning before making any decision.
You might feel that a new heating system is no less than an expense, but it is a significant investment if you think about the long term.
How? It will save you thousands of bucks on utility bills and unnecessary repairs.
You can also enjoy savings through tax credits.
Types of Heating Installations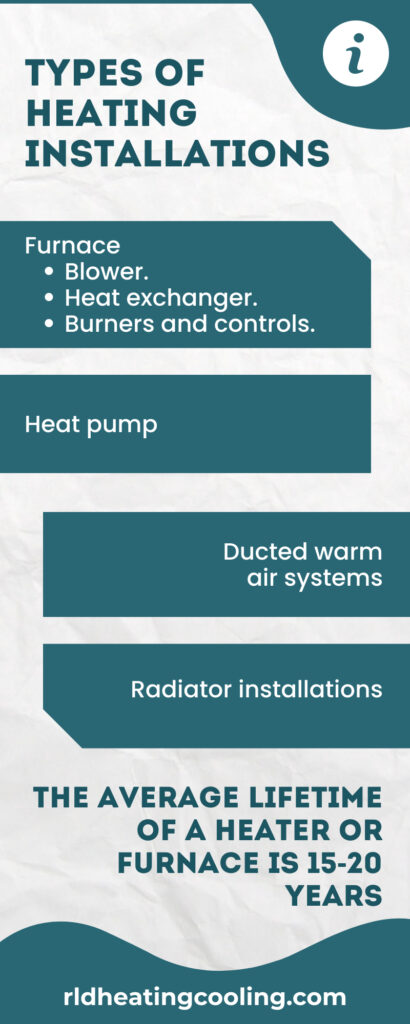 There are a variety of systems to choose from if you're looking to install a central heat and air conditioning system. Every heating unit comes with a different feature and use; therefore, you need to contact a certified technician to get the details of every unit and find out what suits you the best.
Furnace unit
A furnace includes a variety of components like:
Blower.
Heat exchanger.
Burners and controls.
A gas furnace or an oil furnace system uses an oil reserve tank or main gas line to heat your house. If you're interested in energy-efficient ways, you can opt for the electric furnace installation. A gas furnace, also known as a forced heating system, starts to function when the thermostat drops below the determined temperature. The system starts to gas up the burner and the heat created inside the chamber starts to move towards the heat exchanger, passes through the home's ductwork, and finally spreads to the individual rooms. Gases are then moved out through a flue.
Heat pump unit
If you reside in a city that faces a moderate climate, then heating pumps are a better option!
You must be wondering, but why so?
Well! Heat pumps are better at energy efficiency than furnaces. The heat pumps push out the cool air from inside the house to the outdoors during winters. While in the hotter months, it works the opposite.
The best thing about this system is that instead of generating heat, it keeps moving the hot air, which is why it is less expensive than the other heating services and appliances.
Ducted warm air systems
In Ducted warm air systems, a boiler heater is installed as your home's heating system, which heats the air. The warm air is then spread across your home through ducts, and the heated air is then pushed out through floor vents and walls. The most significant advantage of a warm air system is it can be fueled by:
Natural gas.
Electricity.
Geothermal energy.
Heat pump.
Radiator installations
A radiator coordinates with a boiler to distribute and spread warm air across your house, thereby heating your space. However, many people consider it old school and don't want to hop into this option even though this system is relatively cheap and energy-efficient.
When to get a new system
It is essential to know when is the right time to go for a new heating unit. The average life lies around 15 to 30 years when you properly maintain it. But even if you maintain it well, the heating system will still fail at some point, so how would you know when is the right time to start thinking about a new heater installation? Well! We have picked specific cues that will help you decide, here that is:
Your heater has aged more than 16 years.
Electricity bills have started to surge out of nowhere.
Your unit needs frequent and significant repair.
The furnace has started to make weird noises.
The thermostat is working still the desired temperature isn't met.
If you come across any of these signals, it is high time for you to call for professional installation. At RLD heating & cooling, we make sure that you get the best in class services, and we even provide consultations. But one crucial thing that you must follow is to do your research according to your requirements and it would help if you did not wait for your system to break down completely.
Factors to keep in mind while looking for a heating unit installation
There are a few basic things or steps you should consider before going for a heater installation. Here we will discuss what those points are:
Heating installation factor#1: Size your home and heating unit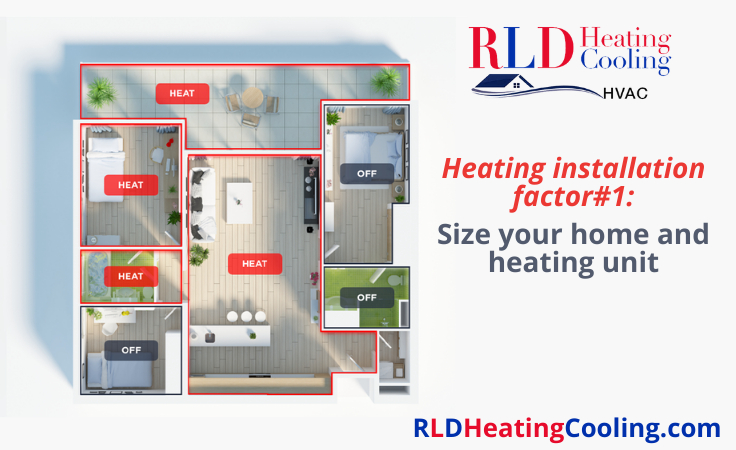 The first step you need to take is to size or measure your home so that you understand the size of the system you need for your house. The reason is- You will not want to spend money on something so small and inefficient that your needs aren't satisfied or something so significant that you have to pay unnecessary bills.
There are a variety of free cost calculators that you can use online to help you understand the sizing process. You can use the generated information and compare it with the contractor's estimates. Doing this will make sure that you both stand at a common point and buy the heater that suits your home the best.
Heating installation factor#2: Counter heat loss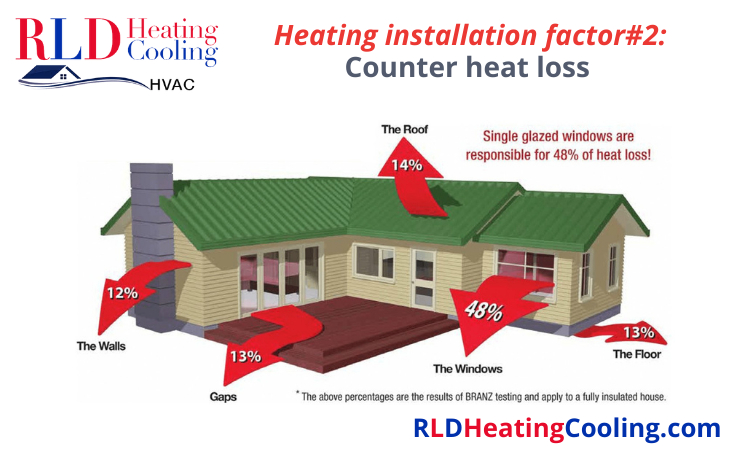 The second thing you must ensure is that there is no open space or creak in the wall that can cause heat loss. Usually, regular doors, windows, exterior walls and sliding glass doors lose heat in the colder months so if any such area is causing heat loss, better get them addressed before sizing like:
Pasting new sealing strips around doorframes.
Filling holes.
Sealing cracks and crevices.
Repairing or replacing a threshold.
Doing this help, you save a lot on electricity costs.
Heating installation factor#3: Location for unit installation
If you are going for a heater installation for the first time, determine the Location. So if you choose an indoor air handler, size the area and make sure there is enough space to work if future repairs are needed. Once you have figured this out, you can hop onto the next step, hiring a contractor.
The benefits of new furnace installation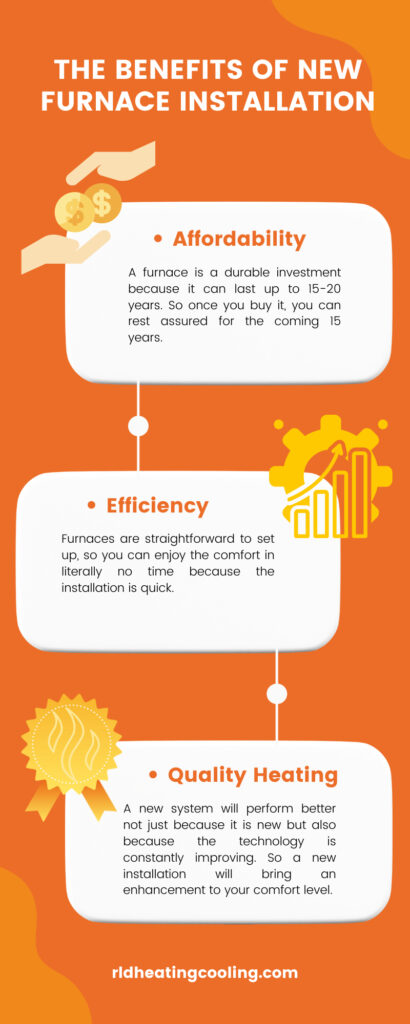 Upgrading or installing your heating system might feel like a costly and tiring affair but not doing it can put your family's comfort at stake. But the best part is, getting a new heating unit comes with a variety of benefits like:
Affordability: A furnace is a durable investment because it can last up to 15-20 years. So once you buy it, you can rest assured for the coming 15 years.
Efficiency: Furnaces are straightforward to set up, so you can enjoy the comfort in literally no time because the installation is quick.
Quality Heating: A new system will perform better not just because it is new but also because the technology is constantly improving. So a new installation will bring an enhancement to your comfort level.
What can you expect from a heating installations service?
Here is what you get when you opt for a heating installations service:
Replacement of gas/furnace systems, heat pumps etc., wherever necessary.
Meet all the permits as required or told by the local ordinances.
Calculate load/energy usage.
Remove all the old and obsolete equipment plus the trash from the premises.
Clean the mess post-installation.
Explain to the owner how to operate the system.
How much does a heating installation cost?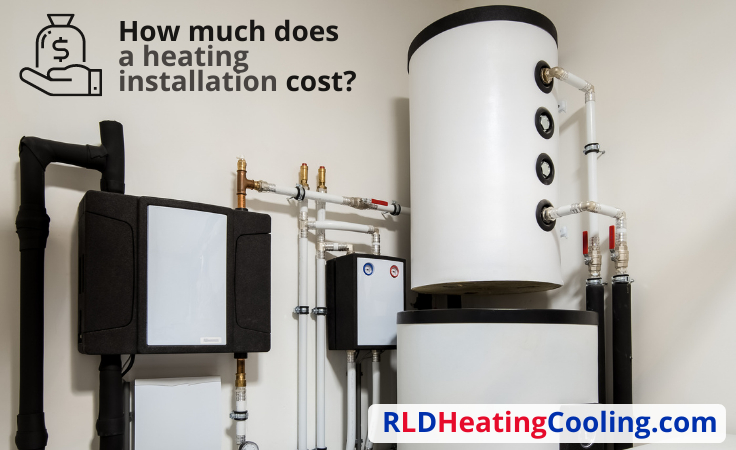 Heating installation cost is a summation of both the equipment cost and the installation charges. Equipment costs depend on the type of furnace you wish to install. Low-efficiency models are cheap, but the energy costs are high; on the other hand, the high-efficiency models are pricey, but the energy consumption is low. Also, the price differs for electric furnaces and gas furnaces. For the electric ones, the prices are $395 for low-efficiency models and $1700 for high-efficiency models. Costs for gas furnaces range from $1,360 for the low-efficiency models up to $12,500 for high-efficiency models.
For the installation process, you will have to contact professional contractors. The installation cost varies across the country, but the average is roughly around $50-$150 per hour. And the process will take around 5 hours for a small furnace and more than 5 for larger ones.
Professional heating installation in Los Angeles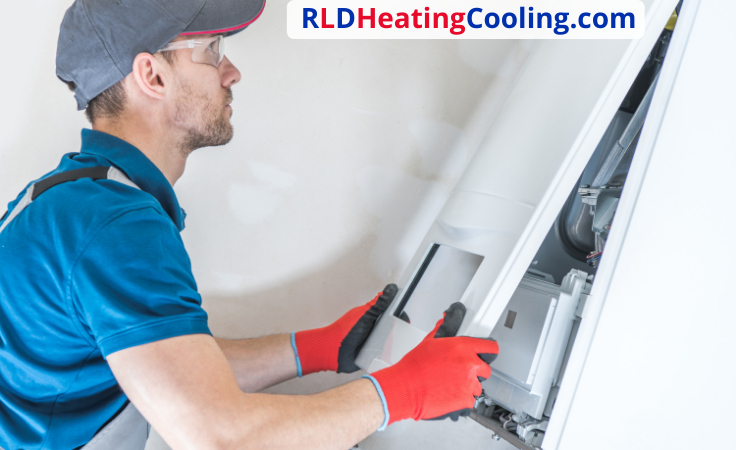 Looking for a heating installation service or replacement service? Well! You are at the right place because RLD heating & cooling services are among the best companies in town, we provide free estimates, and you can enjoy the comfort of your new heater in no time. We provide both residential & commercial services, and our trained technicians will match your home with a perfect sized heater. So, if you live in and around Los Angeles, you can easily avail yourself of our services, so call today to book an appointment.
The benefits of professional heating installation services
Even though installing a heater is a quick task, it isn't easy, and not everyone can do it.
So it would help if you always turned to a trained professional to do the job for you. When you hire a professional, you will get the following benefits:
You'll enjoy the warranties.
No tension regarding energy efficiency.
Safe and effective installation is guaranteed.
If you face any kind of issue related to your heating system after the installation process, give us a call. Our team at RLD will give you a prompt response so that your family's comfort isn't hindered.
FAQs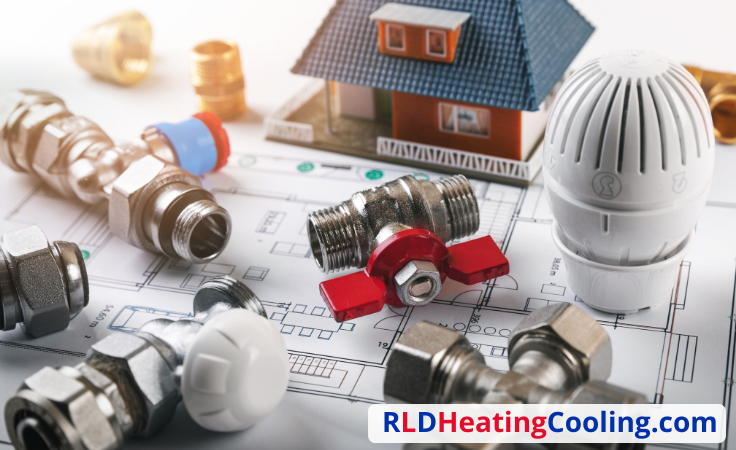 Here are some of the questions people usually ask:
Heating installation FAQ #1: How much does it cost to install a heating system?
The cost of installing a new heat pump or furnace depends upon a variety of factors like:
Location of your heater or furnace.
SIze of your home.
The weather of the city you live in.
Type of your furnace.
However, the average cost per unit ranges between $2600-$6500. If you're looking for a complete furnace installation, the average cost for that is relatively high. It will cost you around $4800-$9300. But, it will everything like:
The cost of the furnace.
Labour charges.
Ductwork.
Disposal or removal of the old furnace.
Other miscellaneous expenses related to heater installation or up-gradation.
If we talk about the most popular furnaces, gas furnaces will rank on the top. However, oil and electric furnace installation is also a good option.
Heating installation FAQ #2: What are the common types of heating systems?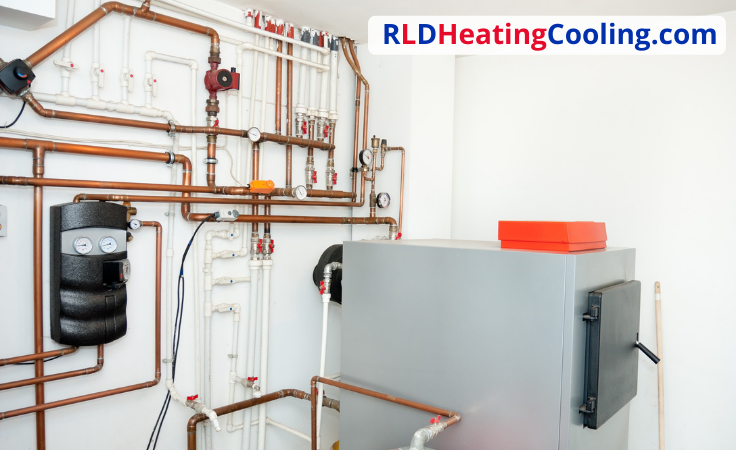 The different types of heaters are:
Furnaces.
Boilers.
Heat pumps.
Gas heaters.
Electric space heaters.
Pellet stoves.
Heating installation FAQ #3: Can I install central heating myself?
A central heating system is a bulky machine, and installing it is challenging.
You need to have an in-depth understanding of the whole installation process and the necessary material & equipment, and you must carry out the process after careful planning.
Although it is possible to carry out the significant parts of installing the central heating all by yourself, like choosing the radiators and boilers, installing the control system or even laying the pipe, you will need the help of an expert or a certified contractor to carry out specific work like:
Connecting the boiler to the gas supply.
Safety checking everything to make sure the system will run smoothly.
Heating installation FAQ #4: What are the five types of heating systems?
The five types of heating units or systems are:
Furnaces.
Boilers & Hydronic Heating.
Heat Pump.
Electric Radiative Heating.
Direct Vent Heating.
Heating installation FAQ #5: How do you install a heating system in your house?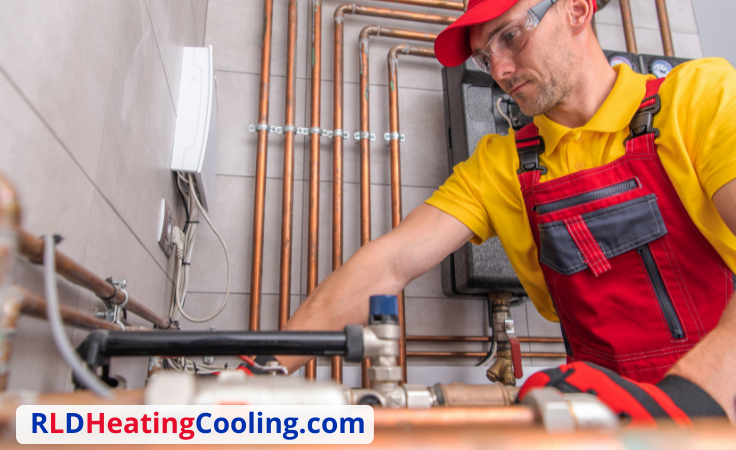 Here are a few steps to install a heating system in your house:
Carry out in-depth research about the equipment or system you want to install in your house.
Create a blueprint of the central heating you want to install.
Buy everything necessary to carry out the installation process.
Install the radiators.
Attach the pipes from the radiators to the boilers.
Install the control system.
Shut the gas and water supply and install the boiler.
Close all the vents on the radiators, fill the system with water and allow the radiator to vent through.
Heating installation FAQ #6: How long does a heater installation take?
Furnace installation, if done in a residential home, usually takes around 4-8 hours, depending upon the job's difficulty and If there is any additional work that is to be done like ductwork, gas lines or electrical modifications, then the time taken increases accordingly.
Why Us?
SEE WHAT OUR FRIENDS HAVE TO SAY
My husband and I recently shifted into a new house, and after some days, we realized that the rooms weren't getting any warm air. I started approaching many companies, and most of them pointed out that the problem was with the AC ducts. The quotes they gave were extremely pricey, plus they also tried to oversell, telling me to buy a new furnace. So I started my search again; after researching a bit, I came across RLD heating & cooling services. I read the reviews first, and they were all good, so I thought of approaching the company.
A guy named David received the call, and he was so polite and gentle. The team showed up the next day, and after a quick diagnosis, they found out that the problem wasn't anything major. The team offered a solution and did a great job. David even called us back to ensure if we faced any further issues. The experience was amazing, and we have been approaching the same company since that incident.
– Maria S.
Why do furnaces and ACs break down when the temperatures are extreme? Our furnace broke down when it was cold. The furnace was quite old, and it broke down in the middle of that chilly night. One of our friends recently got service from RLD heating & cooling services and said that the experience was amazing, so we thought of calling them. After 10 minutes of staying at the call, we got a quote.
The wonderful thing was, they entertained our grievances right in the middle of the night. The team showed up the next day, and after a long hustle of 6 hours, they successfully replaced our furnace with a new one. The charges were nominal, but the service was up to the mark. Five stars for the team and the company for helping us out! Do give this company a try and you will not be disappointed.
– Sophie T.
RLD is an excellent company for all your HVAC related services and the team carries professional behaviour and does a commendable job. One fine day, our thermostat was broken, and we were without heat (at 39 degrees, and our little ones were incredibly annoying). We called RLD for help, and a guy named Peter showed up. Within 25 minutes, to be precise, he completed his job, and we had proper wiring, and our thermostat was functioning smoothly. What a guy!
Apart from that, Peter made sure that he followed all covid protocols and was very friendly. We have found the best, and we will not approach anyone else in the future
– Tim K.
It was in January 2022, one of my floor furnaces broke down, and since the weather was chilly, I contacted RLD heating & cooling services for help and I got an immediate appointment for Tuesday, and a team of well-equipped technicians showed up. After a thorough inspection, Peter analyzed the problem. The furnace had become so old and obsolete that we were left with no other option than to replace it. He then guided us about which furnace would suit us the best. And after a few days, when the system was delivered, the team appeared again to install the heater. The entire team did a commendable job and completed the job in 5 hours and the after services are also amazing. So, if you need any HVAC-related services, do give RLD a call.
– Leena H.
We recently got a new furnace and AC installed. Right from the customer care, sales department to the actual worker team, everyone was so friendly and professional, plus the work was also up to the mark. Great job RLD services.
– Miranda K.
So lucky to have found this company- Quality work, reasonable price, prompt response and friendly nature and I'm definitely contacting them again.
– Joe B.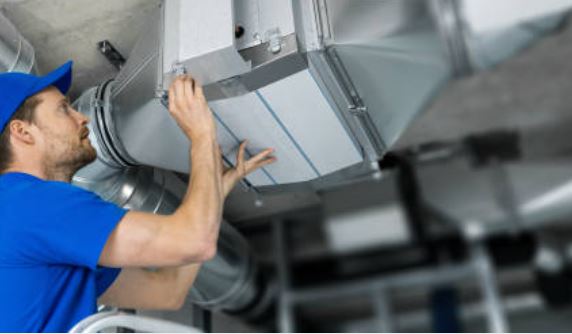 call 310-926-6368
Contact 24/7 our scheduling department today to make an appointment.
Our Opening Hours
Monday 8:00 am – 8:00 pm
Tuesday 8:00 am – 8:00 pm
Wednesday 8:00 am – 8:00 pm
Thursday 8:00 am – 8:00 pm
Friday 8:00 am – 8:00 pm
Saturday 8:00 am – 8:00 pm
Sunday 9:00 am – 5:00 pm
Our Address
8040 Deering Ave #5
Canoga Park, CA 91304