AC Repair Los Angeles is our main Air Conditioning Service, and also it is all you need to keep your Air conditioner-related grievances at bay!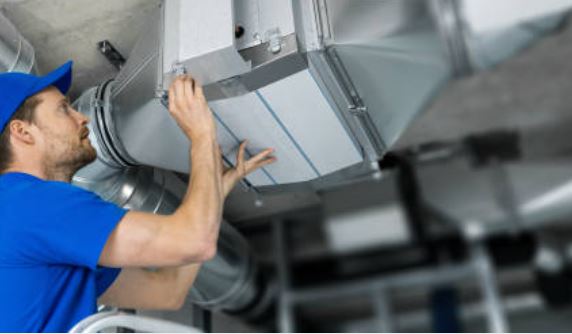 call 310-926-6368
Contact us 24/7 for your HVAC needs
We all know how crucial AC is for your house and how problematic it is when your cooling system malfunctions. RLD is catering to multiple service areas near you.
As the colder months end, the rising temperature calls for an AC.
Better get your AC repaired by a professional to ensure that it works efficiently in those hot summer months. Especially if you have an emergency air conditioning issue.
The HVAC experts will cure all the issues in your system and ensure that the summer heat doesn't annoy you.
AC Repair services in Los Angeles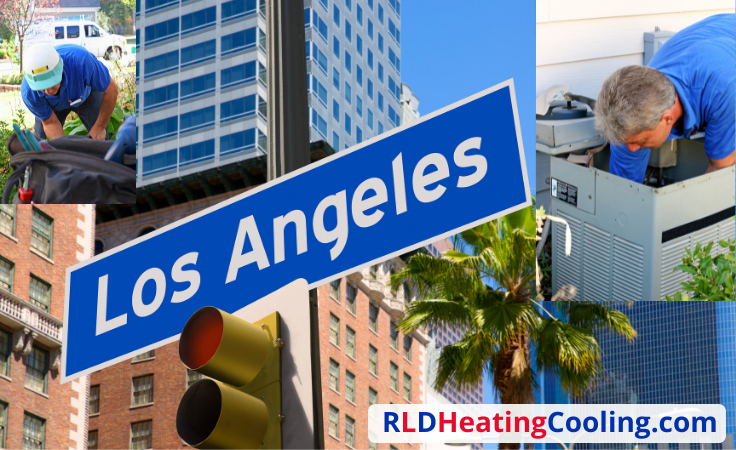 When your AC unit falls apart in the middle of nowhere, you can always count on RLD heating and cooling services to come to your rescue.
Our experienced professionals will give you the best-in-class services and provide some tips and tricks for your system.
Here are the variety of AC repair for different units we cater to:
Home central air conditioning repair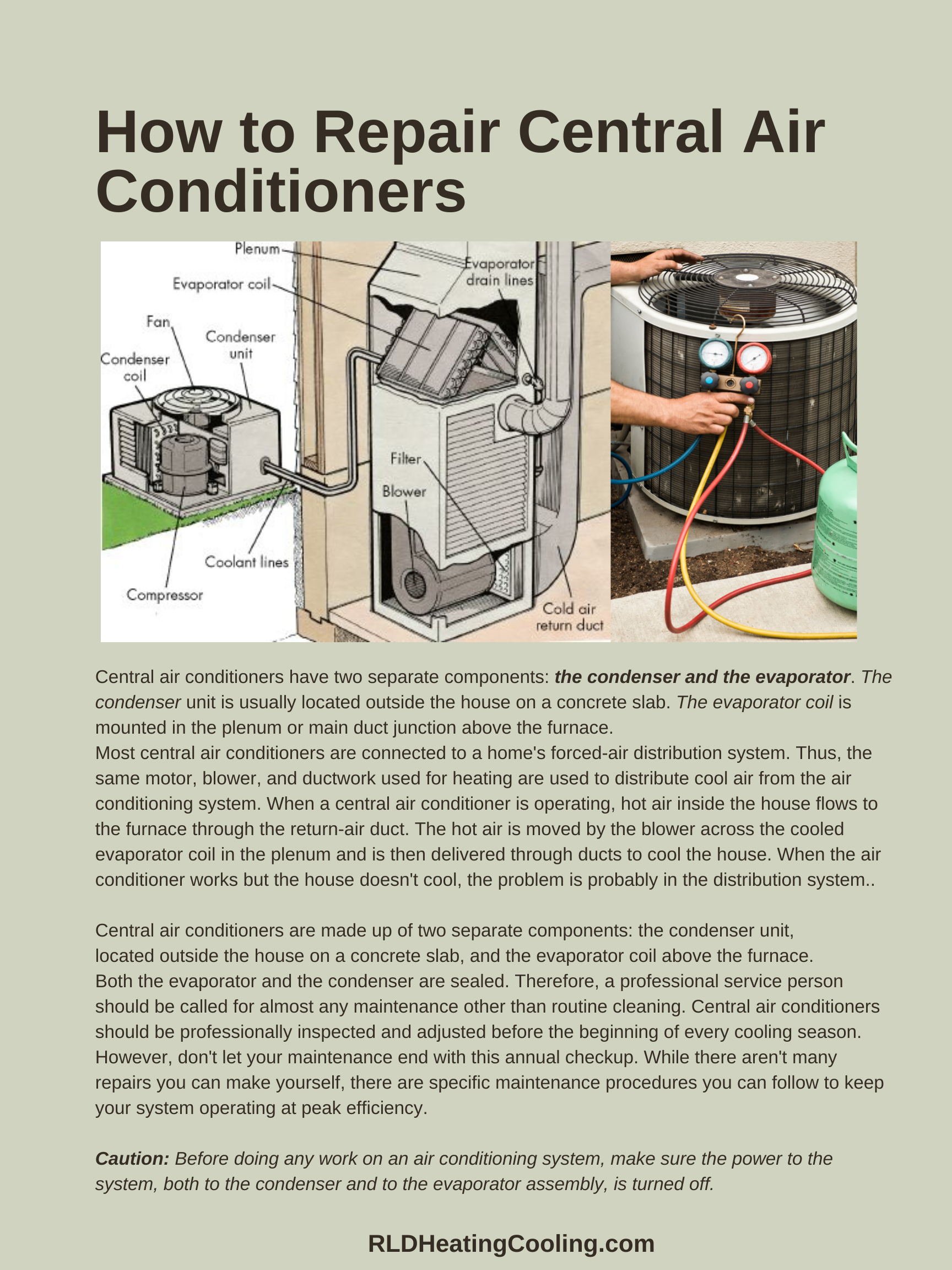 You need two components for a central air conditioner:
The condenser and
The evaporator.
Generally, the central air conditioners are connected to a home's air-distribution system.
Therefore, the same blower, motor and ductwork are used for the heating and cooling system.
The hot air is sucked into the furnace through the return-air duct when the central air conditioner is working.
The blower then moves the hot air through the cooled evaporating coil in the plenum and then blows out through the duct vents into the house.
So when the air conditioner stops cooling, the problem probably lies in the distribution system.
And it would help if you had a professional to deal with it.
Split Air conditioner Repair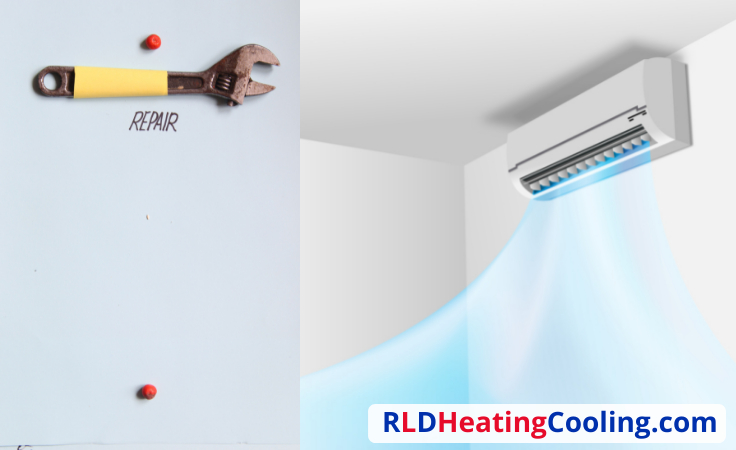 Want to know the nitty-gritty of a split air conditioning repair process?
Here is a step by step guide to it:
Switch off and unplug the AC.
Remove the capacitor grill with a sharp object.
Find the filter that covers the radiator on the panel coils.
Remove the filters, soak them in water with soap and chlorine.
Wash the filter thoroughly to remove the dirt and mold and leave it to dry.
Brush off and vacuum the evaporator coils.
Get the wire through the stock hole.
Turn over the unit to the vacuum evaporator coil.
Install the system back into the wall or window.
Unclog the device bottom with a hard-bristled brush and add a little bleach to avoid scurf growth.
Ductless AC repair
Ductless ACs are more or less similar to central air conditioners; the difference lies in how the air is distributed.
In the central ac systems, the air is distributed through air handlers, while Ductless AC uses ducts.
Ductless AC can be repaired the same as the traditional ones, As all the major parts are the same as the traditional Ac units.
But there are some more common problems with ductless ACs, where you eventually need the help of a professional.
Here are the reasons:
Low levels of refrigerants.
Separate thermostat for every air handler.
Improper installation.
When to call for AC repair

When to google- "Commercial or home A/C repair near me"?
Many things can happen to your air conditioner.
These may be because of some underlying causes, which we will discuss ahead.
Most common conditioning problems are because of the four broad reasons.
AC starts to make noises
Cooling systems tend to make shrieking noises when the AC parts get loose or unstable, and it is essential to know that the weird noises from the system indicate an issue that needs fixing.
However, you must call the technician to check the exact source of the sound and get an ac repair.
It is better to secure the system to work efficiently for a longer time.
Blows warm air & degrades indoor air quality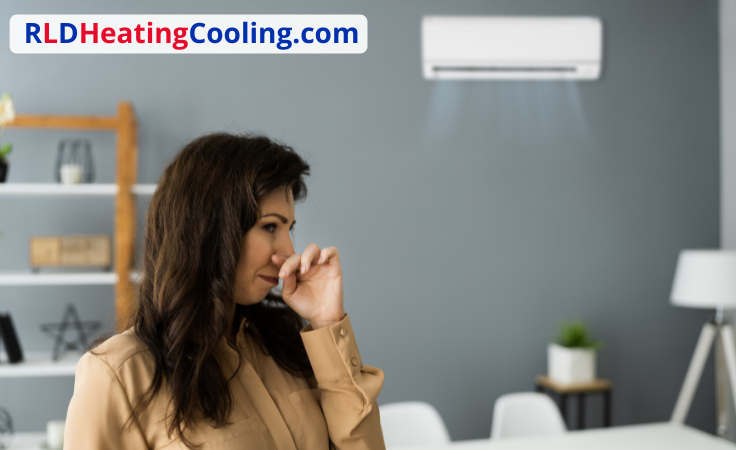 Is your not cooling enough or, worst- warm air coming from the system?
Well, you don't even have to be an expert to understand that things are not right.
It can happen because of reasons like:
Dirty filters block the air, overload the system, and pollute the air. Clean the air filters frequently to avoid the issue.
A refrigerant leak can be another reason for your system not cooling. A certain refrigerant level is needed to carry on with the cooling process.
The faulty sensor system or furnace repair can cause the AC system to work less efficiently.
There might be some thermostat issues where the thermostat isn't accurately reading the air temperature.
Drainage problems can arise if the drainage pipes are clogged with dirt or dust. If the water is not let out correctly, your AC might start to leak.
Dirty coils can also be the reason behind your AC dysfunction. If the condenser coils are coated in dirt or residue, they might not cool down your house as effectively.
System turning on and off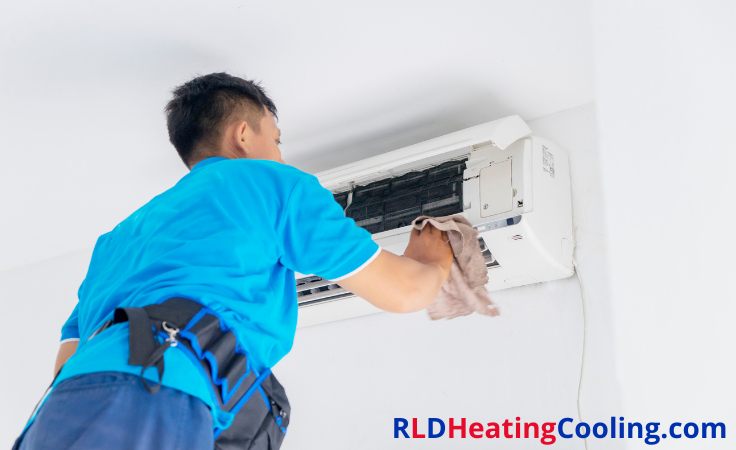 An Air conditioning system that keeps getting on and off isn't just irritating; it also indicates a problem.
If your AC has stopped responding or is constantly turning on and off, it might be due to one of these reasons:
Electric control failure can be one of the reasons behind your system not working. The connections may corrode if the fans or compressors have been overworked.
Motor damage can also be why you get your system repaired. If the motor is not working, that system won't as well.
Not just coils, dirty condensers can also affect your system's efficiency. If the condensers have debris built across it, your AC may not work correctly.
Lack of power- Sometimes, the air conditioner also stops working because it is not getting power. Power shortage very often goes unnoticed as HVAC have their circuits. So check your circuit breaker if you come across such an issue.
Wiring inability can also be the issue for your air conditioner not working. If you hear a humming sound when you plug in something or see sparks coming out of the switches, it means your wiring line is faulty.
Improper airflow
Not feeling the airflow even when the AC's fan speed is full?
It may be due to insufficient airflow. Obstructed or limited airflow can happen for various reasons, and the best part is that some of them are more accessible to fix than others.
Jammed ductwork- Airflow problems can be caused if the ductwork is clogged, disconnected or leaking. Blocked vents and heavy furniture can obstruct airflow.
Dirty air filters can also stop the air from flowing freely.
If the blower is faulty, it can lead to uneven airflow.
A defective thermostat can also be why your AC blows insufficient air. Even low battery or incorrect settings can be the reason for the bleak airflow.
Benefits of air conditioning system repairs

You can find air conditioner units in almost all houses across Los Angeles & Ventura counties we well as almost all Southern California. (1)
All thanks to the hot climate.
The cooling system shields us against rising temperatures and provides us with a relaxed and comfortable space.
So, we can deduce how essential air conditioners are!
Just imagine the consequences if your air conditioning system breaks down. No less than a horror, right?
What's worse is if it happens while your guests are coming over, it brings an embarrassment of the highest degree.
So the only way to save yourself from this situation is to get your house ac repair right at the start of the hot season.
Here are eight reasons why we should do this:
AC repair benefit #1: Extends lifespan
There might be plenty of reasons behind your air conditioner not working. And honestly, most of them are pretty minor and need easy fixes.
But if you don't fix them on time, they can create more significant issues that can damage the system on the whole. The only way to get over this issue is to regularly get your air conditioning repaired and maintained.
Frequent repairs can have a significant impact on your system's lifespan.
HVAC installation is a considerable investment, so you must take extra care of it so that you can improve its longevity and make the most of the investment. (2)
AC repair benefit #2: Improve home's indoor air quality
An air conditioner is a lot more than just a cooling appliance. It not only pumps in cool air but also acts as a whole-house air cleaner as it purifies the air of your home.
But how?
As the air is pushed into the house through the vents, it passes through filtration. The air passing through these filters removes the pollens and dust present, thus purifying the air.
But, if the filters don't go through regular air conditioning maintenance or repair, the dust accumulates on them and clogs them up. And if the filters get jammed, your system stops functioning or, worse, breaks down.
If the filters aren't cleaned, they can work the opposite way. Instead of cleaning the air, it further contaminates it.
AC repair benefit #3: Reduces humidity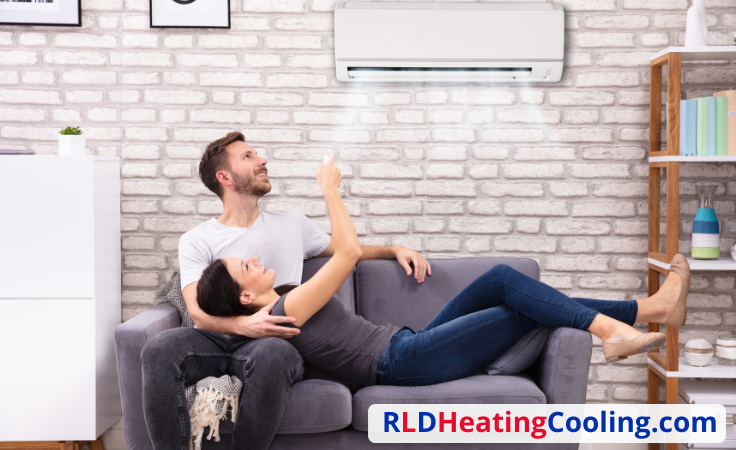 Excess moisture inside your house is also not good as it can cause problems like a muddy musty smell, mold and mildew. It can even cause health hazards for people with respiratory issues. Also, humidity can make everything sticky, and the heat feels harsh.
The benefits of AC repair also include minimizing the moisture content in the air. When the air passes through the filtration process, the extra moisture is also extracted out of it.
The main aim of the air conditioner is to make your house temperature and air pleasant and comfortable.
AC repair benefit #4: Add on system upgrades
Air conditioning technologies are advancing every single day. Smart thermostats are constantly getting popular, and people choose to install them.
Air conditioning systems are efficient, but they get a little cryptic at times compared to these new technologies. But since an HVAC is a considerable investment, you can't go for a new appliance quickly, so it is better to get your AC repaired every while and get the system the much-needed degradation.
Not only will it keep your system in shape, but it will also upgrade the components.
AC repair benefit #5: Improves system efficiency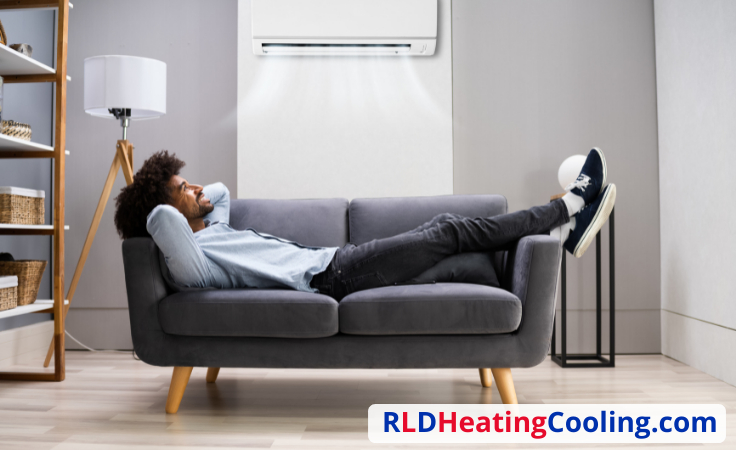 The worst about an inefficient system is not just making your house hot; it also costs you tons of bucks throughout the entire hot season.
The best way to deal with this is to get your AC repaired before the weather begins to warm up so that you can save up on your monthly electricity bills.
Neither the machine has to overwork, nor do you have to pay extra money for the desired temperature to kick in. So kill two birds with one stone.
AC repair benefit #6: Removes unwanted pests
The summer months are all about heat, bugs, and many insects, so our home is the only haven from these pests.
When your AC system is not working well, you may want to open the doors and windows to let the air pass, and the bugs get their way in.
But this wouldn't be the case if your system is working at a good pace.
Not only this, but the air filters also do their job in keeping the bugs away from entering your house.
If not cleaned regularly, this kind of pests can damage the fans and the entire unit.
AC repair benefit #7: Removes extra noise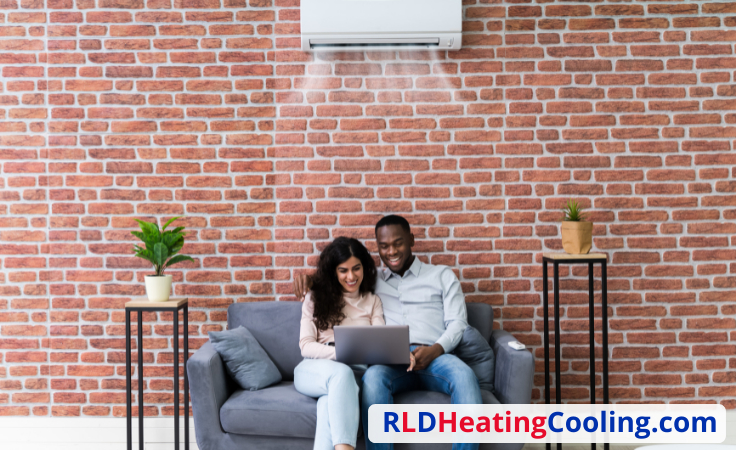 Tired of your AC buzzing out those loud noises?
Well, it is a sign that your system needs a repair.
It usually happens when the AC is out of sync or when the screws or bolts are loose and therefore bang with each other causing that screeching noise.
Better get your unit repaired, and you'll get over these unwanted sounds. A good AC unit will also avoid the outside noises when the doors and windows are closed.
AC repair benefit #8: Better comfort
The primary purpose of having an air conditioner at home is extra comfort. The system creates an optimal temperature for your house to live peacefully.
But you can achieve that optimal temperature regularly only when your air conditioner is in good health.
And for your system to be in good health, you need to get it repaired regularly.
Our repair service professionals will carry out the HVAC repairs and disclose some tips and tricks to keep your machine working the entire season.
Air conditioning repair parts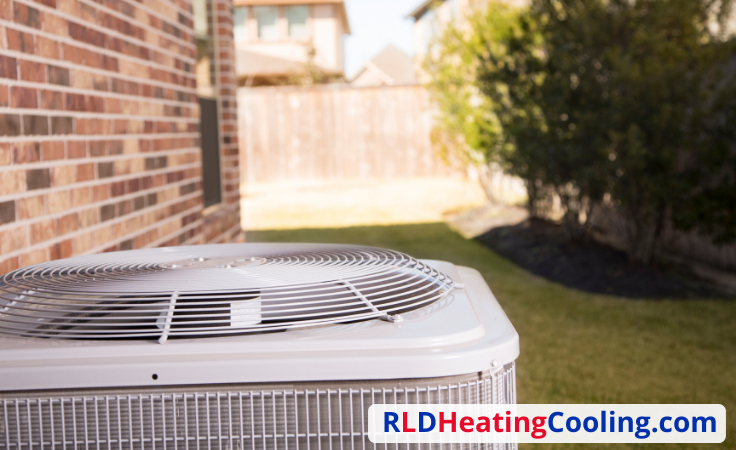 An AC is many installments, and you cannot discard it if just one of its parts is damaged.
Then what should you do?
Well, replace the damaged part with a new one.
Simple right? But the hassle doesn't stop there.
Where should you get these distinct AC parts?
Well, worry, not RLD heating& cooling services are there to help you out.
We deal in the AC unit repair and its parts of the following brands:
Goodman.
Carrier.
American Standard.
Payne.
Bryant.
RUUD.
Common AC Repairs Near Los Angeles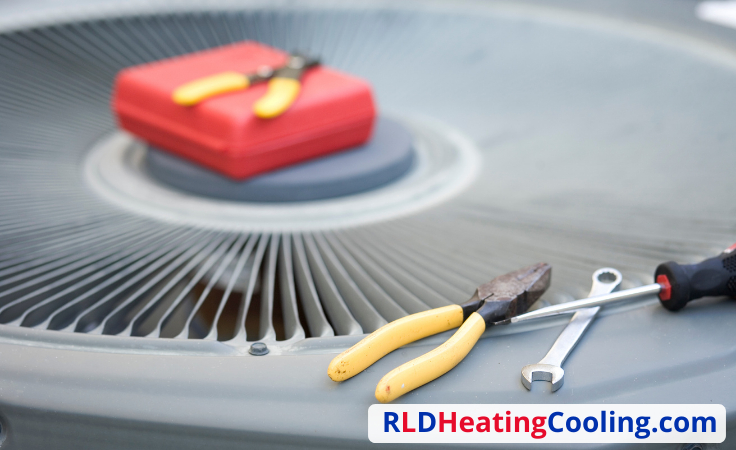 Here is a list of the repair problems we cater to:
Drainage issue.
Refrigerant leaks.
Broken fan or blower.
Faulty compressor.
Capacitator replacements.
Ac Coil frozen.
Replacement of evaporator coil.
Contact replacement.
Condensation pump replacement or repair.
Blockage of the drainage line.
Circuit board replacement.
Thermal expansion valve (TEV) replacement and troubleshooting and many more AC and HVAC repairs.
Is Air conditioner repair service enough?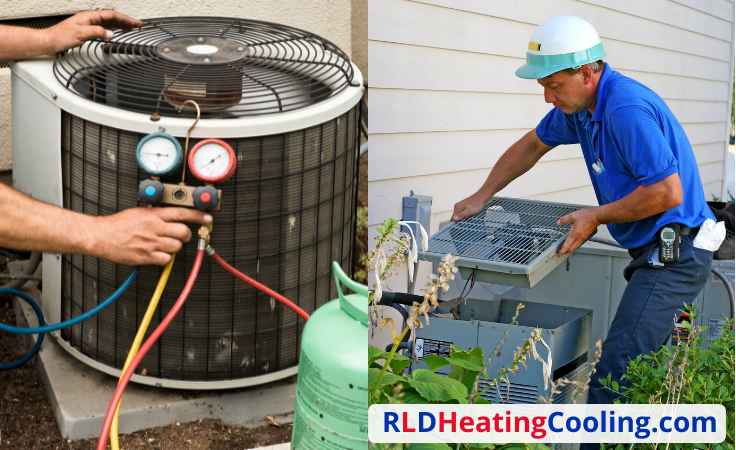 We can't deny that getting your air conditioner repaired comes with many benefits, but is that enough?
Well, the answer is no!
Repairing your air conditioning unit can be good, but it has certain limits.
Our trained professionals have a good amount of experience in ac repairs, and they will give you good advice if they feel that simple repairs are not enough for your cooling system.
So we mention some points to remember before deciding if the AC repairs are "good enough":
How old your unit is: If your AC unit is touching down to 20 years of age, it is likely moving towards the end of its lifespan.
Efficient system: As your AC unit reaches 15 years of life, it is high time for you to consider a replacement because the efficiency drops to a considerable level, and the energy consumption starts increasing.
Repetitive repairs: Repairing your unit every other day can be a costly affair, not just for your pocket but for your comfort, and the unnecessary hassle it brings along is just too much.
So if you face any of these factors, then understand that your ac needs more than just repairs.
About Los Angeles and other nearby cities we cater to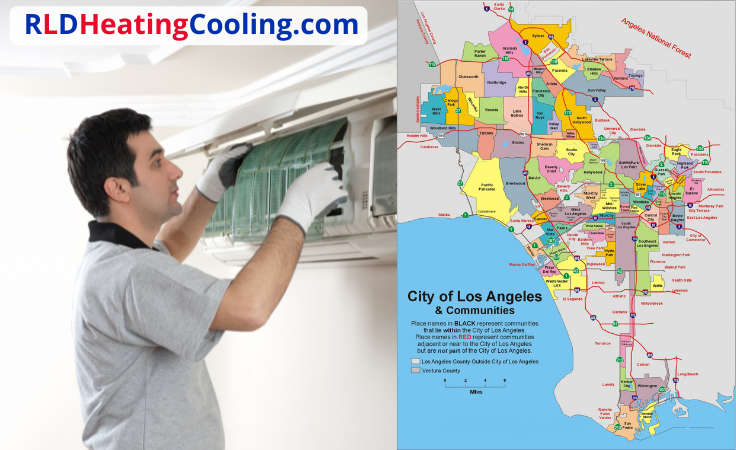 We don't like blowing the trumpet, but our repair services are some of the finest and best you find in Los Angeles.
We believe in hard work, customer satisfaction, team spirit, honesty, accountability and, of course, efficiency.
Totally transparent about the process we will follow, the cost of the repair service, and the best decision for you regarding your cooling system.
You are free to ask questions to our technician about the air conditioning repair.
We start with the process only when you are comfortable with everything.
And most importantly, when it comes to AC services and heating and cooling system, we are not just serving Los Angeles, CA.
We also cater to locations like:
Canoga Park.
Woodland ills.
San Fernando Valley.
Simi Valley.
Van Nuys.
Riverside.
Beverly Hills and more.
And don't forget we are just a call away.
FAQs about Air Conditioner Repairs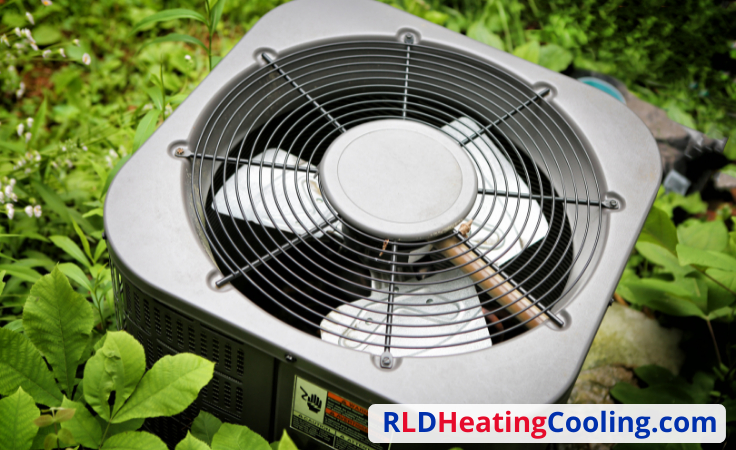 Here are some of the questions people generally ask about:
What are the common AC issues?
Air conditioners are used persistently and continuously, especially in commercial areas, where their use is almost for the whole day.
Such extensive use can cause them to develop several issues like:
Damaged unit on the rooftop.
Inconsistent air conditioning.
Fuses are blowing out.
Ventilation issues.
Drain lines are getting all jammed up.
How can I tell if my AC system is broken and requires air conditioning repair?
The first step is to have a look at the thermostat. If there are no signs on display, change the batteries.
If it still doesn't work, unplug the thermostat from the wall and ensure that the unit receives sufficient power.
Another problem people generally come across is when the AC is blowing warm air. If it is not giving out cold air, please contact us immediately because you need an expert to check the voltage with a multimeter.
Apart from that, there are other processes involved in the troubleshooting process like air handler, fan motor, etc. You cannot perform without the help of a professional.
When should I replace my air conditioner instead of an HVAC system repair?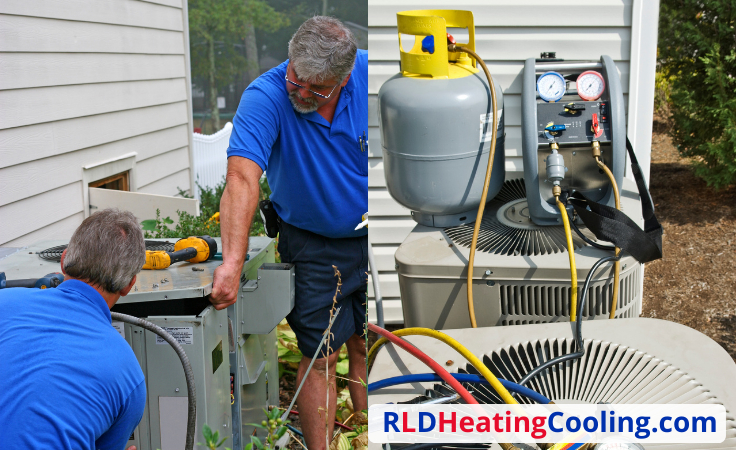 Just like your house and your car, your Los Angeles HVAC systems are a considerable investment.
When you think of replacing your AC unit, think about the factors like:
Age of the cooling system,m.
Energy cost.
HVAC repair cost.
Leaks from the refrigerant.
Air conditioning installation is a good choice if the HVAC repair costs you as much as the new system.
Why is my air conditioner freezing up?
There are mainly two reasons for your air conditioner to start freezing up. Here are they:
The absence of coolant.
The lack of airflow to the evaporator coils.
Here is what you can do to save your system from it:
Keep your AC temperature above 70 degrees Fahrenheit.
Give your AC regular maintenance so that the coolant level doesn't get down.
Replace your air filters every once a month.
What steps should I take before calling an HVAC professional?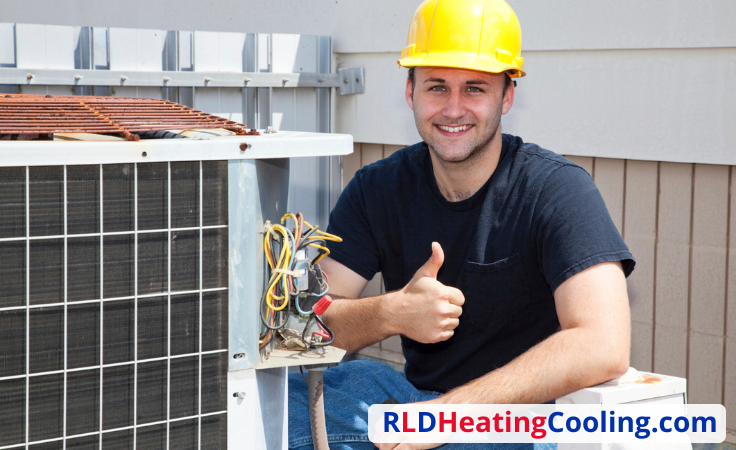 Is your AC unit creating problems while functioning, it is better to call an expert at the first sign.
But what are these signs?
Look for these signs before calling an HVAC technician:
If your system is not working, check the circuit breaker first. Reset the circuit and check if that helps.
Look at the air filter; the air will not pass if the filter is clogged. Replace the air filter every 1-3 months
Set the thermostat to a low temperature as compared to your home.
If your AC still doesn't work, just call us right away and schedule a repair process.
What are the signs of refrigerant leaks?
It is essential to know the red signals to minimize the risk to your air conditioning system and save from expensive AC repairs.
Here is what they look like:
Vents blowing warm air.
Cooling power diminishing.
Weird noises.
Coils are freezing.
Very high electric bills.
If you notice even one of these problems, better call us because a licensed professional can only help you with refrigerant leaks.
How can I save money on AC repairs?
Want to save money on AC repairs? Here is what you should do:
Replace your air filters regularly and religiously.
Give your HVAC regular maintenance.
Ensure the area around your condenser is clean so that your system doesn't get damaged.
Keep your doors and windows closed and if there are any gaps, better fill them so that your AC doesn't have to overwork.
If you avoid regular AC maintenance, you might end up paying more for AC repair.
How much does it usually cost to repair an AC?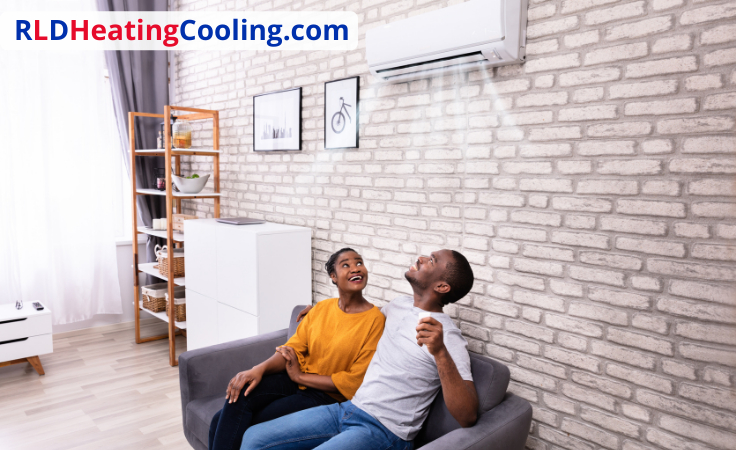 The average cost of getting an AC repaired in the United States is around $336-$400.
The typical AC repairs can cost you around $163-$520, while the extensive high-end repairs can cost you around $1100.
However, certain repairs will cost you a lot more than the average ones.
Why Us?
SEE WHAT OUR FRIENDS HAVE TO SAY
My husband was stuck at home while I was travelling for some office work in that blazing heatwave when our air conditioner stopped working. And we have an infant at home, which made it 10x times more challenging to deal with the situation. We called RLD services as one of our friends referred us. I was in a bit of a dilemma if they'd schedule a same-day appointment, but to my surprise, they did. So, not just did they arrive on time; they even solved the problem the very same day.
– Maria H.
Out of the world service, prompt responses and excellent problem-solving skills. RLD came to my rescue when no one else did. Called for my home warranty repair service, and they took days to visit, where they said some parts needed to be replaced. I approached them repeatedly for updates, and they kept giving excuses. After two weeks of dealing with the tantrums, I finally called RLD services, and they fixed the problem in 30 minutes.
– James F.
Any time, any day, if your AC goes out, especially if you live in Los Angeles or nearby, know that you are in a crappy situation. My Ac stopped working during a blazing heatwave and needed several repairs and even replacement. Well, that's when you need some excellent companies, and I found RLD services. They were quick, professional, kind and efficient. Didn't sugarcoat anything and did the job quickly.
– Camilla M.
The cooling system stopped working early in the morning, so I called to book an appointment without any delay. Technicians arrived early and did a fantastic job. They followed a step by step process and fixed the issue on the same day. Very reasonable pricing and great experience. –
– Harvey O.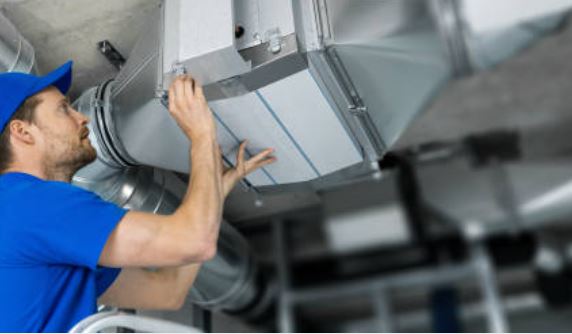 call 310-926-6368
Contact us 24/7 for your HVAC needs
Address

8040 Deering Ave #5
Canoga Park, CA 91304
Tel 310-926-6368
Email rldheatingcoolingcompany@gmail.com
Opening Hours

Monday 8:00 am – 8:00 pm
Tuesday 8:00 am – 8:00 pm
Wednesday 8:00 am – 8:00 pm
Thursday 8:00 am – 8:00 pm
Friday 8:00 am – 8:00 pm
Saturday 8:00 am – 8:00 pm
Sunday 9:00 am – 5:00 pm