Ductless AC for your house or business is done by a team of experienced HVAC Company.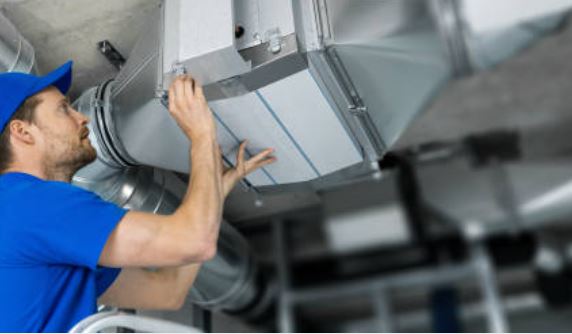 call 310-926-6368
Contact 24/7 our scheduling department today to make an appointment.
Worried about the air conditioning setup because your home doesn't have ductwork? Well, you need not worry anymore! Because our AC services is going to solve your problem.
Ductless AC is a split system that takes the help of air ducts to circulate warm or cool air throughout your house. This system is especially effective because you don't need to install ductwork.
Problem solved, right?
If you want to know more about it, you have landed at the right place! Keep reading ahead as we talk in detail about the nitty-gritty of having a ductless air conditioning unit.
You can also call the experts at RLD heating and cooling. At RLD, we provide ductless heating and cooling solutions.
We will give the necessary information to decide if a ductless unit will fit you. We also deal in ductless heat pump models, so contact us today to book an appointment.
And if you're worried about the location, let us tell you that RLD provides services in Los Angeles and the surrounding cities in California.
What is ductless Air Conditioning?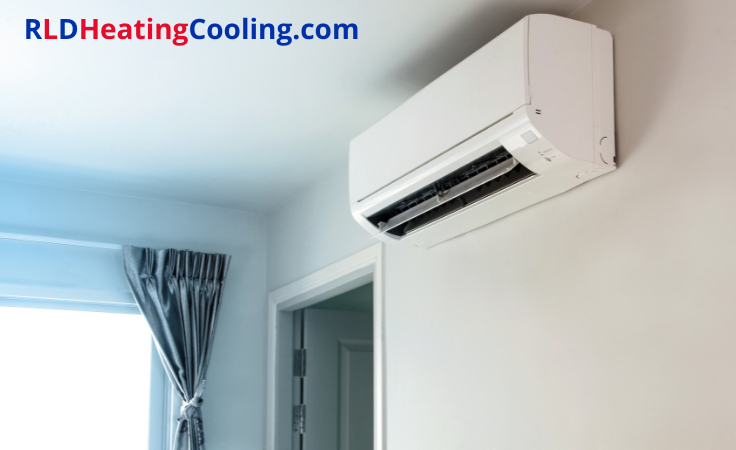 As the name suggests, ductless AC is an Air conditioning unit with no ducts. Usually, the traditional HVAC units will cool down your whole house by blowing the conditioned air through the ducts and the vents in the different house parts. On the other hand, the ductless AC cools only one room. It has an indoor and an outdoor unit in which the indoor unit contains an evaporator coil and a fan while the outdoor unit contains a fan, a compressor and a condenser coil.
These units work together to give you the desired comfort at your home.
Why choose a Ductless mini-split system?
A ductless mini-split system is considered one of the best air conditioners. Do you know why? Because it comes with the great advantage of handing you the ultimate control. You can easily control the temperature of a specific room; you can heat or cool it down according to your wishes. This way, you regulate the temperature and lower your electricity costs. This energy efficiency is an excellent benefit of a ductless mini-split system. But the benefits don't end there. It has various other benefits like:
No need for ductwork.
Easy installation.
Reduced electricity expenses.
Customized comfort.
Convenient features.
Complete control over temperatures.
Easy maintenance.
Apart from saving thousands of dollars on utility bills, you can further your money by opting for mini ductless installation services from RLD. Ducted air conditioners can take weeks to get fully installed, while the ductless mini-splits take very little time and effort for installation. Less time and effort on installation is equal to less expenditure. So you have an affordable investment plus comfort. Plus, if your house has an existing forced-air system and your ducts aren't in excellent condition, the Ductless mini-split system could be your best friend because you won't need to replace or seal the ducts then.
Ducted mini-split engineering, design and installation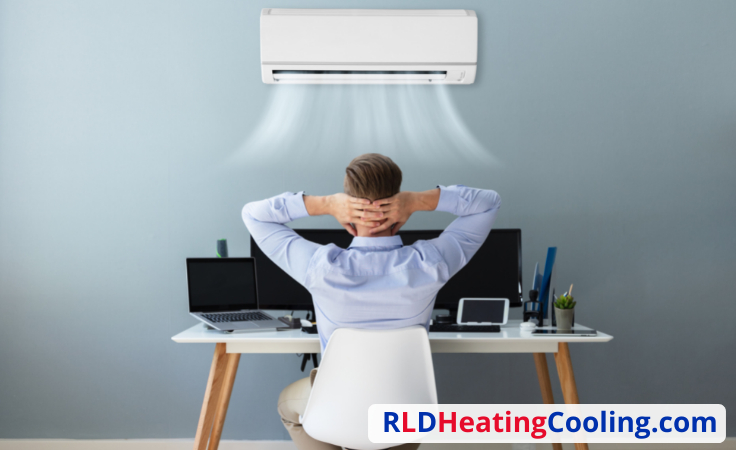 Every AC unit works the best when installed, keeping in mind the loading size and the space of the area. Therefore, at RLD, the service technicians will first assess your house and conduct some calculations to determine what AC size will suit you to condition your space correctly. And they will suggest based on your preference and budget.
The best part about a ducted mini-split system is that you can install it anywhere- Ceilings, closets, attics, or under the floor. The electrical build-up or construction is also minimal because you only need to install a single electrical outlet for the outside unit. It supplies energy to the inside unit.
But you need the help of a professional to do this job for you. And RLD heating and cooling services are always there to help you out. Call to book an appointment.
Difference between Ducted mini-split central air conditioning and Ductless mini-split
The primary difference between a ductless mini-split system and a ducted mini-split central air conditioning system is that:
Ductless mini-splits cool or warm a single room in your house, while a ducted central air conditioning unit can cool or heat your entire house.
You don't need ductwork for a ductless mini-split system, but you do need it for central ducted ac.
A ductless mini-split system is very efficient, super quiet and uses less electricity, while the deducted central ac is relatively high on electricity.
You can easily install ductless mini anywhere, and it isn't much of a hassle, but it needs a lot of time to install a central ducted AC.
You can control the temperature of a room if you have a ductless mini-split system. However, you don't have this option in the central ducted AC.
What are the tips for maintaining ductless AC?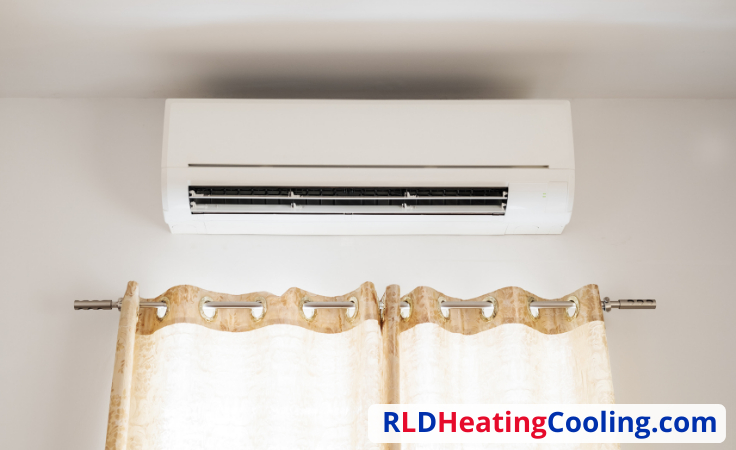 You need certified professionals to carry out the essential ductless ac services like installation, repair, maintenance, replacement etc. However, you can easily follow some hacks at home to keep your ductless HVAC unit in good shape. Here are the top 3 tips to get you going:
Keep it dirt-free: Dust is a buzzkill for AC health. Dust and dirt can clog the air ducts and other parts of your ductless ac. To prevent this, make sure that you clean the outer and indoor unit and compartments of your ac regularly. Wipe the dirt with a wet cloth. However, if you notice that the system is not working correctly, call the qualified technicians right away.
Clean the filters: Regularly cleaning the filters is a mandatory ritual if you own a ductless air conditioning system. Remove the filters and clean them with a dry cloth. But be careful while doing it, because the filters, once damaged, will have to be replaced.
Appoint an expert: If you feel like your ductless system is not performing well or is not blowing cool air, call us right away! Your ac will last longer if you service it regularly.
Factors affecting the cost of a ductless AC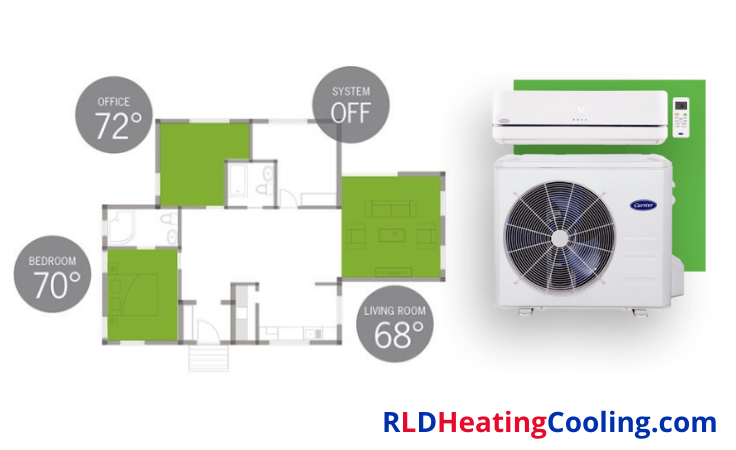 When we think of getting something for ourselves, the first thing that hits our minds is the product's price. The same is the case with getting an air conditioner. That's why we made it easy for you by telling you how much you should be paying for a ductless ac system. To begin with, the cost of a ductless system ranges between $5000 to $28000, including the installation.
The reason behind the huge price is the comfort and benefits you get from it. A ductless ac can slack down your annual electricity cost by 50%, so it's a great trade to have one in your house. But this isn't the only factor behind its enormous cost; the other factors are:
Number of rooms to be conditioned
The number of ductless ac units you need depends on the number of rooms you want to condition. So the more units you get, the more money you have to spend. Plus, the installation cost is also pretty significant for a ductless AC.
So, you have to install one indoor and one outdoor unit for every room. The system's indoor unit can have a range of one room or zone to ten rooms or more. SO if you want to cool four separate spaces in your house, you can get four indoor units and at least one outside unit. And the best part is one outdoor unit can support as many as eight indoor units. But make sure that the rooms you want to cool aren't very far from each other; you will need more outdoor units. This will save you a lot of dollars.
Do you know how? Let us give you an example- A single-zone split system from good brands will usually cost you around $5000 to $7000, while a four-zone mini split ductless system will cost you around $7,000 to $10,000.
Not sure about the Number of units you'll need? Contact the professionals at RLD to determine that for you.
The size of the AC
By size, we don't mean the actual size of your AC unit, but the amount of pressure it can take or the amount of heat it can pull out of a room in an hour, which is evaluated in BTUs (British Thermal Units).
The higher the BTU of an AC unit, the better it functions, and the price is also high.
Also, you will want to confirm that the ductless mini-split you're installing is efficient and large enough to cool down your entire room properly. To ensure that you choose the right fit for your house, you'll need a qualified HVAC professional. These professionals will give you an estimate through which you can understand the right size:
400-600 square feet room will require a 12,000 BTU mini-split.
600-1000 square feet room will require 18,000 BTU mini-split.
1000-1300 square feet room will need 24,000 BTU mini-split.
Apart from that, several factors are considered before deciding the size of your AC. They are:
The climate of the place you live in.
The Number of people in your house.
Insulation of your house.
Doors and windows in your room.
A particular room that needs extra cooling.
Others.
Getting the right size for your AC unit is super essential else, it will struggle to cool your room, and you'll end up paying more electricity bills than necessary and vice-versa.
The system's efficiency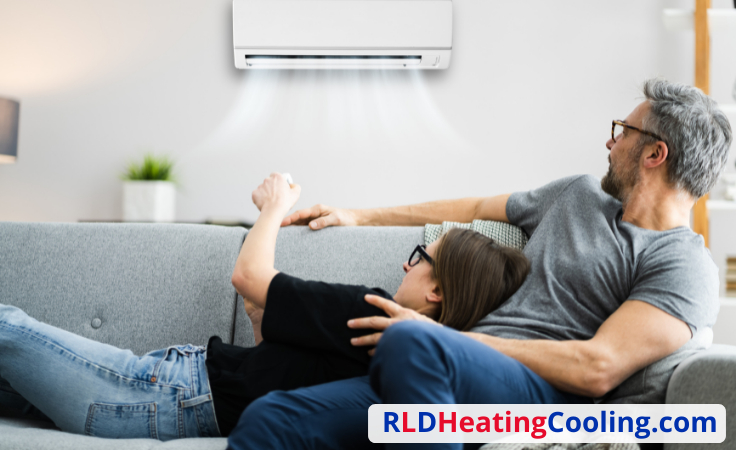 More efficient systems are usually quite expensive compared to those with less efficiency.
You can measure the efficiency of an AC with the SEER rating it holds. Seasonal Energy Efficiency Ratio is used for evaluating the system's cooling output divided by its power usage.
But no matter how expensive a ductless mini-split is, it's a one-time cost because it uses very little energy. So you can end up paying minimal electricity bills in the long run.
The contractor
The one last factor that affects the cost of your ductless AC installation is the contractor or the company you choose. Usually, the more experienced and proficient the contractors, the more they will be charging you for the installation.
While higher quality contractors charge you more, their work and labor will be top-notch, and the installation would be quality one, where you won't have to rush for repairs every other day. For such quality installation, contact RLD heating and cooling services.
Ductless Ac installation requires upgrading your home's electrical capacitor needs the use of carpenter's tools to make way for the refrigerant lining to run through. Technicians at RLD at super great at this work as they are:
Licensed and insured.
Experienced in installing mini-splits.
Good with estimating costs.
Services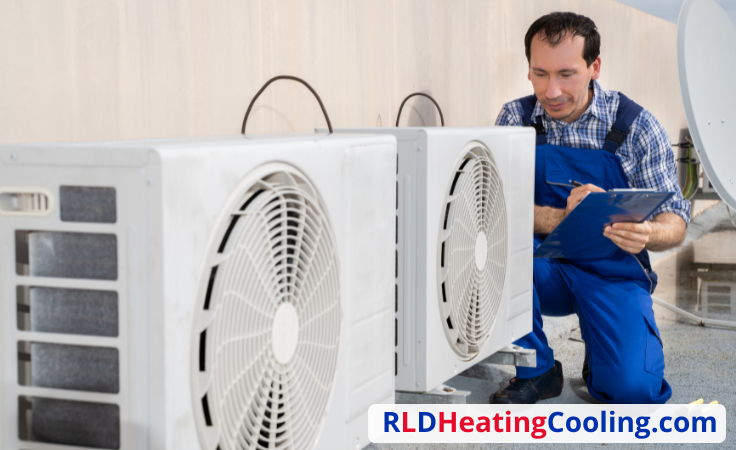 Looking to install a new ductless ac in your Los Angeles home or need immediate AC replacement or repair? Well, we are just a call away. At RLD, we provide all kinds of ductless ACs like installation, repair, maintenance and replacement. Book an appointment for a ductless air conditioning service in Los Angeles, CA and the surrounding area. Our experts will visit your home in no time.
Ductless Air Conditioning Installation
When we install ductless air conditioning for you, our qualified technicians will try to minimize any disruption to you and your daily routine. Our professionals will show up in neat and clean uniforms, use drop cloths and wear shoe covers to clean the floors.
We will help you select the Number of units to select and the places to install. We also hold expertise in installing thermostats that can work with various ductless heat pump models.
Ductless AC repair and maintenance
Every regular and high-performing appliance needs maintenance to function smoothly. Over time parts and components wear and tear, so they need regular maintenance. If the unit stops working altogether, you might need a professional to repair it for you. That's when you call RLD to the job for you. At RLD, we provide world-class maintenance and repairs to keep your system going. Our technicians are NATE-certified professionals who match the industry standards.
Ductless AC replacement
Wondering whether to get your old system repaired or simply get a new one?
Well, before deciding anything, better take an expert opinion.
We will discuss with you and give you suggestions keeping in mind your situation.
We provide replacement services because we love to keep our customer's life easy and comfortable.
FAQs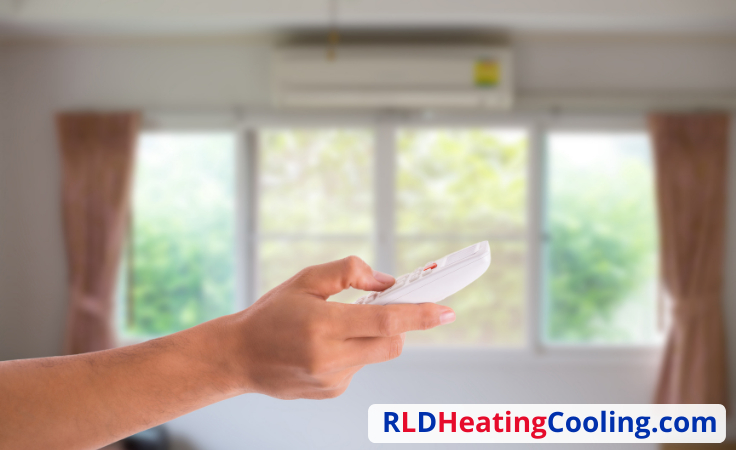 Here are some of the questions people generally ask regarding Ductless AC systems:
Ductless AC FAQ#1: How much does a ductless ac system cost?
Installing a ductless ac system can range from $5,000 to $28,000.
But if you look at the average cost, it goes around $12,348.
Though these systems dwell on the expensive side, ductless air conditioners provide you with significant control over the temperature of your house.
You can regulate the temperature of every room in your house according to your wishes.
Therefore, you can also save up on your electricity bills. Killed two birds with one stone!
Ductless AC FAQ#2: Is Ductless air conditioning any good?
If we look from the energy efficiency viewpoint, ductless air conditioning systems are way too enhanced and efficient compared to traditional HVAC systems.
A ductless air conditioner typically saves you a lot of money from the electricity bills because you have complete control over the temperature.
However, go for the air conditioning unit with a higher SEER (Seasonal Energy Efficiency Ratio). You can save more because Ductless mini-split models usually have better SEER ratings than the other options.
Ductless AC FAQ#3: How much should it cost to install a ductless mini-split?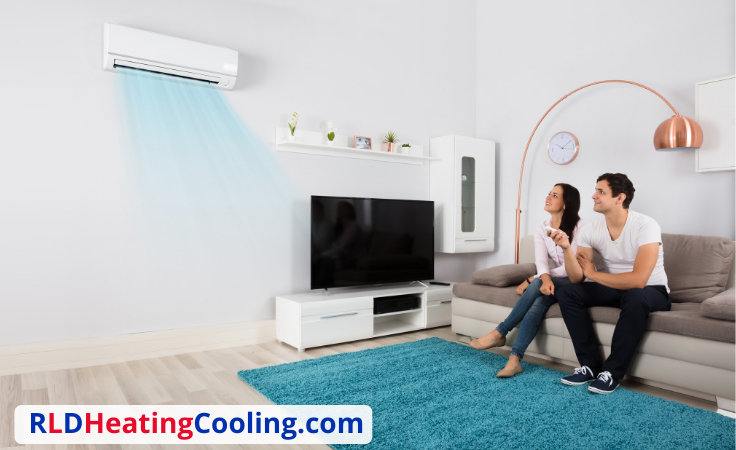 Ductless air conditioning installation generally costs you in the range of $1,700 to $8,500.
However, if you go for a 12000 BTU ductless ac unit with a 21 SEER rating, it will cost you around $3,500 for both the unit and the installation.
But Such an AC would efficiently heat or cool a 350 square foot large living room.
Ductless AC FAQ#4: Does Ductless AC add value to the home?
If you are unsure about Ductless AC, you must know one thing about it- It will always add value to your house.
So, if you don't own an AC unit, go for a ductless one, and you won't ever regret it!
Ductless AC FAQ#5: Is Ductless cheaper than a central air conditioner?
Ductless systems are more efficient than the average central air or traditional ac units.
These AC units save energy, saving you from the heavy electricity bills.
But, the initial cost of a ductless ac exceeds that of the traditional ones.
The unit and the installation costs are enormous for a ductless system.
Ductless AC FAQ#6: How many rooms can a Ductless ac cool?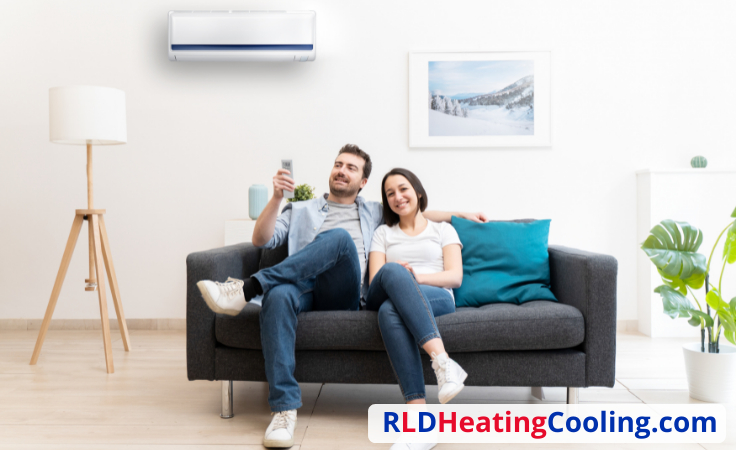 Both the ductless types can cool a single room without ductwork.
But a mini-split air conditioner can add up to four evaporator units for one condenser unit, so basically, you can cool or heat four rooms with just one unit.
That's the reason mini-split ACs are considered way more efficient than the window units, plus their durability is also better.
Why Us?
SEE WHAT OUR FRIENDS HAVE TO SAY
Tim is a great guy! He came and fixed our AC in just an hour. I felt that there might be an issue with the filter, and Tim came and inspected the AC only to find that the filter needed to be replaced. He also recommended changing the filters every three months. The best part was- He kept it honest and didn't try to upsell. Five stars for RLD services.
– Patrick L.
In March 2021, we hired RLD services to install a 2 ton ductless AC for our house. Tim was our contact person from the beginning, and honestly, he is the best! He communicated so well, answered our never-ending queries with such calmness and finally, his team arrived and installed the unit perfectly. Satisfied and happy with the work. Would recommend it.
– Laura I.
It is the third time we are calling RLD services for a project. I'm stressing about the numbers only to show that we love this company's services. We wanted a tune-up for our Ductless AC this time, and as usual, the team arrived on time, did the job well and cleaned everything so beautifully. Quality work and affordable price. Love them!
– Celia H.
I'm impressed with the service I've received from this company. From the time I contacted the company to when the service was completed, absolutely remarkable behaviour. They were gentle and friendly. No extra charges. I paid the price they quoted. The staff researched the unit I wanted and even provided me with a warranty. The installation was done on the very same day, and the price I paid was worth it. Commendable job RLD. Highly recommended.
– Rex F.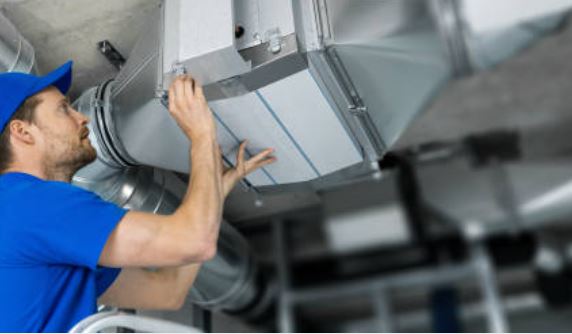 call 310-926-6368
Contact 24/7 our scheduling department today to make an appointment.