Heating maintenance to keep your home's heating system running smoothly!
Maintaining your heating system is like coating it up with protective paint to save it from unnecessary breakdowns. In this heating service, the technician will thoroughly inspect every component of your heating system to make sure that the parts are fit and fine.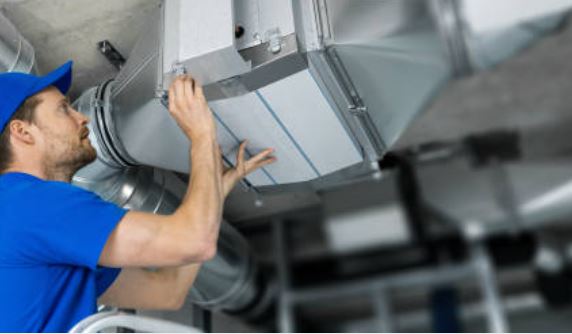 call 310-926-6368
Contact 24/7 our scheduling department today to make an appointment.
You might wonder why to even call for tune-ups when there is no problem with the system! In your mind, you have to contact an HVAC company only for heating repairs or heating installations.
Well! The short and straightforward answer to this is that Tuneups are cost-effective, repairs are not, and that's not the only motive behind going for routine inspections.
So we have created this info to tell you everything about heating system maintenance like:
What should you expect from a heating maintenance service?
The frequency of maintenance.
Benefits you get out of it.
If you can do it at home.
So let's take a dig into the pit of knowledge!
What does HVAC system maintenance include?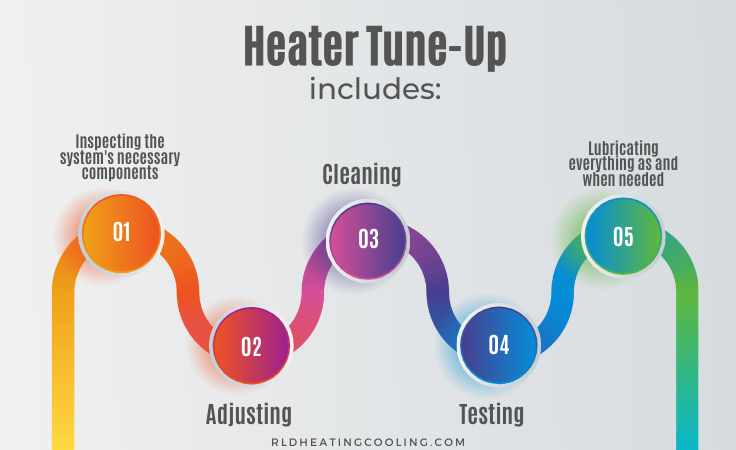 A heater tune-up includes:
Inspecting the system's necessary components.
Adjusting.
Cleaning.
Testing.
Lubricating everything as and when needed.
Apart from that (1), it also involves a lot of steps like:
Analyze the vent system and remove the blockages.
Inspect the heat exchanger if there is any damage or corrosion.
Cleaning and examining the blower and removing the debris, if any.
Blower motor checking and testing the amp draw.
Keeping a check on the electrical connections, tightening the wires and replacing the damaged wiring as and when required.
Inspect the burner and flame sensor.
Examine the belts to see if there is any damage or cracks.
Examining and scrutinizing thermostats and calibrating as needed.
Lubricating all the moving components in the heating system.
Scanning the air filter, cleaning or replacing them as needed.
Investigate the system's safety cycle controls to make sure everything is fine.
If you own a gas or oil furnace, there are a few additional steps in your heater maintenance checklist:
Inspect the fuel lines to check for potential leaks.
Examining the burner, pilot and gas pressure.
Analyzing the thermocouple and more.
How often should I get a furnace tuneup?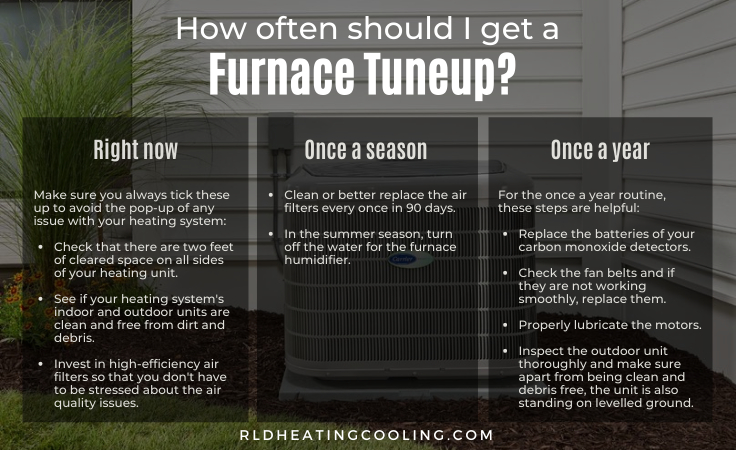 The frequency of the tuneups decides the health of your heating system.
But how to decide when is the right time to get your heater serviced?
Well! To resolve these inconveniences, we have created specific timelines for you to know what needs to be done and when.
Here is a list that will help you keep your system control in your hand and ensure that every tiny problem is addressed.
Right now
Make sure you always tick these up to avoid the pop-up of any issue with your heating system:
Check that there are two feet of cleared space on all sides of your heating unit.
See if your heating system's indoor and outdoor units are clean and free from dirt and debris.
Invest in high-efficiency air filters so that you don't have to be stressed about the air quality issues.
Once a season
Clean or better replace the air filters every once in 90 days.
In the summer season, turn off the water for the furnace humidifier.
Once a year
For the once a year routine, these steps are helpful:
Replace the batteries of your carbon monoxide detectors.
Check the fan belts and if they are not working smoothly, replace them.
Properly lubricate the motors.
Inspect the outdoor unit thoroughly and make sure apart from being clean and debris free, the unit is also standing on levelled ground.
If you follow this list, make sure that you do it at the right time for the smooth functioning of your heating system. The following steps will also enhance your system's life expectancy to 25 years.
What are the benefits of annual heating system maintenance?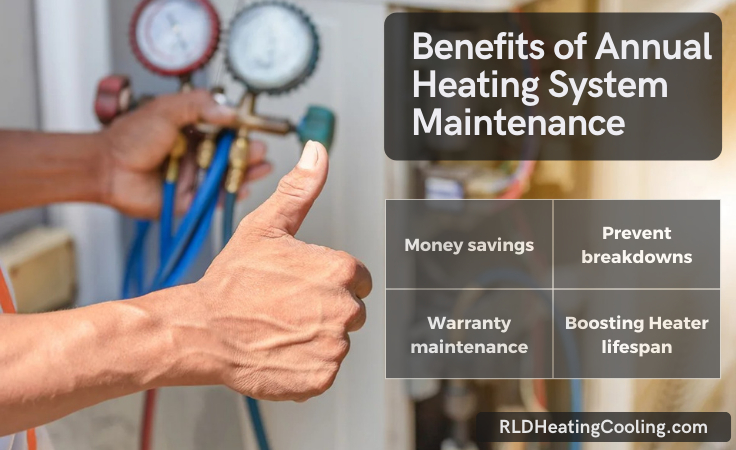 Regular heater tuneups might look like an expensive affair from a distance, but it is quite pocket-friendly and improves your system efficiency if you look closer. Here are the advantages of annual heating system maintenance.
Heating maintenance benefit #1: Money savings
Heater maintenance boosts the efficiency of your system and keeps it running smoothly for a long time. Better efficiency means savings in electricity bills every month. And the money saved is money earned; technically, so are saving money from the energy costs that are being cut. Over time, these savings can cover the cost of regular tune-ups.
Heating maintenance benefit #2: Warranty maintenance
Many heater warranties come with terms that require you to opt for regular maintenance services. If you own a system that has a warranty policy like this, do get those tune-ups so that your warranty remains valid. If you have the coverage, you won't have to worry about the warranty if anything goes wrong.
Heating maintenance benefit #3: Prevent breakdowns
Regular tune-ups help us identify the minor issues and address them before they turn into bigger ones. It also means that your system will experience fewer breakdowns, and you won't have to burn your money on unnecessary repairs. So go for it!
Heating maintenance benefit #4: Boosting Heater lifespan
When you give your system regular oiling and care, it is meant to last longer than usual therefore helping you make the most out of your investment.
6 DIY tricks for heater maintenance at home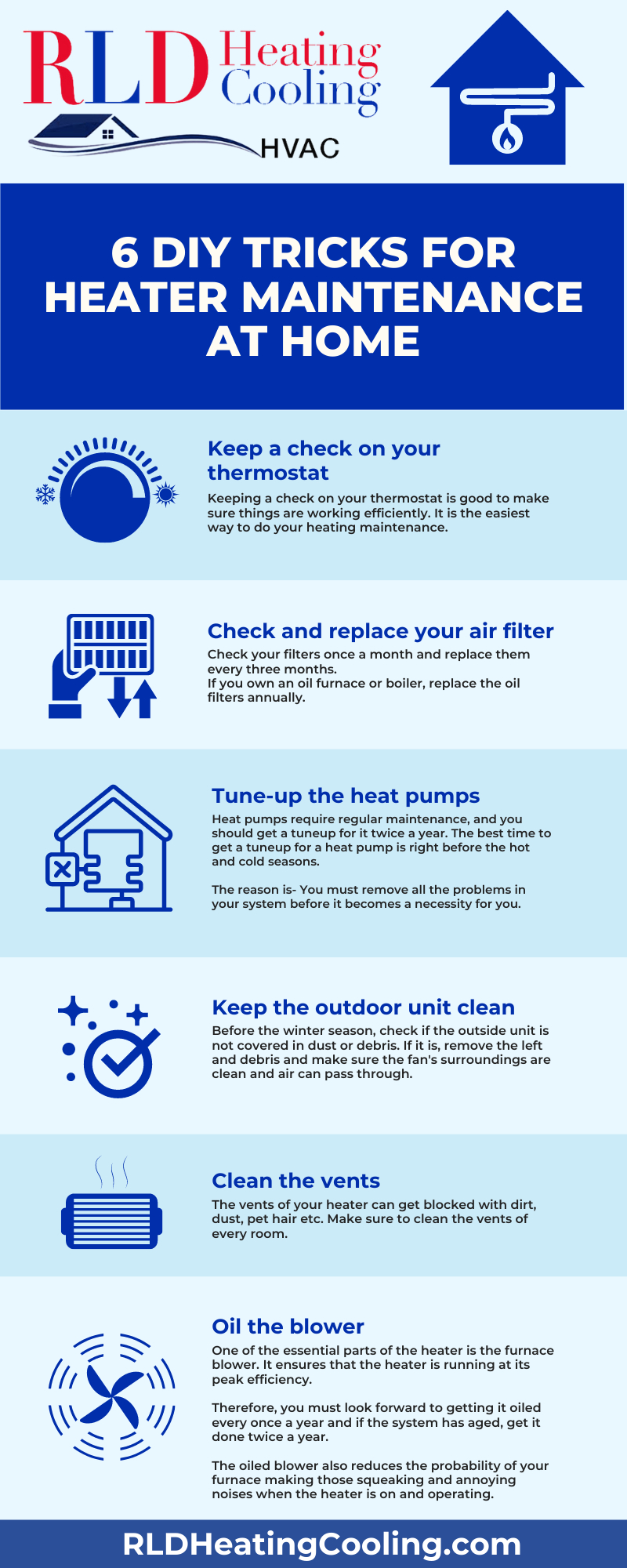 Giving your heating system regular maintenance can protect your heating system from many problems. So, it's better to not skip out on those services; else, you might be face to face with huge issues.
With little care and knowledge, you can inspect the minor problems of your heating system and keep it running smoothly. But the minor problems, if ignored, turn into more significant issues that can only be handled by a professional.
To avoid major repairs or worse replacements, we have handpicked six essential tips to help you maintain your heating system at home.
So, without a wait, let's get into it.
Heating maintenance tip #1: Keep a check on your thermostat
Keeping a check on your thermostat is good to make sure things are working efficiently. It is the easiest way to do your heating maintenance.
You must be wondering how to check the thermostat?
Well! By checking, we mean turning up the thermostat and keeping it running for a while. And the best parameter to check if it is working is to hear the furnace kicking in. You should repeat this process twice a year- Before heating season (spring) and cold season (fall).
If the furnace is running without a stop, your heating system is fit and fine, whereas if it switches off in a few minutes, it is signalling towards short cycling.
Short cycling will demand expert intervention, and you might have to call the HVAC professionals.
Apart from that, also check the setting of your thermostat. Sometimes, incorrect settings also create hurdles to the smooth functioning of the system.
Heating maintenance tip #2: Check and replace your air filter
The second simple tip to follow is to check the air filters regularly.
Check your filters once a month and replace them every three months.
If you own an oil furnace or boiler, replace the oil filters annually.
The air filters absorb dirt and dust and therefore need to be frequently cleaned; else the accumulated dirt will:
Obstruct free flow of air.
Contaminate the indoor air quality.
Therefore, take good care of your air filters.
Heating maintenance tip #3: Tune up the heat pumps
Maintaining the heat pump isn't an easy task, and we recommend you not do it on your own better call an HVAC technician.
Heat pumps require regular maintenance, and you should get a tuneup for it twice a year. The best time to get a tuneup for a heat pump is right before the hot and cold seasons. The reason is- You must remove all the problems in your system before it becomes a necessity for you.
Regular tune-ups ensure that your system is running at its peak performance and avoid excessive wear and tear.
Heating maintenance tip #4: Keep the outdoor unit clean
The outdoor unit is as essential as the inside unit. So, don't forget to maintain the outdoor unit.
Before the winter season, check if the outside unit is not covered in dust or debris. If it is, remove the left and debris and make sure the fan's surroundings are clean and air can pass through. In the winter, if there is any accumulated snow, remove it.
Heating maintenance tip #5: Clean the vents
The vents of your heater can get blocked with dirt, dust, pet hair etc. Make sure to clean the vents of every room. If the internal vents are blocked, the furnace won't function properly, and the air won't spread evenly in your entire house. It might also affect the performance of the furnace and reduce its lifespan.
Heating maintenance tip #6: Oil the blower
One of the essential parts of the heater is the furnace blower. It ensures that the heater is running at its peak efficiency. Therefore, you must look forward to getting it oiled every once a year and if the system has aged, get it done twice a year.
The oiled blower also reduces the probability of your furnace making those squeaking and annoying noises when the heater is on and operating.
How much does furnace maintenance cost?
Heater maintenance comes under one of the most affordable heater related services. Though the exact cost depends on the type or style of heater you own, you can get a good deal if you sign for a maintenance plan with a renowned HVAC company like RLD services.
Your heater maintenance won't cost you much if you go for it regularly. Mostly the charges go up if you replace the air filters. Air filters cost you around $20 per piece, and you will need four pieces per year.
If you're thinking of hiring an HVAC technician for the maintenance service, expect to spend around $70-$100 per visit. Do ask for rebates or discounts.
Schedule your furnace maintenance service with RLD heating & cooling services today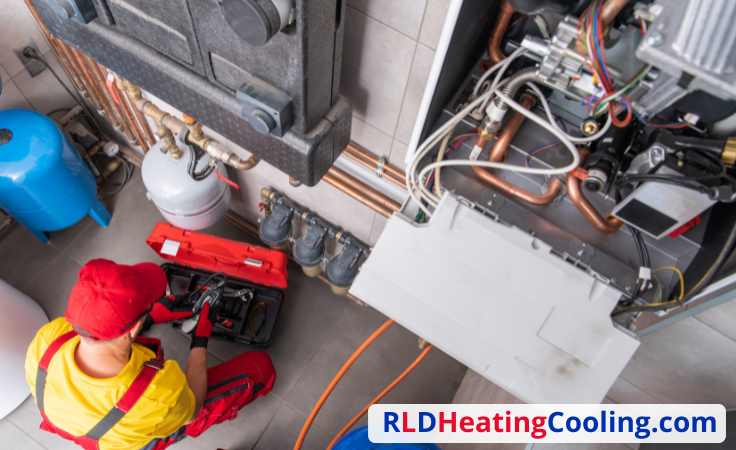 Looking for maintenance service for your heater? RLD heating & cooling service is here to help you out! We are one of the best HVAC companies in Los Angeles, and we will schedule an appointment keeping in mind your convenience. The benefits of working with us are:
We are on time.
Fully prepared.
Honest and friendly.
Affordable prices.
So what are you waiting for? We are just a call away. Book an appointment now!
FAQs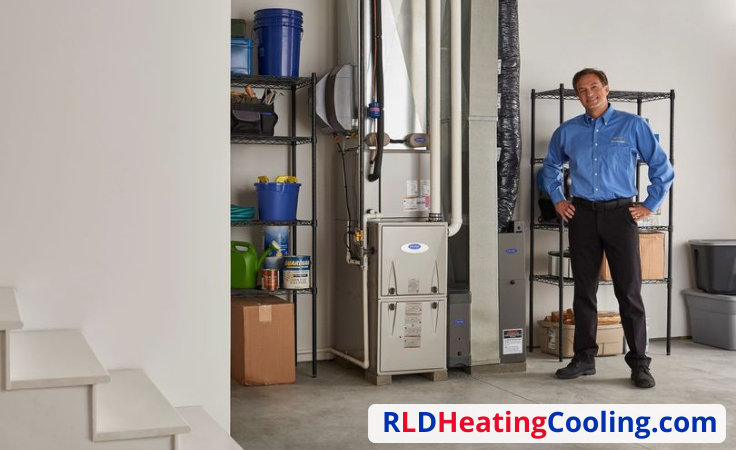 Here are some of the questions people usually ask:
How do we maintain my central heating systems?
Here are seven steps to look after your entire HVAC system:
Pay attention to your heat pump.
Get in-depth knowledge about your thermostat and its settings.
Keep the outdoor units clean and remove the debris and snow.
Clean the filters, and replace them regularly.
Wash the ducts.
Lubricate the oil filter.
Leave things on retrofitting.
What is heater maintenance?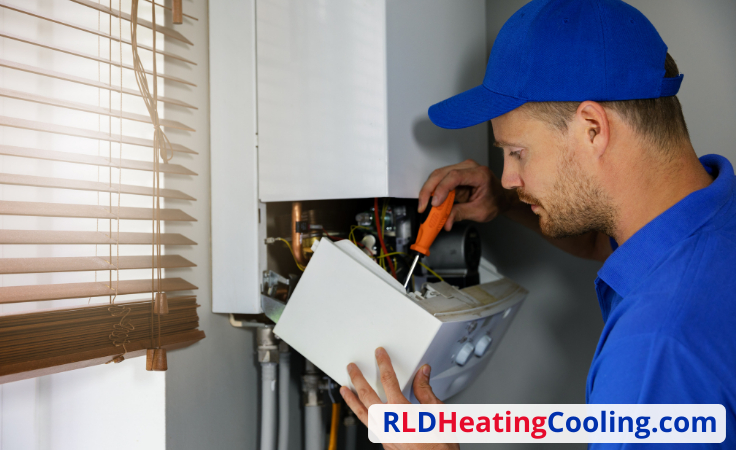 Heater maintenance is a preventive measure or service carried out to thoroughly inspect and properly maintain your home heating system.
With annual maintenance, you get a lot of benefits like:
Enhanced indoor air quality.
Better heating.
Longer lifespan of the unit.
Cleaner system.
Safe to operate.
Increased energy efficiency.
Do heaters need maintenance?
Your home's heating system needs regular maintenance because:
Maintenance cuts down the need for expensive repairs.
It keeps your home safe and comfortable, keeping that warm air coming.
Your heater's efficiency improves.
Keeps a check on the utility bills.
How often does a heater needs to be serviced?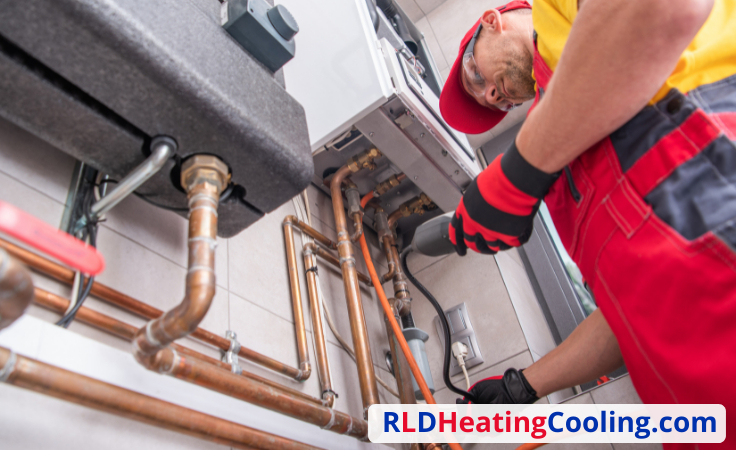 Every home is built different and might have different styles or types of furnaces and heat pumps. No matter what style or type of furnaces or HVAC systems you use, the basic rule is to get it services or maintained at least once annually.
Why Us?
SEE WHAT OUR FRIENDS HAVE TO SAY
RLD services have been connected with us for the last five years and have been our exclusive HVAC provider. And I'm writing this review without sugarcoating anything. For RLD, no project has been too small or large. They have always given their best. From annual heating maintenance to replacement to ductwork, they are efficient in everything. The services are prompt and affordable.
I would not trust any company for customer service than this.
– Gracy M.
I recently parted ways with my heater warranty because of repeated repairs and their reluctance to replace it. Tired of all the chaos, I called RLD services, and after one day, the serviceman arrived. He diagnosed the problem and told us that the heater needed maintenance. The next day he came with the team and carried out the process, and my heater started working immediately.
I'm so grateful for the fantastic service and the prompt response. Sticking to this company forever!
– Takita H.
It was a great experience with this company. Had a few minor logistical issues, the team sorted it out on the very first visit. The technician, Jim, was excellent and funny, was very efficient with work and did the job fast.
– Tim T.
Very happy & satisfied with the services this company provides. Excellent communication, responsiveness and professionalism right from the very beginning. They heard my grievances and explained everything related to the maintenance service to me.
– Mike F.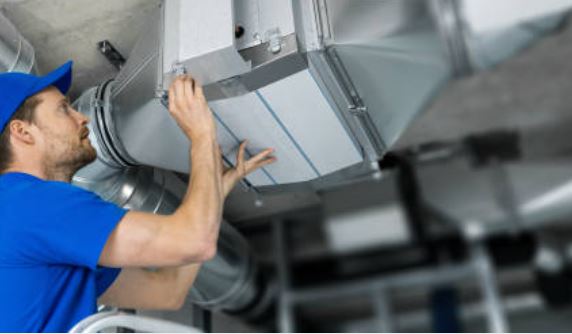 call 310-926-6368
Contact 24/7 our scheduling department today to make an appointment.
Our Opening Hours
Monday 8:00 am – 8:00 pm
Tuesday 8:00 am – 8:00 pm
Wednesday 8:00 am – 8:00 pm
Thursday 8:00 am – 8:00 pm
Friday 8:00 am – 8:00 pm
Saturday 8:00 am – 8:00 pm
Sunday 9:00 am – 5:00 pm
Our Address
8040 Deering Ave #5
Canoga Park, CA 91304