Central air conditioner brands in Los Angeles- the best to choose from if you are looking for ac repair, installation, or replacement.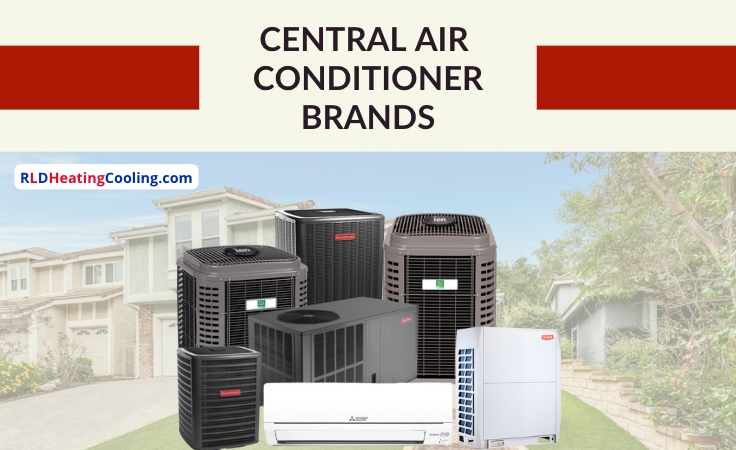 Central HVAC systems are a great way to heat your home and keep it cool during the summer.
So, if you are in a hotter climate zone and want a reliable way to stay cool, central air is the best option.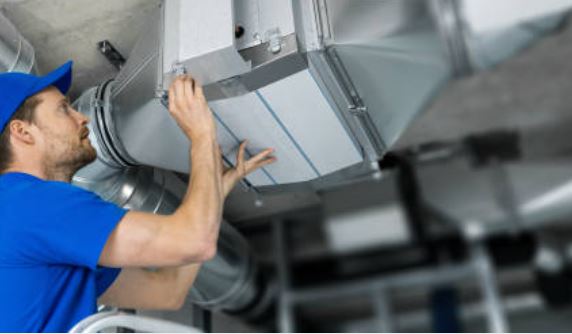 call 818-210-6669
Contact us 24/7 for your HVAC needs
You might already own central air and want a new unit to power your system. Or you might be considering investing in a central air conditioning system.
In both cases, this blog suits your wants. The reason is that it offers a variety of options and there is something that suits all your needs.
This article will discuss the top 12 central ac brands, their respective benefits, downsides, cost, and everything else. Also, one figure to look for is the SEER (Seasonal Energy Efficiency Ratio). The rating decides the unit's cost and how well it cools.
So, you can find a reliable, cost-friendly, and robust cooling system for your home.
Top 12 best air conditioner brands
We've rounded up the best central air conditioning units you can invest in.
We will review the top 13 best central air brands and highlight all their advantages and disadvantages.
So let's begin with it.
American Standard
American Standard is one of the big names and is highly regarded when it comes to central air conditioner brands.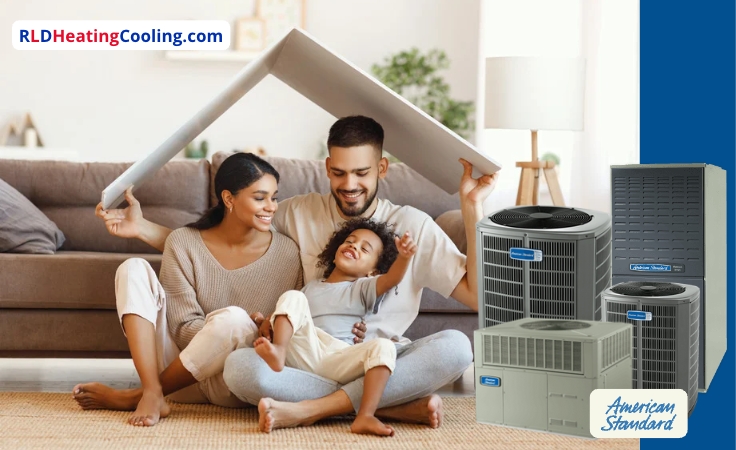 The reason is that the companies provide special offers and warranties lasting up to 12 years on compressors. It shows how reliable the systems are.
The prices for the units start from the $1,345 mark, and the installation charges range from $1,000 right up to $5,000.
Though the upfront price is higher for the system and installation, the service and results will surely pay off in the long run.
The SEER rating is 22, which denotes high efficiency, so you can rest assured about it because your ongoing cost will be low.
One of the critical features of these AC is the Quite II System, which maintains the system's noise level to the absolute minimum.
So, not only will the system be out of sight, but it will also remain unheard of, ensuring you don't have to compromise your comfort.
Since the warranties are extended, you can be assured that the units are of high quality and have been tested in harsh conditions.
These are an excellent choice for scorching areas that switch to frigid cold winters.
The units are also super compact, making them a better choice for mobile homes.
American Standard is the best choice if you want a high-quality build with long shelf life and low noise level.
LG
This brand was founded in 1958 in South Korea and is a well-known electronic appliance manufacturer. LG offers a variety of portable air conditioners, window air conditioners and central air conditioners.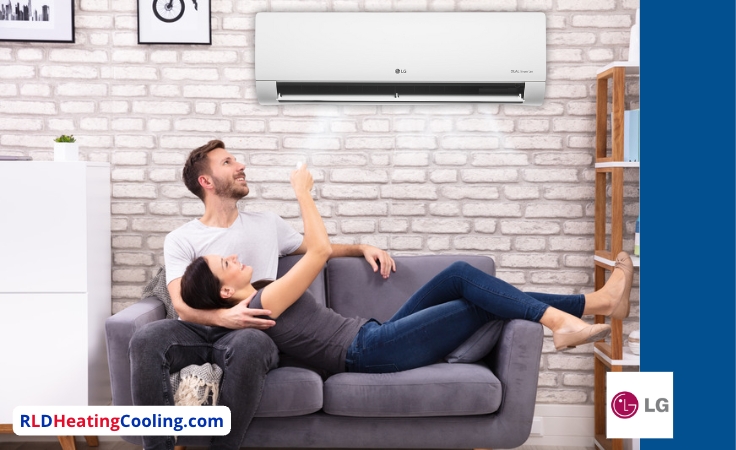 We recommend LG's air conditioning products if you're looking for a high-quality air conditioner for your apartment, condo or getaway cabin.
All LG appliances have LG's smart wifi enabled air conditioners. These units sync to intelligent home technology through the brand's ThinQ products. The system lets you control the temperature, change the unit's mode or fix the temperature while you're away with the help of a mobile app.
The LG air conditioner also uses Google Assistant and Amazon Alexa for voice commands.
When it comes to noise levels, it is as low as 44dB in sleep mode. Also, LG's air conditioners exceed the minimum Energy Star certification, so you get super-efficient ACs.
Goodman
Do you want top central air conditioner brands but want to avoid that high upfront cost?
Well! Then Goodman is the right pick for you!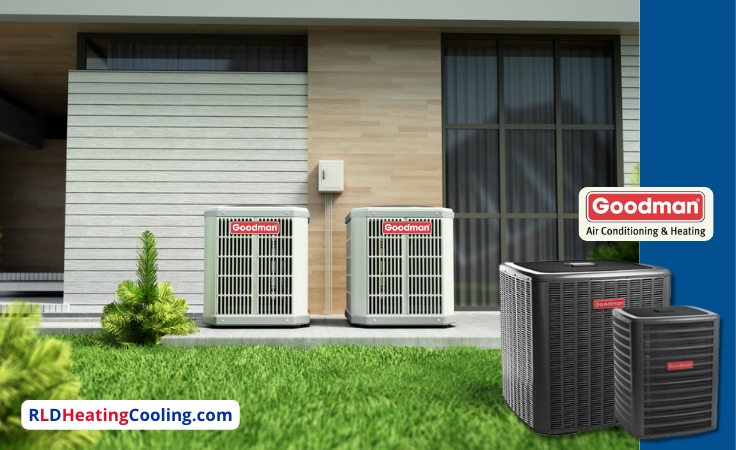 Goodman offers you five different unit options to pick from with a top SEER rating of 19, which is decent.
If we talk about the warranty period, you get a lifetime compressor warranty on some compressors and ten years or more on others.
So, despite saving on upfront costs by paying only $985, you will still reap the benefits of its fantastic quality and comfort, backed by impressive warranties.
The available units also possess additional valuable features like onboard diagnostics that help maintain and upkeep the system. You can store up to six fault codes, which alert you of any problem as it develops.
In terms of noise level, you must rest assured because the system runs quietly with a decibel rating ranging from as low as 40dB and the highest being 70 dB.
Though the units don't provide high energy efficiency, the top-end models help keep your energy bills low.
If you want:
long warranties
Savings on upfront costs
Quiet unit
Good SEER
Goodman is the best brand to go for.
Lennox
Lennox central ac comes with a SEER rating of a whopping 26, considered the highest.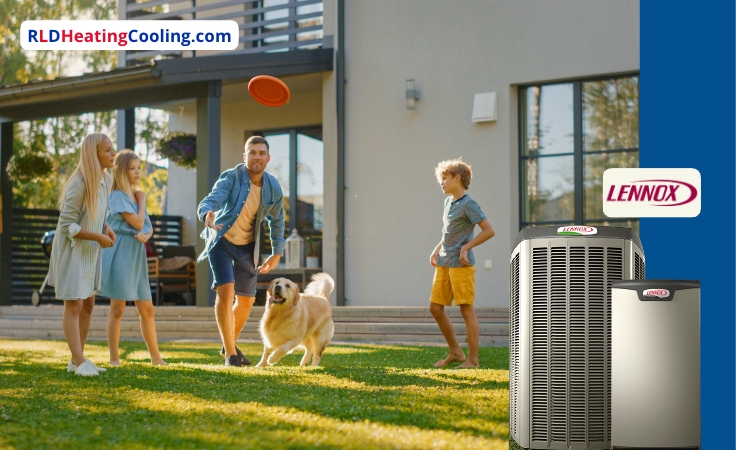 It means you will save a lot of money on energy costs in the long run.
Also, the unit can cool your house super fast without draining the energy.
If we talk about warranty, the units come with a ten-year compressor warranty and a five-year component warranty.
Well! Not the best, but still long enough to assure you that the system is built to a quality and will last long.
There are 11 models you can pick from, and the price range starts from $1475.
But if you want to go for the model with a 26 SEER rating, you will have to pay $3775 for the unit and $7190, including installation.
Though the unit's initial cost is high, you can save a lot in energy costs in the long term.
Since these units have a lot of inclination towards energy efficiency, if you live in a warm climate where a cooling system is super necessary, this brand can save you a lot of money in the long run.
Carrier
Carrier is one of the best central air conditioning unit providers regarding range, offering 16 different models.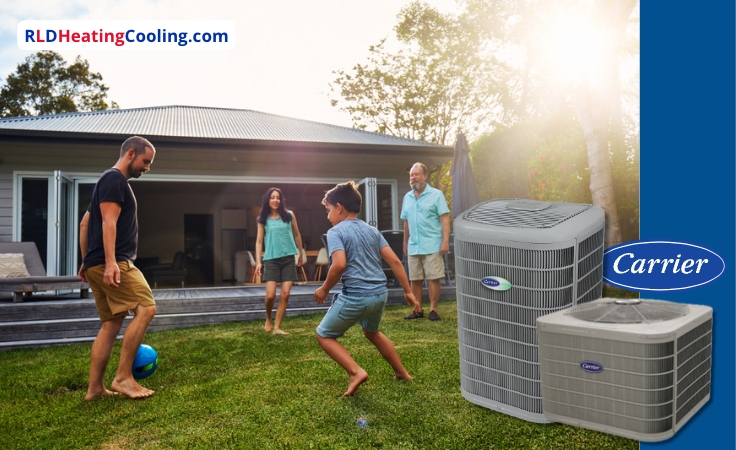 It is a broad category which means there is an ideal unit that suits the exact needs of each of you and your home based on layout and size.
It also means that you get maximum efficiency in terms of energy consumption to cool your house. The company has the highest SEER rating of 21, which is quite decent.
In terms of warranty, you can relax as there are two types of warranty:
10-year part limited warranty and
5-year parts & compressor warranty.
Though you can go for a better SEER and warranty, as it isn't the best, the price range is super affordable if you have budget constraints.
The starting price is as low as $1,525, which is excellent compared to the features it has to offer.
The units are built in a way to run quietly without making much noise. The lower end is 65 decibels.
Though it is lower than the other brands have to offer, you can still be comfortable in your house without getting distracted by the sound.
The high-efficiency models also have a built-in dehumidifier, which means your home's air quality is maintained even in hot and humid weather conditions.
It also helps in lowering your energy bills in the long run.
Rheem
Rheem is the ideal brand for those requiring high efficiency and low running costs.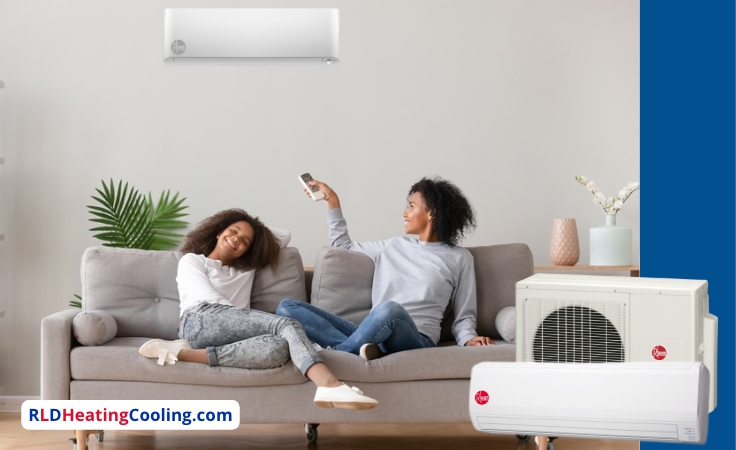 A reputed industry leader, Rheem has three different series to offer with seven types of air conditioners.
The units come with advanced features like modulating burners that accurately control temperature, enhancing the unit's overall performance.
And if we talk about the prestige series, it comes with a Comfort Control system that offers onboard diagnosis and EcoNet-enabled systems.
Also, you get a 10-year part and labor warranty, which helps you save money in the long run.
Last but not least, the SEER rating is 20, which helps you save a lot of energy, and the cost of the unit is $1,850, which amounts to $3000 with installation.
RUUD
RUUD is a sub-brand working under the HVAC manufacturer Rheem.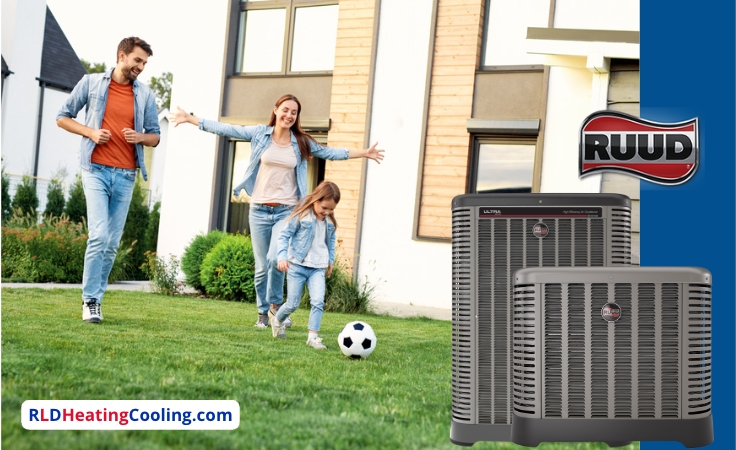 The best part about this brand is that it offers competitively priced, high-efficiency ac units with intelligent home integration.
Ruud also puts a lot of emphasis on sustainability in its HVAC items, including options like solar-powered water heaters.
Ruud offers its Econet line for air conditioning, including its Econet Smart Thermostat.
The thermostat has a seven-programmable and even vacation scheduling feature, which allows you to save a lot of money and energy while you are away and return to a comfortable house after work.
Ruud's Econet Enabled series Variable Speed (Ua20) is a unique air conditioning system. It is both durable and efficient. The system accommodates a variable compressor with a 20-plus SEER rating.
Apart from that, its other good things are rust-resistant screws, powder coat paint and a 10-year parts warranty with a 10-year conditional unit replacement warranty (registration is required).
The average price range for Ruud's central air systems is $3,000–$6,000.
Mitsubishi
Mitsubishi is a Tokyo-based HVAC brand that dictates the industry's ductless mini-split central air conditioner category with single and multi-zone units that boast SEER ratings as high as 30.5.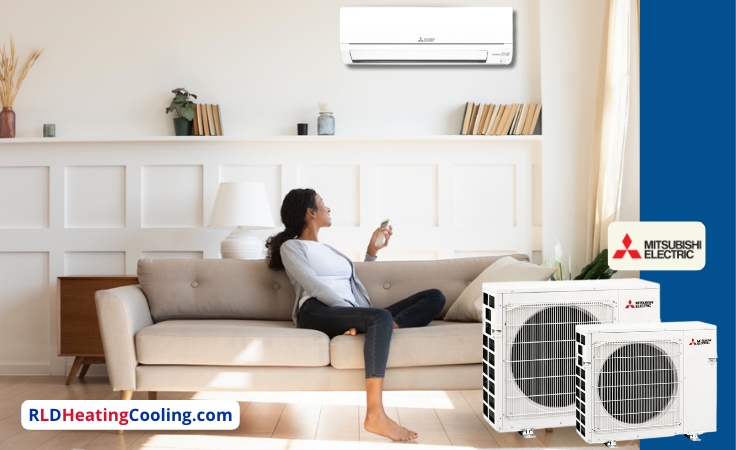 The brand was founded in 1870 and began manufacturing wall-mounted air conditioning units in 1968.
The average price range of each zone is $4,000 to $5,500. However, the average estimate for a whole-house solution starts at as low as $4,000, but the upper ceiling costs around $20,000.
The units offer advanced features like "hot spot" and "cold spot," which allow the air conditioner to find the temperature of every room individually and separately and ensure that each and every part of the house is evenly cooled.
The model is usually slim and compact, a tremendous advantage for densely populated areas.
Payne
Payne is the Sub-brand or low-cost version of Carrier company.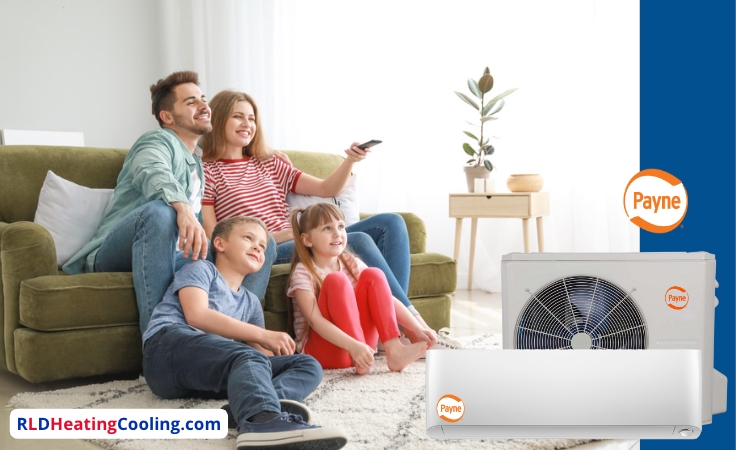 The price range of Payne central air conditioners is between $4,750 – $8,100, the air conditioners are a bit different, and the quality is excellent.
Its quality rating is better and slightly higher than Carrier and Bryant's. The main reason behind the quality is that they have a smaller line of models.
The variable capacity units are at a slightly higher risk of mechanical failure, and when they break down, the repair costs are enormous.
This combination leads to low consumer ratings and reviews.
Payne offers six different models. Five of them are single-stage, and one is a two-stage air conditioner.
Payne offers six models. Five are single-stage, and one is a 2-stage air conditioner.
The average SEER rating of all the units is around 13 to 17, and the warranty is ten years for all model parts.
Bryant
This brand has a massive collection of different models of central air that suits the needs of a wide range of people.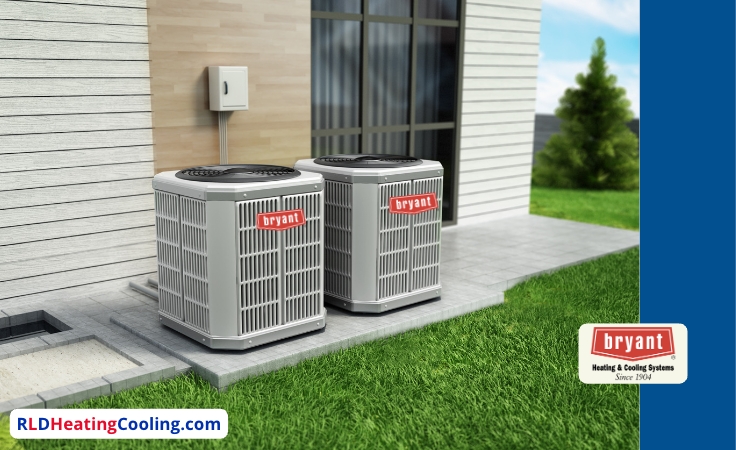 Bryant is a manufacturer offering choices for 16 different models, with the best units holding a SEER rating of 26.
Also, all the units carry a warranty period of 10 years on all parts, with some units and parts having extended warranties above and beyond this.
In terms of price, the starting price is $3300, making them some of the most expensive options out there to buy. However, the warranties are backed by a good customer care record, making it worth the price.
Overall, the brand is affordable compared to its competitors, and the installation process is standard.
Also, you can expect these units to come up with the latest touchscreen thermostats and wifi enabled options so that you can control everything from a smart device.
You can also opt for multi-zone picks to change the temperature across rooms and floors in your home when you please.
However, make sure that you register for the warranty within the time frame to get the 10-year cover because that is why Bryant is an appealing choice.
Daikin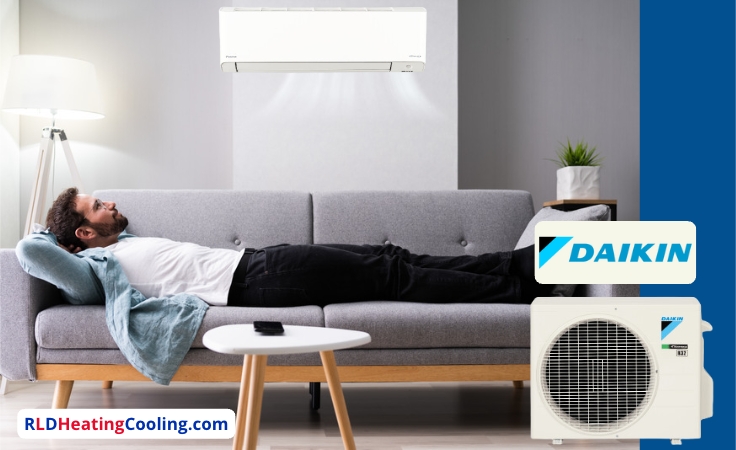 Daikin is a global leader when it comes to commercial and residential HVAC. It is the brand that owns both Goodman and Amana.
However, not all Daikin and Amana units are identical.
Daikin boasts improved efficiency, as most units have a SEER rating of 24.5. The DX20VC is a variable-capacity AC with a SEER rating of 24.5, making it the market's most efficient air source split AC system.
That level of efficiency units isn't cost-effective for every home.
However, if your AC season extends spring till that too with high humidity, then it is a great deal for you.
The units range from $2345 to $5635, including installation, depending upon the size of your house, climate and other factors.
Finally, the brand provides excellent warranties. All units have 12-year general parts warranties. Above that, Daikin also provides 12-year and six-year unit replacement warranties. These warranties also cover compressor failure. Also, Daikin offers to replace the outdoor unit if the compressor stops working and the unit is under a warranty period.
Amana
Another great brand to pick for central ACs is Amana, which provides 10-year warranties backed by lifetime compressor warranties.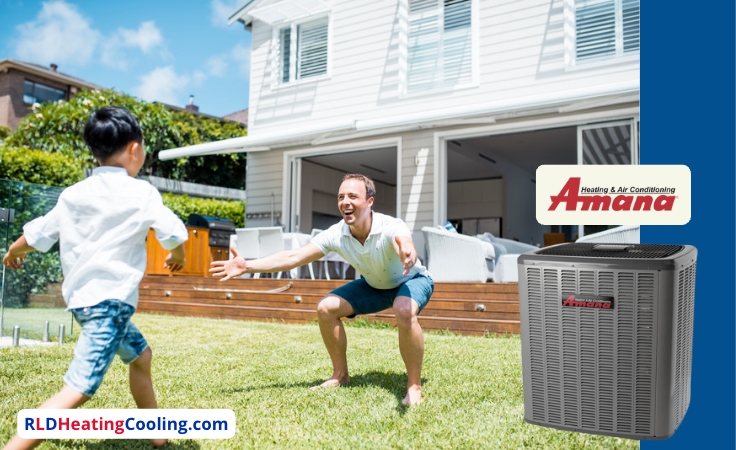 The brand also gives you a choice of 8 different units; the top end tops out.
The brand also has a choice of eight different units, the top-end, which tops out at 24.5 SEER rating, making it very energy efficient saving you a lot on energy costs.
Amana boasts of its own ComfortNet system of technology, the help of which pairs a selection of wireless gadgets with the units for wider-ranging controls.
Depending on your spending, you can add these extras, varying from the top-end models at $2950 and $5200, including installation.
Also, Amana uses Copeland High-Efficiency Scroll Compressor, which can achieve excellent efficiency even while running for an extended period.
Though the compressor's lack of insulation and protective grills could be more likable, if you got a lifetime warranty, it won't matter to you anyway. You can go for unit replacement quickly.
So, if you want an extended warranty from a company that provides wide price ranges and an excellent SEER rating, Amana is the one for you.
What to look for in Central air conditioner brands & units
Various crucial factors make a central air conditioning unit go from a good to have an appliance to an essential commodity of your house.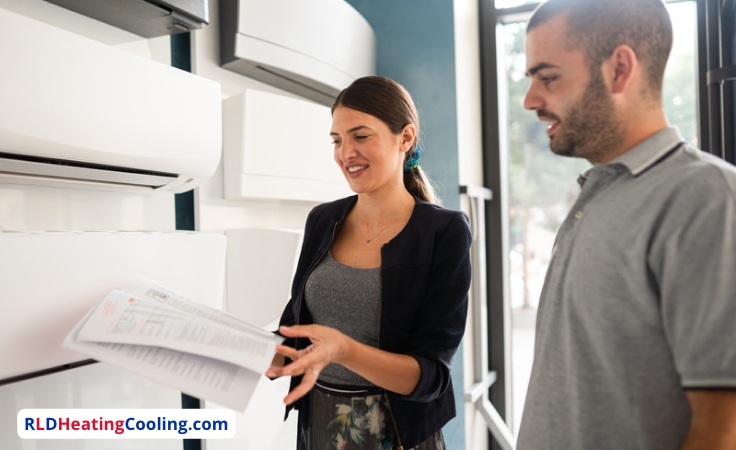 Below are some things to consider before investing in a central air conditioner brands.
SEER – Seasonal Energy Efficiency Ratio or SEER of any given appliance unit indicates its efficiency and power. The higher the SEER rating, the more power and efficiency. To calculate the SEER of a product, the output is divided by the operating cost for one whole year. (1)
Decibels (dB) – You want to avoid an extra noisy AC unit in your house. And to save yourself from that, you need to know general bounds. Generally, a central air conditioner generates noise of around 70dB of sound, which aligns with a washing machine. However, if you're sensitive to sound, you can use decibel readings of around 50 dB. But you have to pay extra to forgo that excess noise.
Features – When it comes to extra features, they are worth paying for if they enhance the functioning of the unit. For instance, if they go from two-stage compressors to variable speed fans.
Warranty – Look for the warranty period of the air conditioner before making your purchase. Ten years is the best cover you can get. But you must read about all the included services and whether it stretches to an enhanced replacement cover for the whole unit.
How much do the best central air conditioner brand unit cost?
The price of any central air conditioner or heating system comes down to two critical factors:
The cost of the base unit.
Installation cost.
In our article, we focus on the base price of the unit and an estimated range of basic installation costs.
You will know the exact cost of the complete HVAC installation if you ask for quotes from authorized HVAC contractors near me.
Asking for quotes from your local HVAC contractors will provide you with a better idea of the cost as many factors come into play: (2)
Size of your home.
Place you live in.
Current infrastructure and more.
The price of the base unit will be high if there are features like a high SEER rating, colossal size, good brand reputation and smart features. You can expect the high-end air conditioning brands to cost more as all the parts are premium. If you consider the installation cost to be around $2,000 and $6,000 and add the unit cost, you can calculate the overall cost of your central air.
Air conditioning and HVAC services at RLD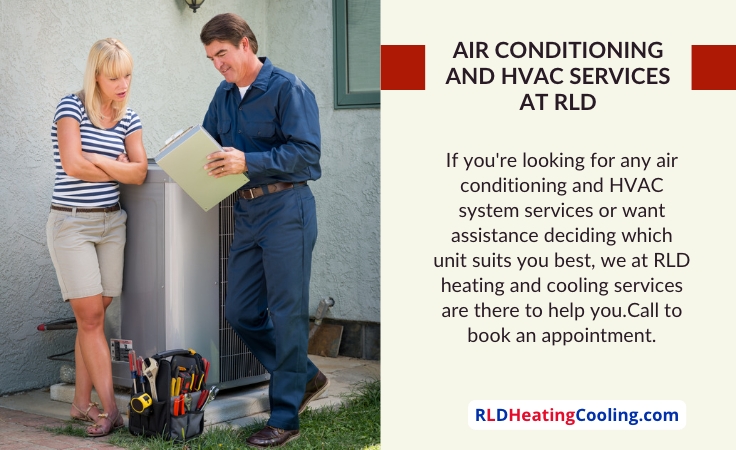 If you're looking for any air conditioning and HVAC system services or want assistance deciding which unit suits you best, we at RLD heating and cooling services are there to help you. We are a team of licensed HVAC contractors holding years of expertise in HVAC-related issues like installation, repair replacement and maintenance. Call to book an appointment.
FAQs
Here are some of the questions people usually ask:
Central AC brands FAQ #1: What is the best type of central air conditioning?
There is a lot of speculation regarding which is the best type of central air conditioning system. Many people say that a multi-split unit is the most energy-efficient system. It functions along with several indoor air conditioners while using only one external compressor.
If your house is large and you have many rooms, you can benefit significantly from this AC type without needing an outdoor unit.
Central air conditioner brands FAQ #2: Which is the number one brand in AC?
When it comes to central air conditioning systems, a lot of brands offer great cooling features. Some top brands, like American Standard and Goodman, provide ambient cooling even at scorching 50°C. Even LG is a good option if you're looking for AC with dual inverter technology.
Central AC brands FAQ #3: Which air conditioner or central air is better?
Suppose we compare central ACs with air conditioners, the former wins. Central air conditioners are far more efficient than room air conditioners.
They are simple to operate and quiet; however, if you want to save money and energy, get an air conditioner.
Central AC brands FAQ #4: How many types of central air conditioners are there?
There are two types of central air systems:
Split system: It contains an outdoor metal cabinet comprising a condenser, compressor, and an indoor cabinet with an evaporator.
Packaged unit: In this system, the compressor, evaporator, and condenser are kept in one cabinet, placed on the roof or a concrete slab near the house.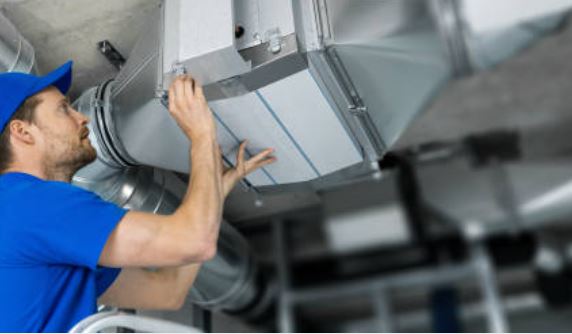 call 818-210-6669
Contact us 24/7 for your HVAC needs
Our Address is
RLD Heating Cooling
8040 Deeting Ave #5
Canoga Park CA 91304
Opening hours
Monday 8 am – 8 pm
Tuesday 8 am – 8 pm
Wednesday 8 am – 8 pm
Thursday 8 am – 8 pm
Friday 8 am – 8 pm
Saturday 8 am – 8 pm
Sunday 9 am – 5 pm
Sources:
https://www.energy.gov/energysaver/central-air-conditioning
https://www.energy.gov/eere/femp/purchasing-energy-efficient-residential-central-air-conditioners